Back to school is a busy time and we've got you covered with quick, easy solutions!
Let's Get Organized!
Let's face it, sometimes creating the schedule is the hardest part of being on a schedule. Here are some great tips and solutions to make it a bit easier.
Create a Calendar. School functions, after school activities and weekend events can get chaotic. Creating a central calendar can keep everything organized for the whole family.
Create a weekly meal plan. By creating a meal plan you can also create your weekly shopping list. To make it even easier, let us do the shopping for you. www.saveonfoods.com
Make the morning easy. Let's plan ahead. Pack the back packs, sport bags, school lunches and snacks. Get the breakfast dishes out and have the breakfast foods organized in the fridge and pantry. Have the kids set out their clothing the night before. Little steps will make the mornings a breeze.
Develop a routine. Working from the calendar, set a general routine. Set a rise and shine time, a bedtime for both kids and parents, homework time, dinner schedule and of course some down time for everyone.
Keep things decluttered. At the end of each week, look through all your lists, notes and paperwork and get rid of what is now irrelevant. Keeping things organized helps keep everyone focused and less overwhelmed.
Meal Planning 101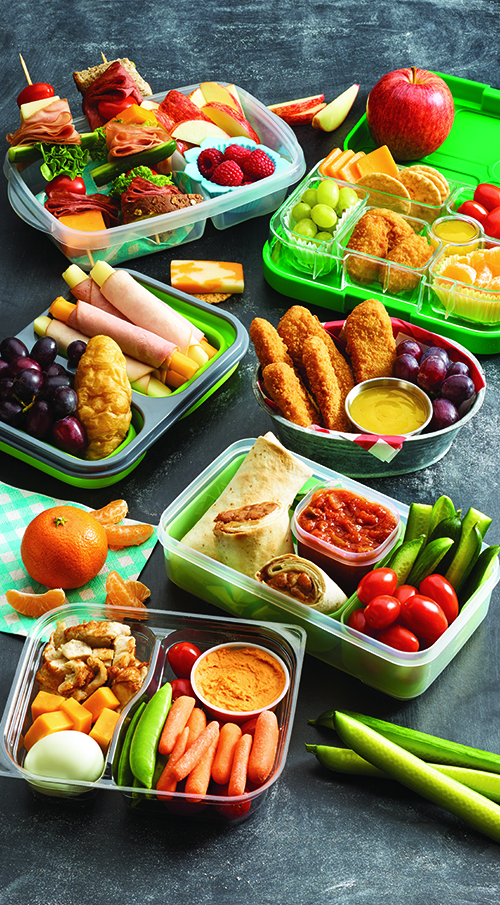 Make a menu.Decide which recipes you will make for lunch and dinner. Get the kids involved and let everyone pick a meal to plan.
Plan your meals around foods that are on sale.A great way to meal plan is to use your weekly flyer. There are a great variety of foods on sale each week that can make this a quick and easy task. Save-On-Foods Weekly Flyer
Plan at least one meatless meal a week.Beans, lentils, eggs, tofu and fish are great options and will expand everyone's dinner ideas.
Fill the freezer.Keeping the freezer stocked keeps meal planning easy and quick.
Use those leftovers. Make pasta tonight for dinner? Make extra, let cool and add your fresh veggies and dressing for a yummy pasta salad for lunch the next day. Chop extra veggies and cook extra chicken that you can easily add to a healthy soup.
Get the slow cooker out. Slow cooker and Crock-Pot meals are becoming the family go to. Put the ingredients in, set the timer and voilà, dinner is ready when you get home.
Lunches
Looking for something good for lunch? Look no further than Western Family. With simple, quality ingredients we have you covered. Western Family
Sandwiches, bagels and wraps. Let the kids contribute to the building with fresh deli meats, cheeses and fresh toppings like lettuce, tomatoes, and avocado.
Soups. Don't forget about a warm option on those cold days. Invest in some good quality insulated containers and they will stay hot until lunchtime. Don't forget the spoon! Western Family
Pasta. As in salads. This is a great option that can be served cold and you can add tons of fresh veggies and a healthy dressing. Keep it colourful and fun. Gluten-free? No problem, Western Family has great options. Western Family
Add a beverage. Make sure everyone is staying hydrated. Most everyone has a reusable water bottle these days. Keep it filled and handy.
Snack Ideas
Western Family snacks are something special! Local, quality products and ingredients that you can feel good about giving to your family. Western Family
Fresh fruits and veggies. These are great options as the kids can grab a handful on their breaks as well as lunch. Cut up some cucumbers, carrots, apple slices and add a little container of dip or hummus. This is a great for kids of all ages- adults too!
Proteins. Hard boiled eggs are great for lunches as they are packed with protein and are easy to transport. Another great option is cheese- don't forget to add some crackers!
Fruit snacks. A great easy go to is ready made packs of fruit sauce. With varieties like apple sauce, strawberry sauce and no sugar options- these are great for on the go snacks.
Rice cakes. These are a great option. Add a container of protein like hummus or tuna and this is perfect for curbing any hunger before any after- school activities.
Bars. Granola bars don't have to be a high sugar option. There are great high fibre, low sugar, gluten free options to choose from. You can also get creative and make a you're own on the weekend.
Stock up!
It's Case Lot time at Save-On-Foods!
Back To School Recipes
Grilled Avocado Chicken Pasta Salad
Crock-Pot Bolognaise Sauce with Spaghetti Pasta or Squash and Veggies