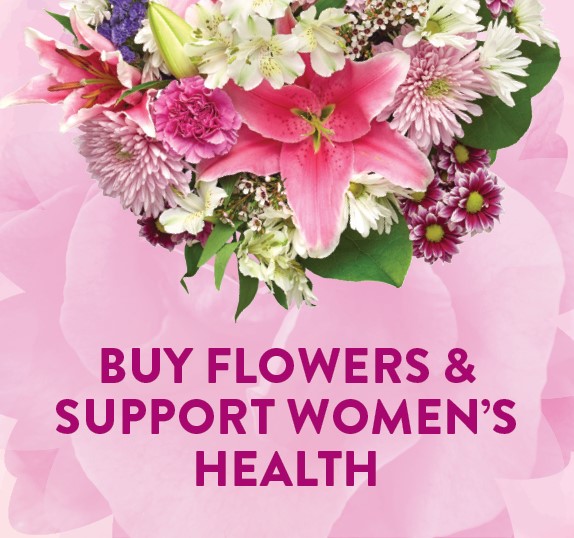 Celebrate Mom and Support Women
Women comprise over 50 percent of the population and are a significant group of health-care users.  In addition to having children, women's bodies are very different from men's. While on average women live longer than men, many do so with chronic conditions or diseases that limit mobility, independence and quality of life. Women are more vulnerable to conditions such as osteoporosis and suffer from different types of cancer and women react differently to treatment and medications. With this partnership, we hope to bring focus on the importance of women's health.
Save-On-Foods is working with 4 hospitals across Western Canada with Women's Health programs. Bunches of Love! It's easy to support this amazing initiative, just buy Mom flowers this Mother's Day and 100% of net proceeds will be donated to support women's health programs across Western Canada. Your support will help fund the most critical equipment needs of the hospital- saving lives and strengthening our communities.
From pregnancy to birth to overall women's health, these select charities are meeting the health care needs of women in our communities. The existence of facilities like these mean that women's health issues receive the attention they deserve.
BC Women's Health Foundation
BC Women's Health Foundation (BCWHF) is BC's largest non-profit organization dedicated to advancing the full spectrum of women's health. They ensure women have equitable access to the highest quality healthcare when, where, and how they need it.
They do this by focusing on their 4 pillars of strength:
Capital + Equipment: They invest in facilities, equipment and programs at BC Women's Hospital + Health Centre to match their world-class model of care.
Research: They ensure women and their health needs are validated through the funding of solutions-focused research and innovation at the Women's Health Research Institute (WHRI)
Education + Awareness: They facilitate discussion to help women understand how their bodies are different, how to advocate for themselves, and how to navigate the healthcare system.
Advocacy: They galvanize voices to inspire government and stakeholders to facilitate transformational investment in equitable healthcare and research, allowing for change in policy and practice.
Funds raised will invest in healthy women everywhere, capable of everything.
Lois Hole Hospital for Women
The Lois Hole Hospital for Women, located in Edmonton, Alberta, is the province's only dedicated women's hospital. For more than a decade the hospital has been a place of hope and healing, offering specialized and sub-specialized inpatient clinical care and outpatient treatments to women of all ages and in all stages of life.
The Lois Hole Hospital for Women offers comprehensive, high-risk obstetrical and maternal care and provides surgical treatment of ovarian, cervical and other gynecological cancers. The Lois Hole Hospital for Women is a proud Canadian leader in new treatments for urogynecologic and pelvic floor disorders and we are proud to place a special focus on the needs of maturing women.
There are over 7,500 babies born and 80,000 outpatient and clinic visits each year at the hospital. Additionally, the physicians at the Lois Hole Hospital for Women perform over 6,000 obstetric and gynecological surgeries each year. The Lois Hole Hospital for Women consolidates specialized services for women under one roof, improving accessibility and quality of care for all those who walk through its doors.
The Health Sciences Centre Foundation 
The Health Sciences Centre Foundation rallies individual, corporate, and institutional donors in support of HSC Winnipeg—Manitoba's hospital. By inspiring Manitobans to donate, the HSC Foundation enhances patient care and accelerates innovation at HSC through the acquisition of state-of-the-art technology, the development of new clinical spaces, and the promotion of groundbreaking research. Through specific, timely, and essential investments, the HSC Foundation helps to deliver tomorrow's health care, today.
The new Women's Hospital at HSC is home to inpatient and outpatient obstetrical, surgical, and medical services that aims to provide best practices for enhanced patient care, efficient workflow, and improved technology with areas that optimize teaching and learning opportunities for staff. HSC delivers about half the babies in Winnipeg, as well as many babies whose families travel from outside the city. HSC also provides the vast majority of hospital-based pediatric care, and performs most acute gynecologic surgical procedures for the province. HSC supports care for women from across Manitoba, northwestern Ontario, and Nunavut, both for patients and their families on-site as well as through virtual and consultative support for patients and health-care providers in many rural and remote communities.
Jim Pattison Children's Hospital Foundation
Inspire to Aspire.  We will inspire philanthropy by connecting communities to support Jim Pattison Children's Hospital to provide specialized maternal and children's health care throughout the province and pursue the advancement of innovative research.
Jim Pattison Children's Hospital Foundation and its many partners began a quest for a specialized facility tailored to caring for the unique needs of children and families over a decade ago.  Thanks to the foresight and years of hard work, Saskatchewan's own maternal and children's hospital opened its doors September 29, 2019.  Jim Pattison Children's Hospital offers neonatal and pediatric intensive care, general pediatrics, pediatric emergency and ambulatory services.  The maternal floor has dedicated space to care for over 6,000 pregnant women each year, while offering labour and delivery, antepartum and postpartum care.  This 176 private patient room facility provides the highest quality of care and is putting Saskatchewan at the forefront of research and innovation.