There's just something about a Croque Madame or Monsieur that makes you think of an elaborate French-style dish, when in fact, it's quite easy to make. Using ingredients you more than likely have in your fridge and with just a couple of steps, you could prepare a special meal for the special mother or woman in your life for a Mother's Day brunch.
As a mother, I look forward to every Mother's Day as a chance to sleep in, hang out in my pajamas, and enjoy an indulgent breakfast like Croque madame with the kids. As a simple dish, so easy that even the littles can make, I know I'm guaranteed to enjoy a trip to Paris, without even leaving the comfort of my home.
Served along with spring-inspired roasted vegetables, a nice tea, coffee – or perhaps a brunch friendly cocktail like I've suggested below – everything is pulled together with a fresh bouquet (and, not to mention, my young ones taking care of the dishes afterwards). If you're not up for making brunch yourself, I highly recommend forwarding on this recipe as a subtle hint to your other half or kids.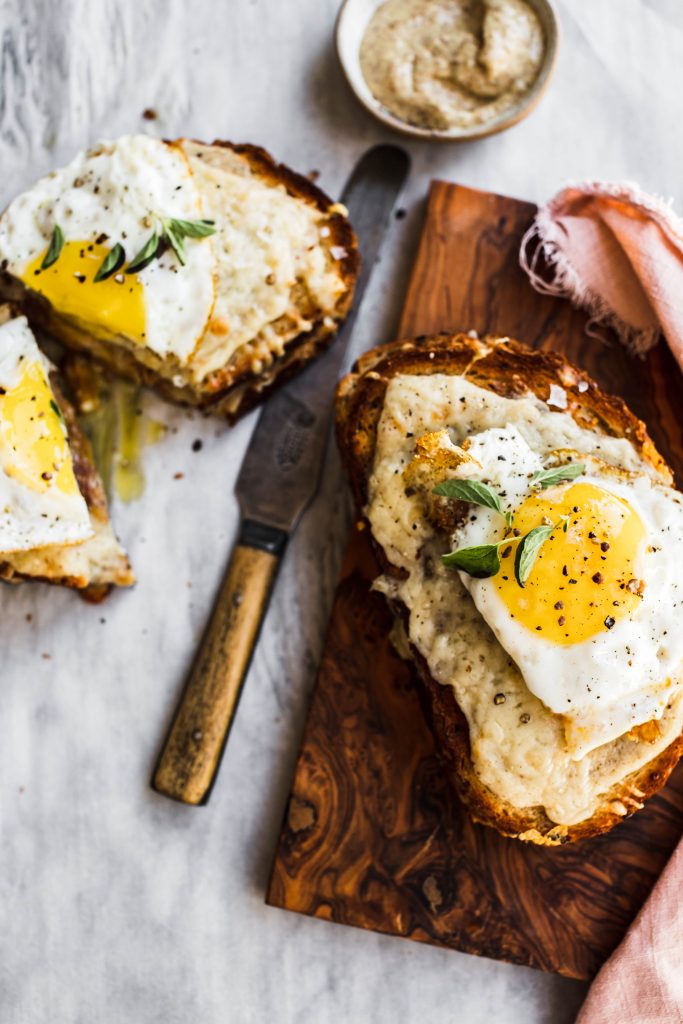 Tips for Making These Croque Madame
I encourage you to get creative. You can sub out different ingredients and still make a good Croque madame. Here are some tips for making what I think produces a standout Croque madame.
For the bread – you can use your favourite bread. I personally love using sourdough or crusty bread for Croque madame. Filled gooey cheese, and topped with a creamy sauce, you want a bread that can hold and won't fall apart. I personally love the freshly baked sourdough from the bakery section of Save-On-Foods – I always have some on hand.
Not sure about prosciutto? No problem! A nice deli ham will do just fine, prosciutto is a cured ham and adds a nice saltiness, but it's not a necessity.
You can also sub out the gruyere for a swiss or aged cheddar, it's your preference!
Serve alongside
A fresh fruit salad
A simple side salad filled with fresh herbs
A cocktail, like a French 75
Croque Madame with Asparagus & Miso Butter Radishes
(makes 4 servings)
INGREDIENTS
1 bundle of asparagus (12 spears roughly) washed and ends removed
1 tbsp of olive oil
2 bunches of radishes, greens removed and halved
1 tbsp of olive oil
2 tbsp of white miso paste
2 tbsp of butter
Croque Madame
4 tbsp of butter
4 tbsp of flour
1 ½ cups of whole milk
? tsp of ground nutmeg
1 tbsp of Western Family Stout & Stone Ground Mustard
1 ½ cups shredded gruyere cheese
12 pieces of prosciutto or sliced ham
8 slices of fresh sourdough bread
Extra butter & mustard for spreading 4 eggs
INSTRUCTIONS
Preheat the oven to 350°C. Mix together the miso and the butter and add to a small roasting dish with olive oil and prepped radishes. Mix together so the radishes are coated in miso butter and olive oil and bake for roughly 20 minutes until tender.
On a baking sheet lined with parchment paper, add asparagus spears and drizzle with olive oil and season with salt and pepper. Place in the oven to bake for the last 10 minutes. Asparagus should be tender and still vibrant green, but not over-cooked!
While the vegetables are roasting, add butter to a small pot on medium-low until butter is fully melted then add flour and using a whisk, stir until a light brown paste has formed. Add milk and stir continuously until the sauce has thickened. Turn heat to low and add ground nutmeg, salt and a tbsp of the ground mustard and stir to combine. Remove from heat.
Butter one side of each slice of sourdough and turn over, spread stone ground mustard on the other side and layer on 2-3 pieces of prosciutto or ham (how many slices you need may vary depending on the size of your bread slices, or ham, I needed 3). Spread over roughly 2 tbsp of sauce over the ham and sprinkle over gruyere between 4 of the slices of bread to form 4 sandwiches.
In a large oven-proof pan, cook the sandwiches (like grilled cheese) on the first side for roughly 4 minutes or until golden brown. Flip the sandwiches over and spread another tbsp of sauce and another sprinkle of gruyere.
Your roasted vegetables should be finished cooking and out of the oven now. Place the pan with your sandwiches into the oven and allow to bake for 5-8 minutes until the cheese is fully melted, then broil on high for 3 minutes being careful not to burn! Remove from the oven and plate.
In a small non-stick pan, fry eggs sunny side up, cooking yolk to desired style, I prefer mine runny which takes about 3 minutes.
Add the egg to the top of the sandwich on the plate and serve along with asparagus and radishes or allow guests/family to serve themselves
About the Author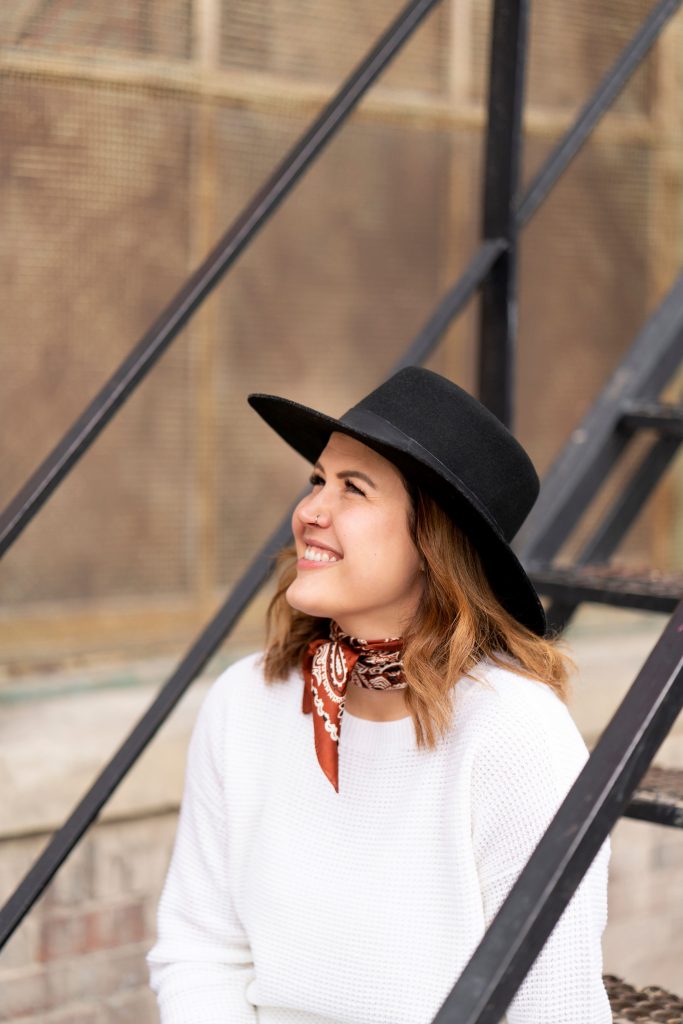 Tanya Pilgrim is a Food Photographer/Stylist and Recipe Developer living and working in Calgary, Alberta with her family. Tanya couldn't be more pleased that her love of cooking for friends and family,and her passion for photography, has created a life and living that she looks forward to every day. You can always find Tanya hanging out next to the charcuterie board at the party, curled up with a cook book in the family room at home, and ALWAYS avoiding having to do the dishes.
Follow Tanya