Even though holiday get-togethers are likely to look quite a bit different this year, that's no reason to cut corners on the food for your celebration.  Scale down in quantity?  Absolutely. No reason to be wasteful. But there is a big difference between making a little less of something wonderful and not making anything at all.
When thinking about holiday eats, I like to remember that not only does the food need to taste good, but that this is a great opportunity for delectable smells to fill up the house as well. From cinnamon and clove to cookies and cakes, the aromas of the season are every bit as important as the tastes themselves.  As such, I really like to lean into fresh herbs like rosemary and thyme as well as sweet accents like brown sugar and allspice. Whether baking, simmering or sautéing, each of these ingredients and many others can fill the home with the best seasonal fragrances.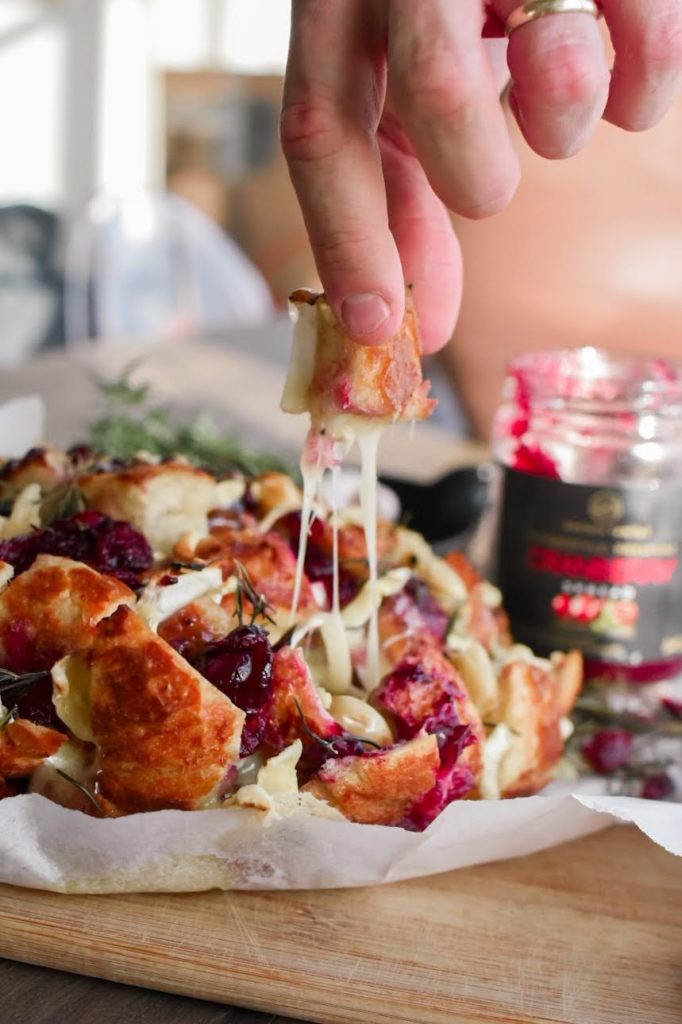 To me, the holidays mean there is the occasional last-minute get together, but given the current environment, we may not get to enjoy the holidays the same way we always have, but I still aim to have a small selection of easy to make treats at the ready- even if it's just for me and my partner. I love having fresh snacks and treats available as we celebrate by the fire, solve a puzzle, or playing a game together. Cooking does not have to be complicated to get great flavors and this recipe certainly fits the bill.
Speaking of aromas and all things delicious, the first thing you will notice about this recipe is the amazing aroma that fills the kitchen.  Rosemary and garlic always smell great – no surprise there. But the lush smells of baking cranberries and melting brie are sure to get your taste buds dancing a holiday tune. Together they create a savory and sweet scent that gently fills the home.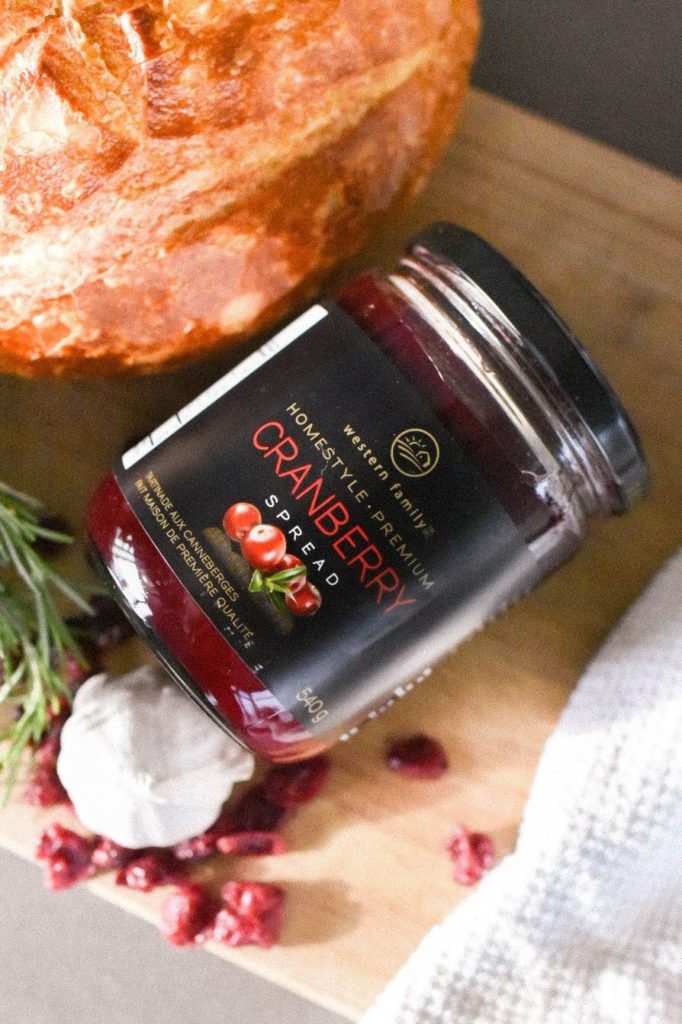 A key to this recipe comes from Western Family Homestyle Premium Cranberry spread.  Aside from adding the cranberry flavour which is a holiday classic, the spread makes it easy to fill in the gaps and crevices of the bread, so every pull is full of flavor.
Next, the ease of this creation means you will spend less time working in the kitchen, and more time with family and friends. Assembly is easy and when it is time to serve you simply place it on your favorite serving tray and you're done.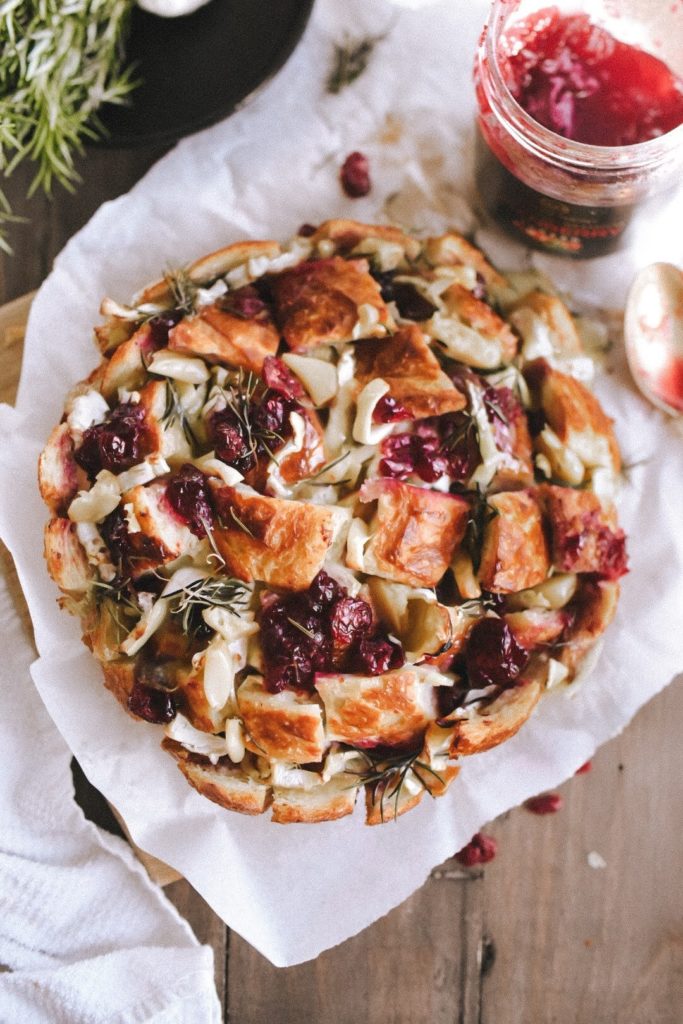 Finally, this cranberry and brie pull-apart bread is likely to be a new experience for everyone around, bringing together sweet and savory.  While there are myriad options for snacks during the holidays, I suggest supplementing some traditional favorites with something new, like this delicious spread.
Cranberry Brie Pull-Apart Bread
with Roasted Garlic and Rosemary
Ingredients
1 large garlic bulb
½ tablespoon vegetable oil
1 round sourdough loaf
1 jar Western Family Homestyle Premium Cranberry spread
1 wheel of brie cheese – cut into strips
1 spring fresh rosemary
2 tablespoons unsalted western family butter – melted
Directions
Preheat oven to 350 degrees F.
Cut the top of a bulb of garlic.  Drizzle garlic with vegetable oil over the top of a sheet of tinfoil.  Use tinfoil to wrap and seal garlic.  Place in the oven for 30 minutes or until garlic is golden.  Remove from heat and set aside.
Line a baking sheet with parchment paper and set aside. Lay Sourdough on top.
Cut sourdough loaf horizontally and vertically to make 1-inch cubes. Careful not to cut all the way through the loaf.   Brush loaf with half the melted butter and sprinkle with kosher salt.  Spoon Western Family cranberry spread in between the cracks of the bread then follow with strips of brie.  The loaf should be full in all the cracks. Top with fresh rosemary.
Bake in the oven for 20-25 minutes or until brie is nice and melted.  Remove from heat, top with roasted garlic cloves, and serve warm.
About The Author
Thea Van Herwaarden is a Vancouver-based food blogger and on-air talent known worldwide. She has appeared on both Canadian and American television, acted as a national campaign spokesperson for major lifestyle chains, and serves currently as a brand ambassador for a wide range of food and home brands. In 2017, her skills in the kitchen landed her in the "Top 2" spot on Master Chef Canada. Following that, her version of a nduja ricotta tortellini made it on the menu of Jamie Oliver's restaurant, Jamie Italian. Thea has since then launched her own brand, Théasty, where she showcases global tastes and travel, national and international restaurants and recipes, as well as lifestyle tips. All of this is shared with her loyal 19K followers on Instagram, and on her blog.