We're inviting you to share your amazing Canadiana summer pastimes with Western Family!
You can win!
Win a $50 Save-On-Foods gift card by telling us your favourite Canadiana Moment you like to enjoy with a Western Family soft drink. Enter on Instagram @WesternFamilyCA or Facebook.
Good luck!
Summer moments call for a refreshing beverage and we have all you need to entertain, cool down and kick back during these hot summer days. Our fun, new Western Family cans will make you smile as it reminds you of the great quality moments you experience in the great Canadian summer with your friends and family.
We're Chillin'-At-The-Lake with Western Family Kickin' Back Cola
Kickin' back and enjoying a few rays on the dock by the lake or on the beach is best with a drink in hand. Our cola is the perfect choice for chillin' and enjoying quicky-and-easy chilled ice cream sandwiches. Yum, yum, yum!
We're Camping-Under-The-Stars with Western Family Happy Camper Lemon Lime
Enjoying the great Canadian outdoors is best with a classic refreshment. It gets even better with campfire nachos. Bring along tortilla chips, shredded cheese, pickled jalapenos and salsa. Pack your cast iron skillet and you're good to go play outdoors.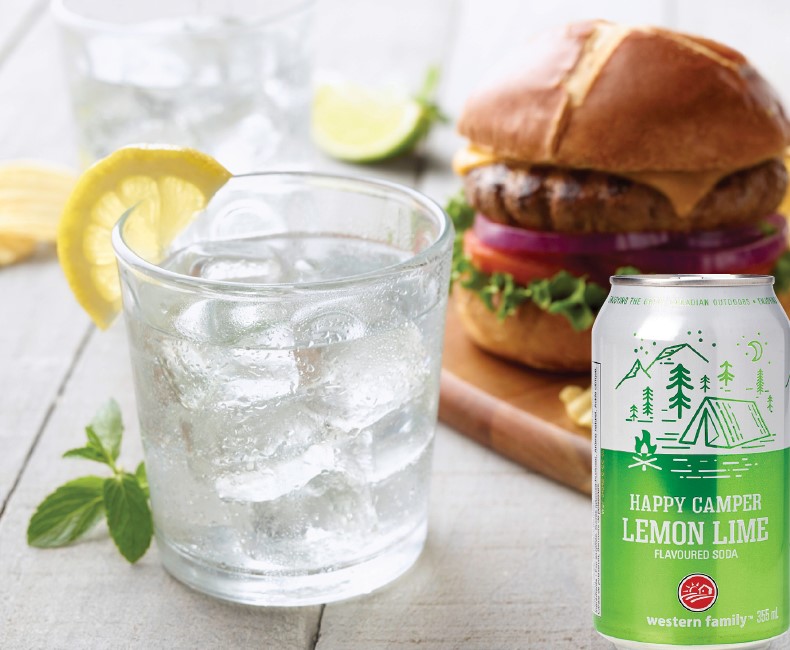 We're Hitting-The-Road-To-Summer-Fun with Western Family Road Trip Root Beer
Every Canadian road trip needs root beer and root beer needs epic, hittin'-the-road-snacks. Simply combine your favourite trail mixes or mixed nuts with fun candies like sour soothers or wine gums. So easy- you'll be happily humming 'On the Road Again'.
Western Family Grab N' Go Lost Again Trail Mix is the perfect pairing!
We're enjoying a BBQ with Backyard Ginger Ale
There's nothing better than BBQ's in the backyard. Straight or used as a mixer, ginger ale goes great with steak, grilled chicken or whatever else ou throw on the BBQ. Make 'Great Canadian Burgers' with cheese, mushrooms and of course bacon.
It's mocktail time with Happy Hour Tonic Water
Mixin' it up to kick off the evening with great friends.
Purchase any four Western Family beverage, including soft drinks, lemonade, sparkling water and bottled water and earn 1000 points! Shop Now