With an abundance of fresh peaches in season, it can be easy to get stuck in a rut with how to use them up. So many amazing desserts come to mind immediately, like a peach cobbler, peach pie, peach preserves or ice cream. But this delicious stone fruit can also shine through in a variety of savoury applications as well.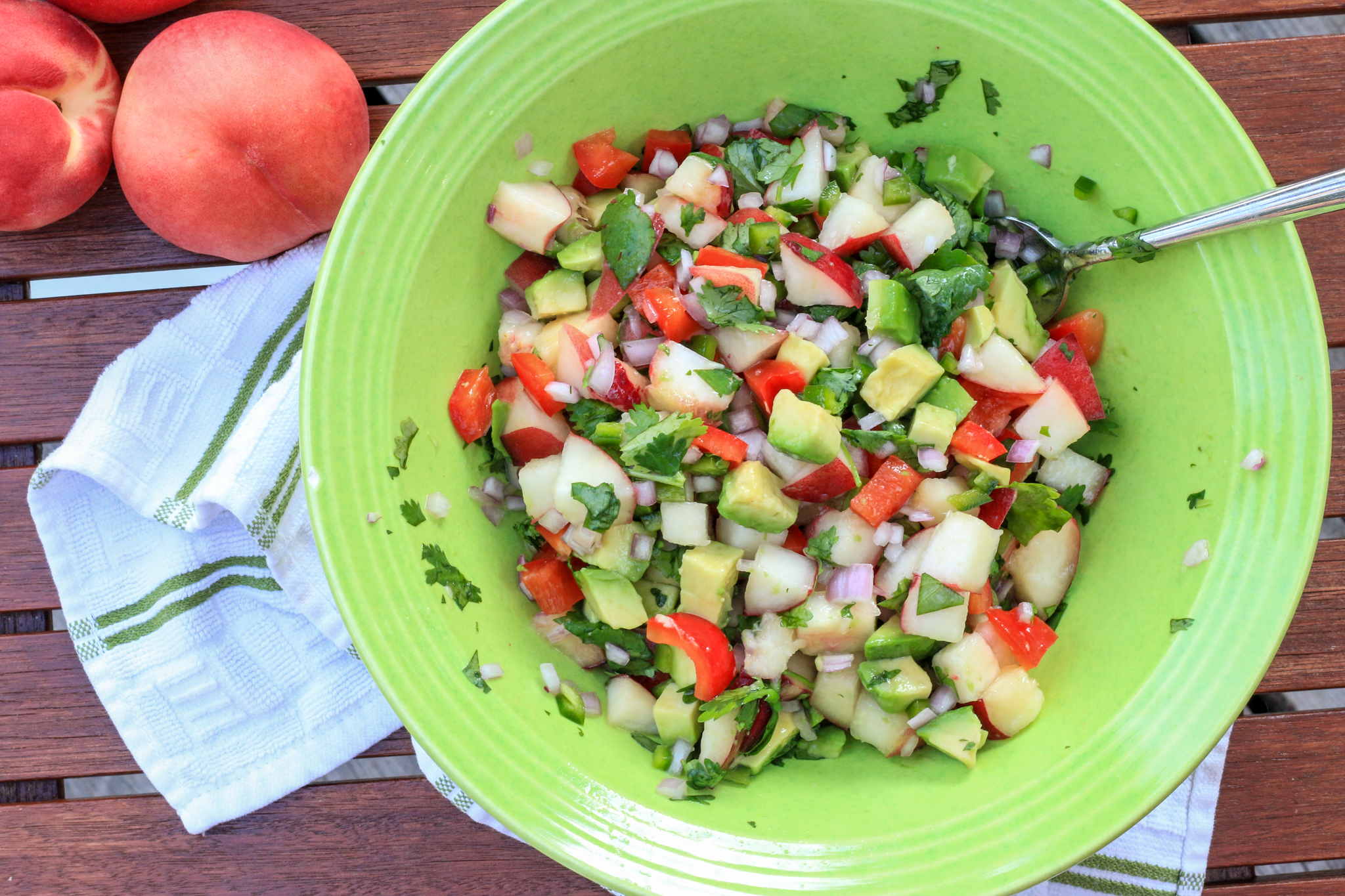 Here are 5 ways to incorporate fresh peaches into your savoury meals:
Pork: Most people think about a pork chop with apple sauce, or a ham and pineapple pizza as pretty classic pairings. Peaches are a fantastic swap for both fruits. How about a pan seared pork chop with a buttery peach and sage sauce? Or a prosciutto and peach pizza?
Seafood: It sounds a little strange but I promise it's delicious. How about some coconut shrimp with a pureed peach dipping sauce? A fresh peach salsa is also great accompaniment to all sorts of seafood (and tortilla chips). In fact, I wrote a recipe for you below for some baked salmon filets with fresh peach salsa. It was a light and refreshing meal that I would work into my weekly rotation. You could easily turn that recipe into fish tacos as well!
Cheese: Cheese and fruit is kind of a no brainer. You've got to try my peach grilled cheese outlined below! It was SO delicious and easy to whip up. I grilled sourdough bread with melty brie cheese, fresh peach slices, balsamic caramelized onions for a bit of a bite, and a few basil leaves.
Sauces: Turning an abundance of peaches into preserves is always a good idea because they can then be used for both sweet and savory meals. Or how about adding peaches to BBQ sauce? Check out my recipe for Kickin' Peach BBQ Sauce here. I slathered it on a rack of ribs but it would be just as delicious on some grilled chicken breasts.
Salads: A nice spinach salad with a honey mustard vinaigrette would go amazingly well with some fresh peach slices, candied nuts, tangy feta or goat cheese, red onion and some grilled chicken. Or how about a peach, burrata caprese salad?
I hope I've inspired you to get cooking!
Salmon Filets with Fresh Peach Salsa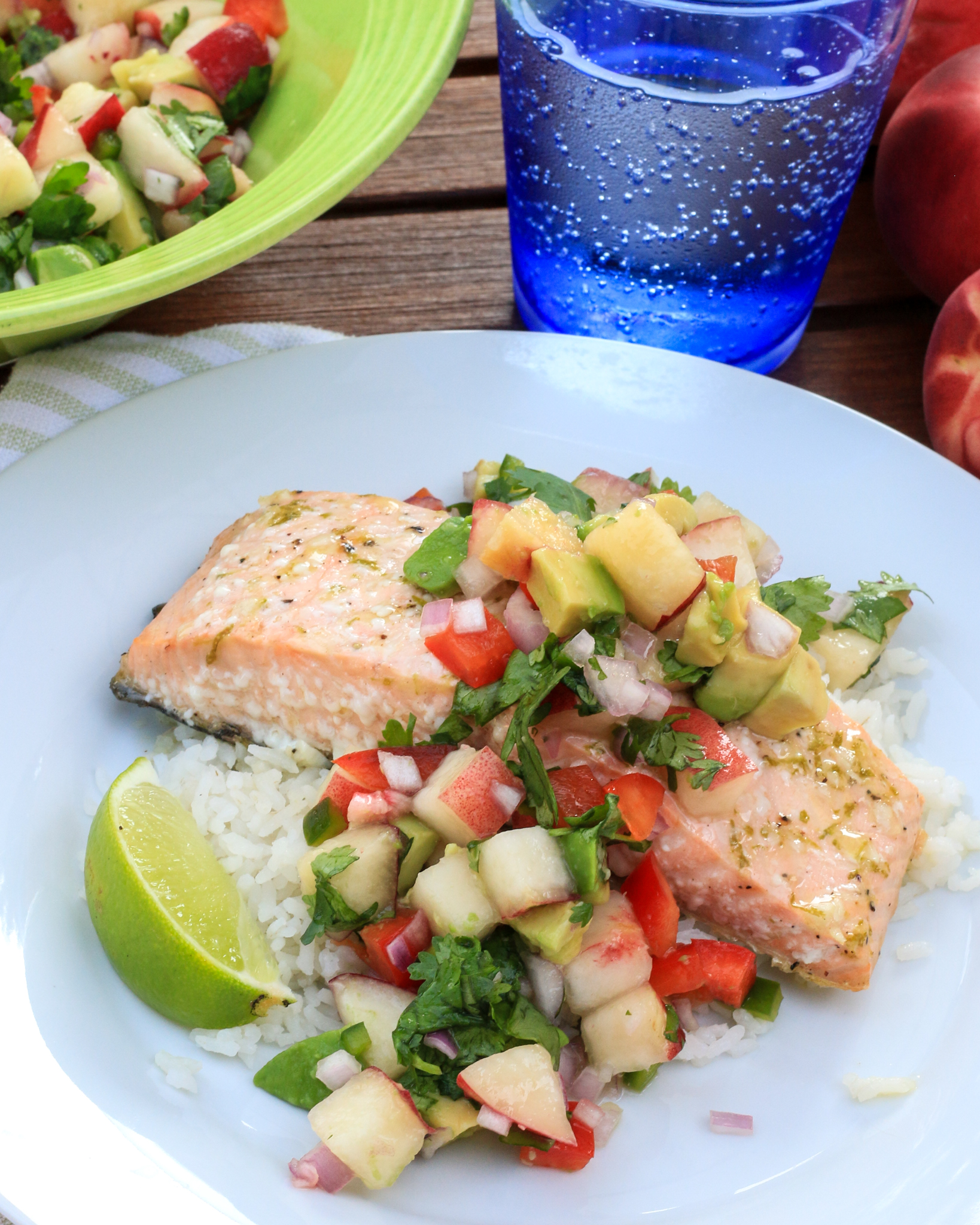 Prep time: 15 minutes (+30 mins inactive)
Cook time: 15 minutes
Total time: 1 hour
Yield: 4 Servings
INGREDIENTS
For the Fresh Peach Salsa
3 fresh ripe peaches, pitted and diced
½ a large red bell pepper, seeded and finely chopped
1 jalapeno, diced
1 shallot, diced
½ a cup chopped cilantro
1 avocado, diced
Juice from 1.5 limes
Sea salt to taste
For the Salmon Filets
4, 6oz wild salmon filets
3 tbsp Western Family olive oil
4 cloves garlic, minced
½ tsp cumin
½ tsp. ground coriander
Juice and zest of 2 limes
Salt and pepper to taste
DIRECTIONS
To make the fresh peach salsa, place all of the ingredients except the avocado in a medium sized mixing bowl. Stir until combined, cover and refrigerate while you make the salmon.
Line a shallow baking dish (big enough to fit all of your salmon filets) with parchment paper. To cut out clean up time, pour the olive oil, minced garlic, cumin, coriander, lime juice and zest and salt and pepper directly into the prepared pan. Stir until combined, and place your salmon filets directly in the marinade. Let marinate in the fridge for 30 minutes total, flipping them halfway through to ensure both sides get covered in the marinade.
In the final 10 minutes of your salmon marinating, preheat your oven to 400F.
Bake your salmon until it flakes with a fork, and it cooked through (approximately 15 minutes depending on the thickness of your filets).
Once the salmon is finished cooking, mix the cubed avocado into the peach salsa. Spoon the salsa over the salmon and dig in! I also served mine with coconut rice and spooned some of the extra sauce from the salmon overtop.
Grilled Cheese Sandwich with Peaches, Brie & Caramelized Balsamic Onions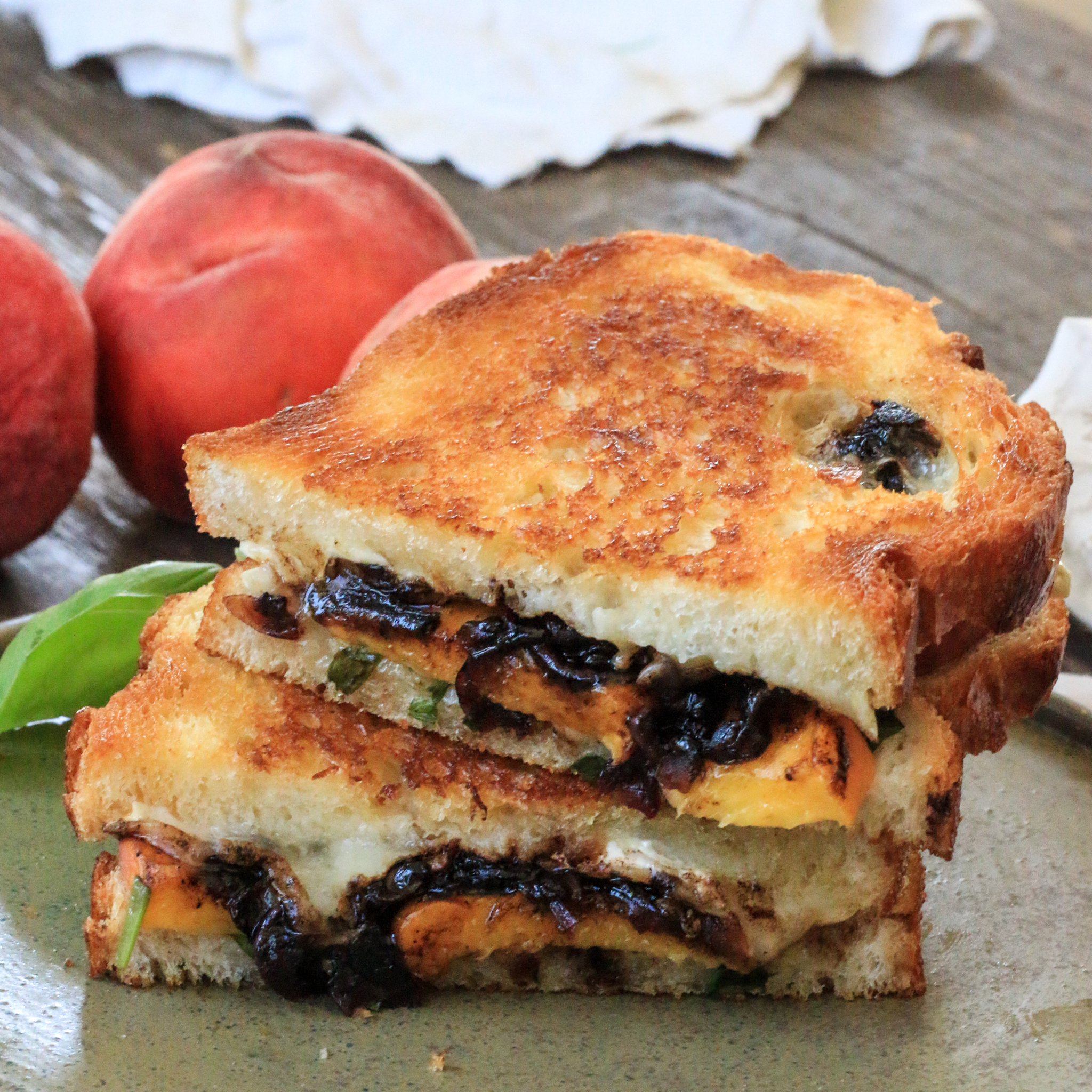 Prep time: 5 minutes
Cook time: 25 minutes
Total time: 30 minutes
Yield: 1 Serving
INGREDIENTS
For the Caramelized Balsamic Onions
1 tsp. vegetable oil
½ a red onion, finely sliced
1 tbsp. balsamic vinegar
¼ tsp. Western Family honey
Pinch of salt and cracked black pepper
For the Grilled Cheese
2 slices of your favorite bread (I used Sourdough)
1.5 tbsp. butter
Brie slices (enough to cover surface area)
Fresh peach slices (I used about ¾ of a peach for a large sandwich)
2 tbsp. fresh basil, cut into ribbons
DIRECTIONS
Start by making the caramelized balsamic onions. Heat the oil in a sauté pan over medium low and then add the onions. Sautee until caramelized, approximately 20 minutes, stirring occasionally. Mix in the balsamic vinegar, honey and salt and pepper. Let cook for an additional minute or two, until the vinegar has reduced and fully coated the onions. Remove the onions from the heat and set aside.
Lay both slices of bread on a cutting board and butter one side of each. Assemble your sandwich by layering the brie, peaches, balsamic onions and fresh basil on top of each other on the unbuttered side of one piece of bread. Close the sandwich with the buttered sides facing outward.
Heat a non-stick frying pan on medium-low. Place the sandwich in the pan and cook until the bread is nicely browned, 3 to 4 minutes. Using a spatula, flip and repeat on the other side until browned and the cheese is fully melted.
About the Author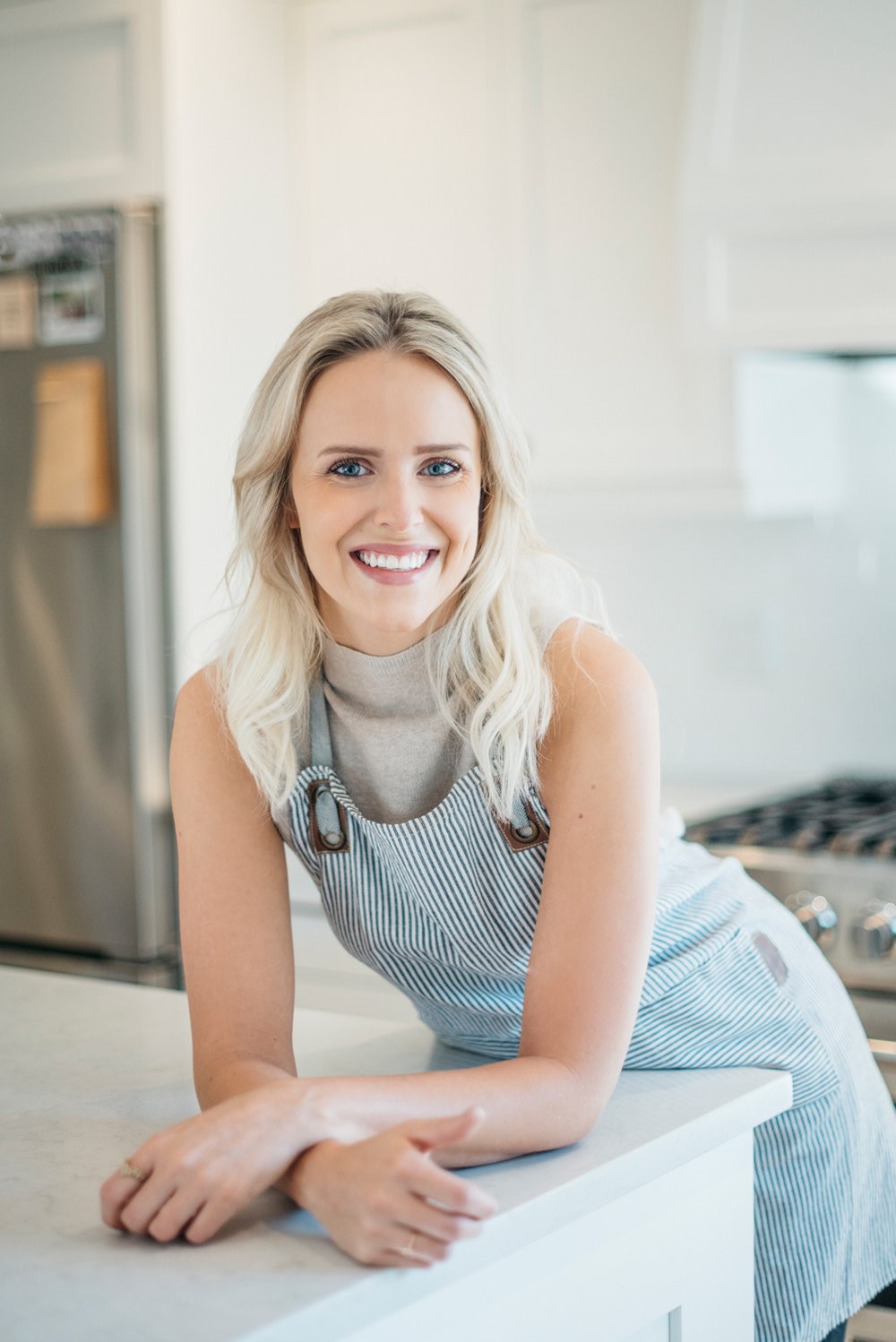 Jillian is the founder of Jillian Rae Cooks and is also the author of The Basic Bitch Cookbook. She is a mostly self-taught cook (with the exception of one-day cooking classes here and there) but has been working with and around food and beverages for most of her life in various roles in the restaurant industry. Full-time, she is a marketing director at a digital marketing agency but is always in pursuit of learning about and exploring her passion in life: food! She was a top 16 contestant on MasterChef Canada Season 4 and as well as a top 10 finalist in the Pillsbury/Betty Crocker Bake It Possible Challenge that aired on the Food Network Canada. Check our her fantastic recipes on her blog www.jillianraecooks.com.