Happy Spook-tacular Halloween From Save-On-Foods!
Halloween is just around the corner and how that looks for you and your family may be a little different this year, but we've got everything you need for a fun Spook-tacular Halloween at home. From backyard Halloween treat hunts to family-fun activities, Save-On-Foods is your go-to for a Spook-tacular Halloween!
Let the Spook-tacular Halloween Fun Begin!
Halloween may be different this year, but staying home this Halloween can be a spook-tacular, fun filled night. Let us help you get into the spirit with our wickedly fun and easy home activities and tips that are sure to delight any ghoul-old and young!
Here are some fun activities for a Spook-tacular Halloween at home. For a fun family evening, let each person choose and activity. Even better this year, Halloween is on a Saturday so the fun can be enjoyed all day!
Set a Spooky Table
Make your Halloween dinner a ghoulishly fun! Cut out ghosts and leaves from white paper for spooky look or have little carved pumpkins at everyone's place setting.
Gingerbread Haunted House
Bake cookies, rice krispie monsters or build a haunted gingerbread house with the kids.
Virtual Pumpkin Carving
Have a virtual pumpkin carving party with friends and family. Don't forget the snacks!
Ghoulish Mystery Box Game
Let the imaginations run wild! Use peeled grapes for eyeballs, unpopped corn kernels for teeth and boiled cauliflower for brains. Its frightfully fun!
Halloween Treat Hunt
Hide plastic eggs and treat bags filled with candy for an at home Halloween treat hunt-perfect for indoors or outdoors. Everyone will love this one!
Thriller Movie Night
Have a countdown to Halloween with your very own movie marathon complete with frightfully tasty snacks. Check out our deli, bakery, produce and bulk departments for fresh, savoury bites, ghoulish delights and candy to satisfy your sweet tooth.
Make a Halloween Scavenger Hunt
Whether you play it outside or in, a scavenger hunt with scary clues is fun for everyone!
Halloween Rock Painting
Keep painting those rocks! Ghosts, goblins and vampire rocks are perfect for a Spook-tacular Halloween!
Paint Your Pumpkins
Try something new this year- painting your pumpkins gets those ghoulish ideas flow!
Make Your Home Into A Haunted Adventure
Make it a family event and create the ultimate Haunted House! Don't forget the scary music!
Easy Meal Ideas For Halloween Night
Let us help you make this a Spook-tacular Halloween by letting us do the cooking! We've got delicious delights in every department that will help you spend less time in the kitchen and more time having Spook-tacular fun!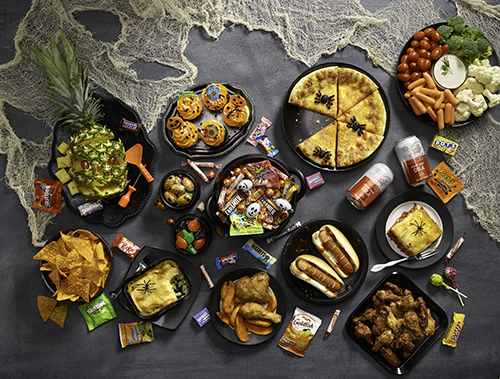 Wicked Quick Meals
Make Halloween night a spook-tacular feast. Enjoy deliciously convenient meals and sides from our Kitchen, deli and frozen departments so you can enjoy more scary good times with family.
Meals You Can Sink Your Fangs Into
From our new hardwood smoked whole turkey legs, to chicken, curry or beef pot pies, our Kitchen department has something satisfying for the entire family.
Treats For All Your Tricksters
Stock up on packaged Halloween candy for all sorts of fun family activities, like haunted gingerbread houses and backyard treat hunts! Check out our bakery departments for spook-tacular treats that your little tricksters will love.
Have a safe and spook-tacular Halloween!
Check out our Halloween Treat Ideas