Did you know that Halloween falls on a Saturday this?! Double the fun! And double the treats with a delicious start to the spookiest night of the year with these Maple Pecan Pumpkin Pancakes. These super fluffy pancakes evoke all things fall with rich maple flavours, crunchy pecans and pumpkin (but not too much pumpkin) mixed in. Why not make it a super fun brunch for the whole family with a filling homemade breakfast and brunch and maybe a little pumpkin carving before the big evening!
Pumpkin isn't always a winner for everyone in the family. It seems you're either it's number one fan or not at all. Whereas I don't run to line up for the first pumpkin spice latte of the year, I do really love to cook with it. I've made these pancakes a little on the pumpkin flavour. It's completely adaptable though! If you're big on pumpkin spice flavours, go ahead and add another tsp or two.
I also like to leave my pecans for toppings so they add a nice taste and crunchy texture to the top but you could also add them to the batter if you prefer.
This recipe makes enough for 8 extra-large fluffy pancakes but if that's a bit too much for what you need, the batter stays nicely in an airtight container or jar in the fridge to convince those kids back to school come Monday morning!
Maple Pecan Pumpkin Pancakes
Ingredients
Makes 8 Extra Large Pancakes
2 Cups of Western Family All-Purpose Flour
1 Tbsp of Baking Powder
2 Tbsp of Brown Sugar
1 Tbsp of Pumpkin Pie Spice (if you don't have it you can use; 1 tsp of cinnamon, 1 tsp of ground ginger, ½ tsp of ground nutmeg, ½ tsp of clove, ½ tsp of all spice)
 2 Tsp of Cinnamon
½ Tsp of Salt
1 ½ Cups of Milk
1 Cup of Western Family Pumpkin Puree
¼ Cup of Western Family Pure Maple Syrup
2 Eggs
2 Tbsp of Olive Oil
¼ Cup of Whole of Halved Pecans for Serving
Extra Maple Syrup for Serving
Directions
In a large bowl, mix together your dry ingredients until fully incorporated
In another bowl mix together your wet ingredients until full incorporated
Add the wet ingredients into the dry and using a whisk, combine until all of the flour has been absorbed and mixed into the wet ingredients.
Spray a non-stick pan with cooking spray of choice and place on low heat.
Use a 1/3 cup measuring cup to scoop two measuring cups worth into the pan, for one pancake
Allow pancake to cook until the top starts to form small holes around the edges and you can easily flip with a spatula, roughly 3 minutes. Then allow to cook for another 2-3 minutes on the other side
Pancakes should be firm but fluffy and slightly browned on the outside
Continue until batter is gone, you may want to re-spray you pan with non-stick spray every so often
Serve warm with a dollop of yogurt or butter, extra maple syrup and pecans on top!
About the Author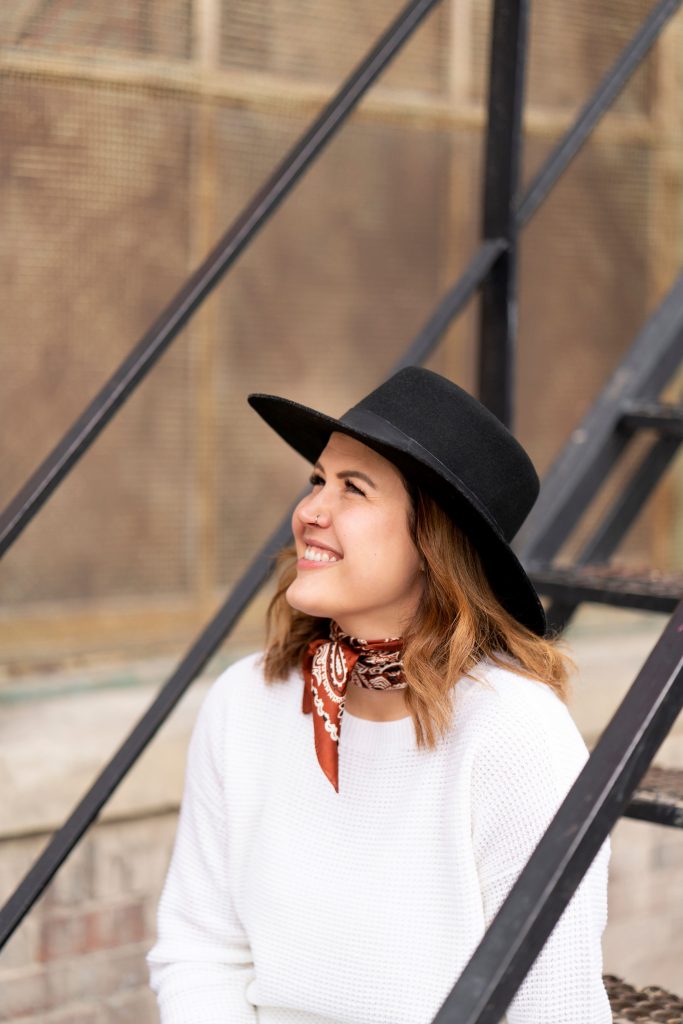 Tanya Pilgrim is a Food Photographer/Stylist and Recipe Developer living and working in Calgary, Alberta with her family. Tanya couldn't be more pleased that her love of cooking for friends and family,and her passion for photography, has created a life and living that she looks forward to every day. You can always find Tanya hanging out next to the charcuterie board at the party, curled up with a cook book in the family room at home, and ALWAYS avoiding having to do the dishes.
Follow Tanya