I've made no secret of my love for pasta and tacos. In fact, I imagine a quick search of everything posted on my blog over the years would show that delicious pasta and various taco recipes are more prominent (and popular) than any other cuisine. But lost in all of that, is my near-equal love for pizza. I like savoury pizza for dinner, leftover pizza for lunch, and even dessert pizza. Not to limit my options, I also enjoy pizza as breakfast!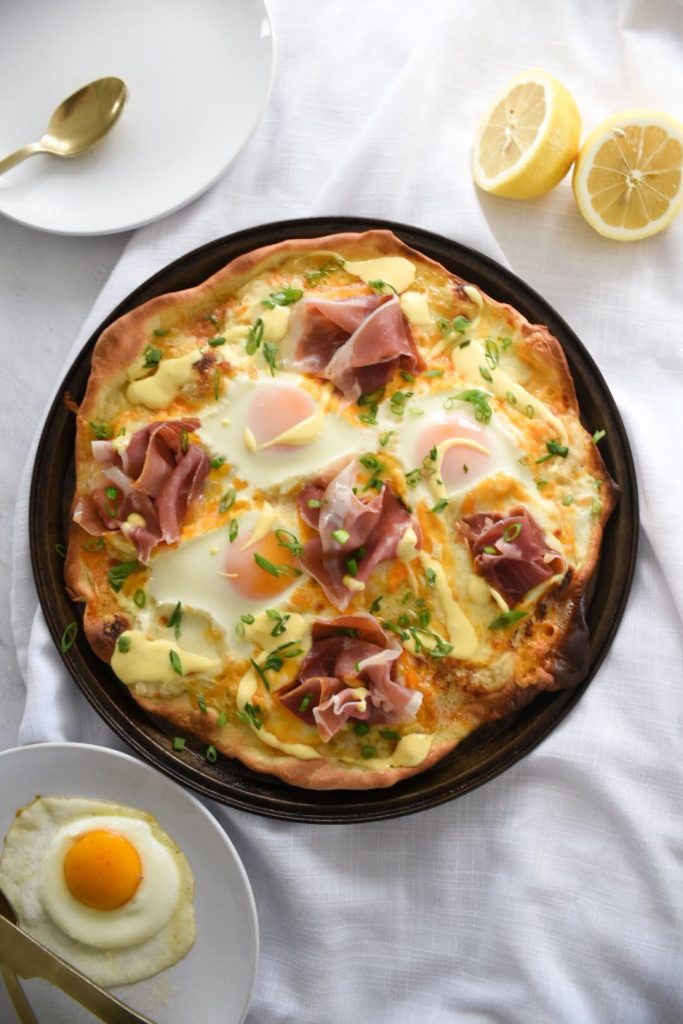 And while most people think of "pizza for breakfast" as grabbing a cold slice from the fridge in the morning, I like to take things in an entirely different direction.
Pizza as the first meal of the day makes all the sense in the world if you think about it. Toast is popular for breakfast. And isn't pizza crust just a different form of toast? Cheese is popular on scrambled eggs and in breakfast tacos, just as it's popular on pizza. Bacon, sausage, and ham? Great on pizza, great with breakfast. You get the picture.
For this breakfast pizza recipe, it isn't simply the stereotypical "regular pizza with an egg on top." I've spun a traditional eggs benedict into a thin-crust pizza, complete with hollandaise, green onion, and all the fixings.
One awesome added benefit of breakfast pizza? You can get the kids involved. With many parents trying to plan activities with their children, food preparation and cooking is a great way to spend time together. And as many kids love having pizza morning, noon, and night, bringing them into the kitchen to help can be a fun – and flavorful – way to get the morning started.
Bon Appetite!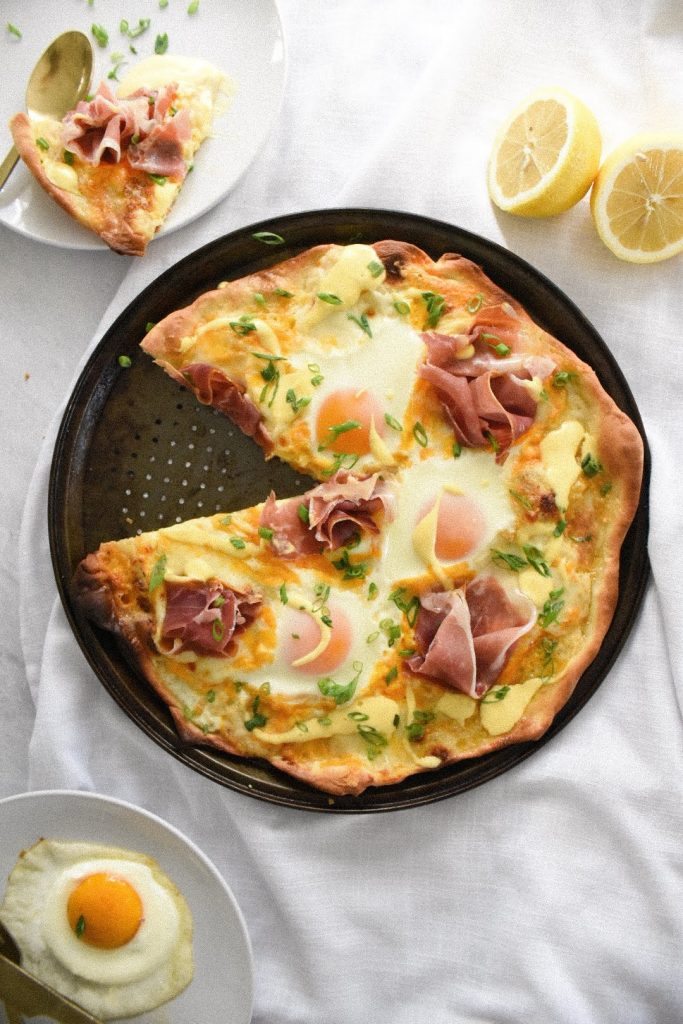 Ingredients
For the Pizza Dough
1 ½ cups of water
½ tablespoon Western Family sugar
1 package instant yeast
2 tablespoon Western Family olive oil
2 teaspoons Western Family salt
3-4 cups of Western Family flour (bread or all-purpose)
For the Bechamel
2 tablespoons Western Family butter
2 tablespoons Western Family flour
1 ¼ cup milk (warmed)
Salt to taste
For the Hollandaise Sauce
1 egg yolk
1 -2 teaspoons of lemon juice
1-2 teaspoons of water
1 stick of butter
Salt and pepper to taste
Toppings
6 slices of prosciutto
3 eggs
1 tablespoon of chopped green onion
1 cup of mozzarella cheese (I used a fresh mozzarella ball sliced)
½ cup Western Famil cheddar cheese
Directions
For the Pizza Dough
In a bowl, place yeast and sugar in the warm water. Allow to sit until yeast is frothy (about 10 minutes). Add olive oil, flour and salt. Mix until a dough starts to form. Knead dough for about 10 minutes (I use a stand mixture with a paddle attached). If dough is still sticky, add a little extra flour. Once smooth, form a ball and place in a greased bowl covered with saran wrap and a dishtowel. Leave for an hour or until double in size. You can also make the night before and have it rest overnight. 
For the Bechamel 
Melt butter in a saucepan on medium heat. Stir in flour and continue stirring until mixture resembles a paste. Continue to cook for 2 minutes being careful not to brown the sauce.
A little at a time, pour in milk while continuing to stir. Once all milk is incorporated, cook for an additional 3 to 4 minutes. The sauce should be a nice thick consistency. Season with salt and pepper and set aside until ready to use.
For the Hollandaise
In a cup that just fits the head of an immersion blender, add egg yolk, water and lemon juice. Melt butter in a pan over medium-high heat. Once completely melted, add to a liquid measuring cup.
Place head of immersion blender into the bottom of the cup and turn on. While running, slowly add the melted butter until all butter is gone. The butter should emulsify with the egg yolk, lemon and butter and form a sauce. If too thick, add a teaspoon more of water. Season to taste and set aside.
To Cook the Pizza
Preheat oven to highest setting (mine was 500 degrees Fahrenheit).
Remove ¼ of dough from bowl. Dust surface and dough with flour and roll out to the size of your pizza pan. Dough should be fairly thin, but you can opt for a thicker crust if you like.
Place dough on a greased pizza pan. Cook for about 3-5 minutes; just until dough starts to cook (this will prevent the sauce from making the crust soggy and wet and stick to the pan).
Remove from oven.
Smear a thin layer of bechamel sauce onto pizza dough. Repeat with a thin layer of hollandaise. Next, place a thin layer of mozzarella and cheddar cheese. Finally, carefully crack three eggs onto the pizza. Place pizza in oven and cook until crust is golden brown, and eggs are set.
Remove from heat and top with prosciutto, green onion and season with salt and pepper. Slice up and serve while warm.
About Thea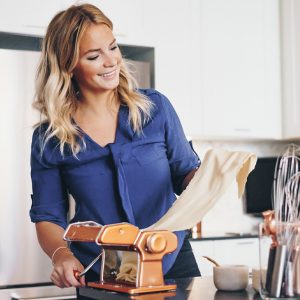 Thea Van Herwaarden is a Vancouver-based food blogger and on-air talent known worldwide. She has appeared on both Canadian and American television, acted as a national campaign spokesperson for major lifestyle chains, and serves currently as a brand ambassador for a wide range of food and home brands. In 2017, her skills in the kitchen landed her in the "Top 2" spot on Master Chef Canada. Following that, her version of a nduja ricotta tortellini made it on the menu of Jamie Oliver's restaurant, Jamie Italian. Thea has since then launched her own brand, Théasty, where she showcases global tastes and travel, national and international restaurants and recipes, as well as lifestyle tips. All of this is shared with her loyal 19K followers on Instagram, and on her blog.