It's almost time for Canada Day and like many of you, I greatly enjoy spending time with friends and family enjoying the warm B.C. summer. And even though this year may be a little different in terms of how many people we can spend July 1st with, that's no reason to cut back on making a delicious Canada Day spread in celebration!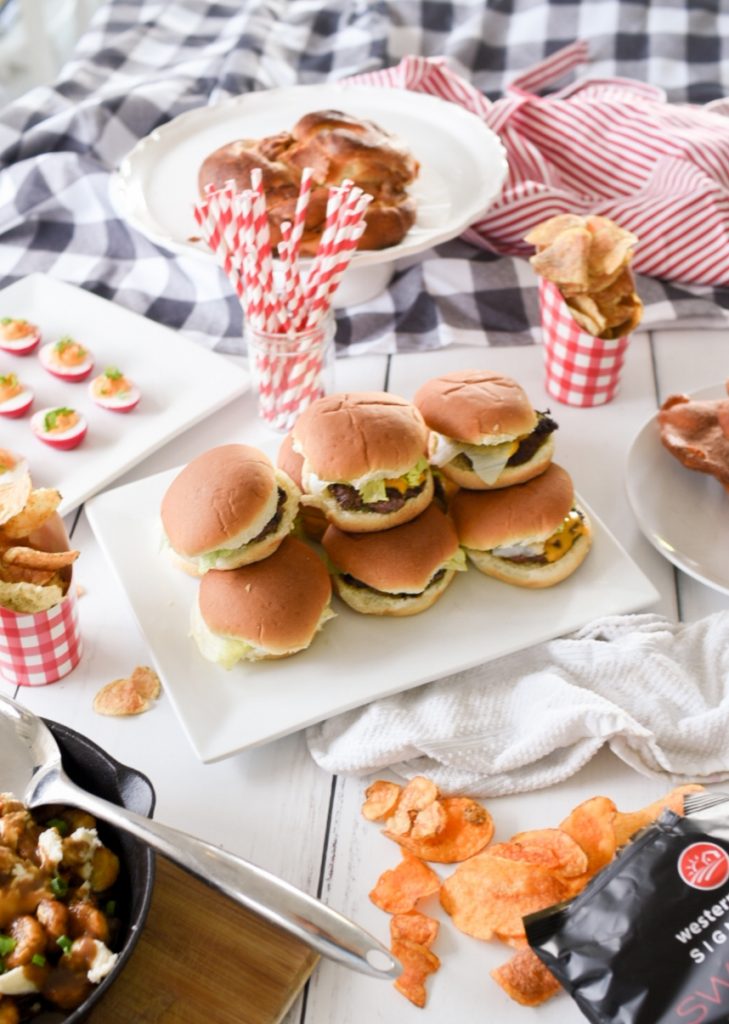 When preparing for a summertime feast, I like to mix sweet and savoury options and offer snack-sized bites rather than big, heavy platefuls. I also try to integrate some colours, themes and flavours to honour our great nation. From our national animal – the beaver – to the red and white on the Canadian flag, both the flavours and appearance here goes great with Canada Day.
I've put together some of my favourite summer fare for this year's Canada Day festivities. Easy recipes chock full of flavour, ready to enjoy whether your group is large or small.
Let's dig in!
Deviled eggs are a summertime outdoor staple. But when was the last time you tried to turn your deviled eggs up a notch AND match them to the theme of the day? These bite-sized appetizers pack a punch and proudly show the red and white of the Canadian flag.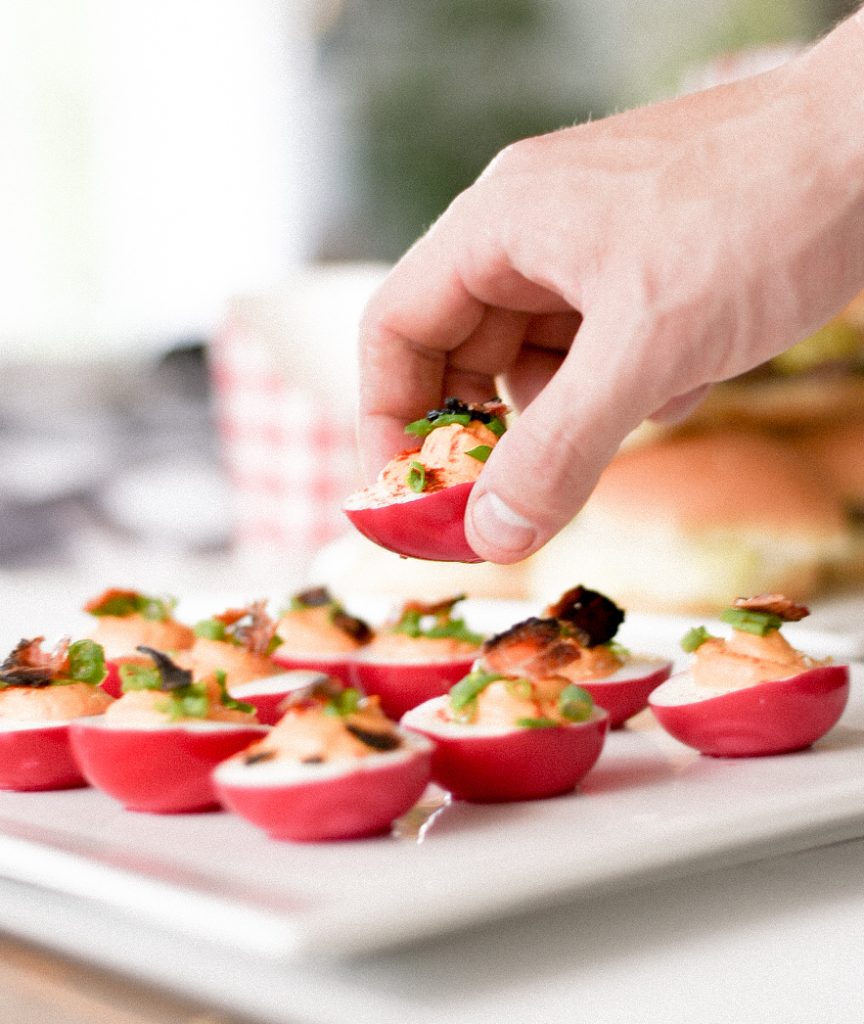 Canada Day Deviled Eggs
makes 12
Ingredients
6 eggs
1/2 cup of white vinegar
2 – 4 cups of water
Red food colouring
For the Filling
¼- ½ cup mayonnaise
1 ½ teaspoons Dijon mustard
½ teaspoon paprika
Salt and pepper
Garnish
1-2 tablespoons chopped green onion or chives
1 tablespoon of bacon bites
Directions
In a medium pot, boil 6 eggs for 13 minutes. Place under cool water until able to handle (about 5 minutes).
Shell eggs and place in bowl filled with water, vinegar, and enough red food colouring to turn mixture a dark red. Place in fridge for about 2 hours or until eggs are a deep red.
Cut each egg in half and remove yolks. Place yolks into a medium bowl. Add mayonnaise, Dijon mustard, paprika, salt and pepper. Mix until smooth. Pipe or spoon filling back into egg halves.
Garnish with green onion/chives and bacon bits.

Beavertails – Canadian fried dough
makes 12 full size or 24 mini
Breakfast treat or dessert? There are no 'wrong' choices when it comes to enjoying Canada's own Beavertail. A little more than 40 years old (in its current incarnation), the Beavertail is a fried dough covered in butter, cinnamon and sugar. Some Beavertails include toppings like chocolate, but I prefer mine the traditional way. To me, the best part of making Beavertails is there quite often will be a few leftovers for breakfast the day after.
Ingredients
4 teaspoons yeast
½ cup of warm water
½ cup milk warmed
5 tablespoons unsalted butter melted
½ cup sugar plus 1 tablespoon
2- 4 cups all-purpose flour
Pinch of salt
Vegetable oil for frying
Cinnamon and sugar (to coat)
Directions
Place yeast in warm water with a tablespoon of sugar. Let sit for 10 minutes until yeast is nice and frothy.
In a large bowl, add 2 cups of flour, sugar and pinch of salt. Make a well and add eggs, warm milk, yeast mixture, and melted butter. Begin to form a dough. If dough is wet, continue to add flour until it no longer sticks to the bowl. Knead dough on hard surface until smooth and elastic.
Grease and place dough back into bowl. Cover with a dishtowel or saran wrap and allow to rest for 1 – ½ hours or until double in size.
Punch dough down and divide into 12 equal balls. 24 balls if you wish to have mini beavertails.
Heat about 2 inches of oil in a large high sided pot to 350 degrees.
Roll each ball into an oval. Place in oil and cook on each side for about 30-45 seconds or until golden brown.
Remove and place briefly on paper towel to remove excess oil. Toss in cinnamon sugar and repeat with remaining balls. Enjoy.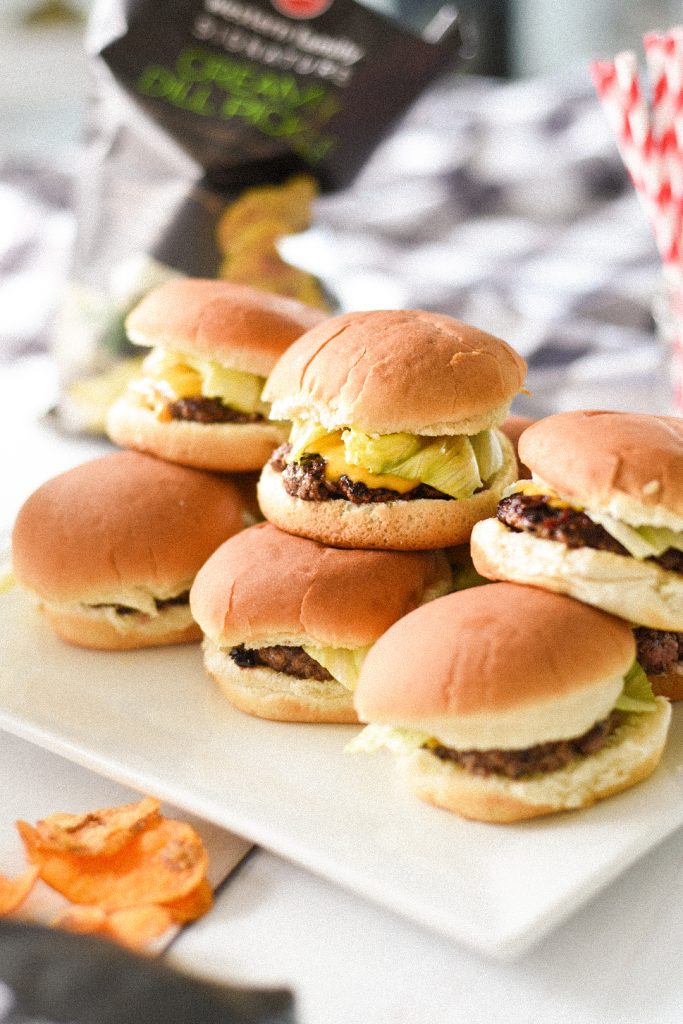 Smashburgers
makes 8 mini or 4 full-sized
What screams summertime more than a good hamburger? But this isn't just any old' hamburger. It's a Smashburger!
As the name suggests, these burgers get their shape by literally being smashed flat as the cooking begins. But the smashing technique is about more than just the flat shape. The smashing of the meat helps to create the tasty crispy bits around the edges and keep the flavorful juices from escaping. There's nothing at all wrong with a traditional hamburger. But give the Smashburger a try, and I'm willing to bet you may never go back!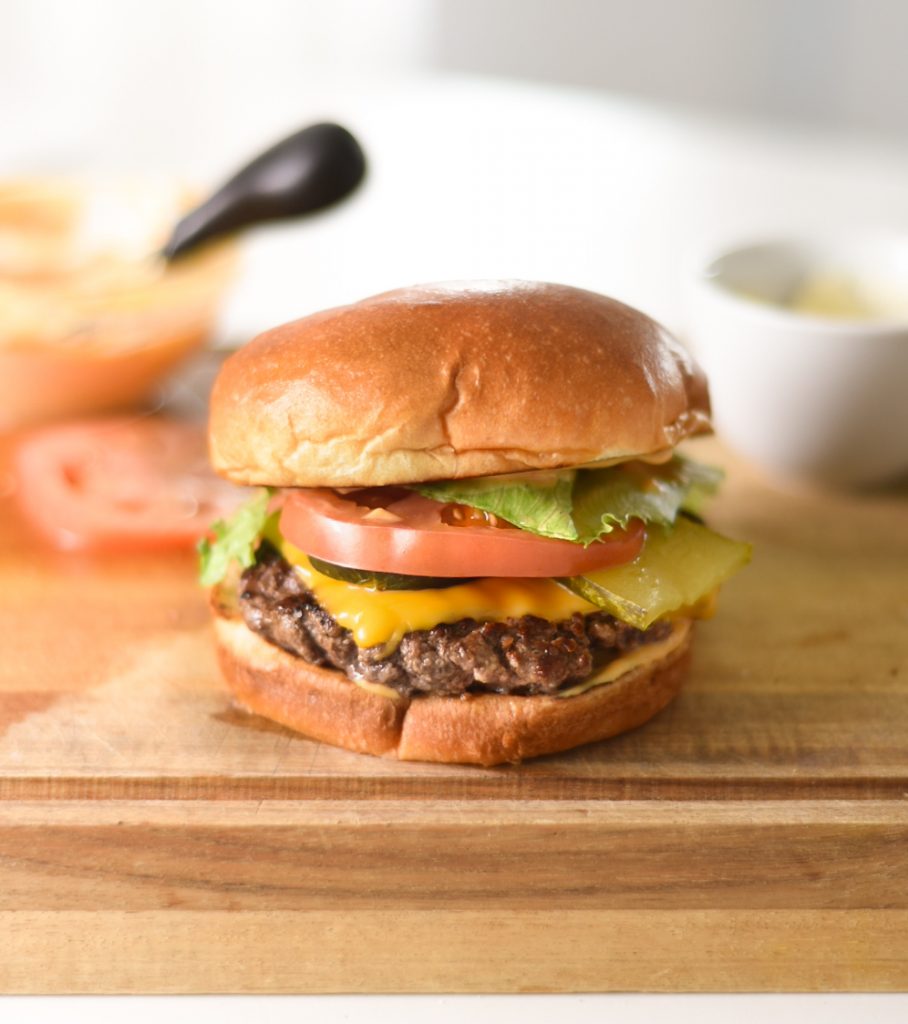 Ingredients
For the Burger Patty
1 lb ground chuck 80/20
Salt and pepper
1 tablespoon vegetable oil
Burger fixings
Brioche or potatoes buns (1 for each patty)
2 tablespoons unsalted butter
Cheese slices (1 for each full-sized patty or ½ for mini patty)
Iceberg lettuce
Tomato slices
Dill Pickles
Thinly sliced white or red onion
Special Sauce 
¼ cup mayonnaise
2 tablespoons ketchup
1 ½ tablespoon mustard
¾ tablespoon relish
Pinch of salt and pepper
Directions
Heat cast-iron skillet on medium heat. Butter buns and toast on skillet. Set aside.
Divide ground chuck into four 4 oz patties or eight 2 oz patties. Careful not to overwork the meat.
Turn skillet to medium-high. Drizzle 1 tablespoon of vegetable oil on skillet. Season tops of divided ground chuck with salt just before placing on skillet.
With a heavy-set flat spatula, flatten patty until about ½ inch thick. Ensure you flatten within the first 30 seconds. After, do not flatten or squish the patty. Cook for approximately 2 minutes or until you notice liquid surfacing on the top of the patty (fat rendering). Flip and add cheese. Cook until cheese is melted and remove from heat. Continue until all patties are completed.
For special sauce
Mix mayonnaise, ketchup, mustard, relish salt and pepper until well combined.
To assemble
Spread special sauce onto toasted brioche. Add onion, beef patty, lettuce, tomato and dill pickle. Enjoy!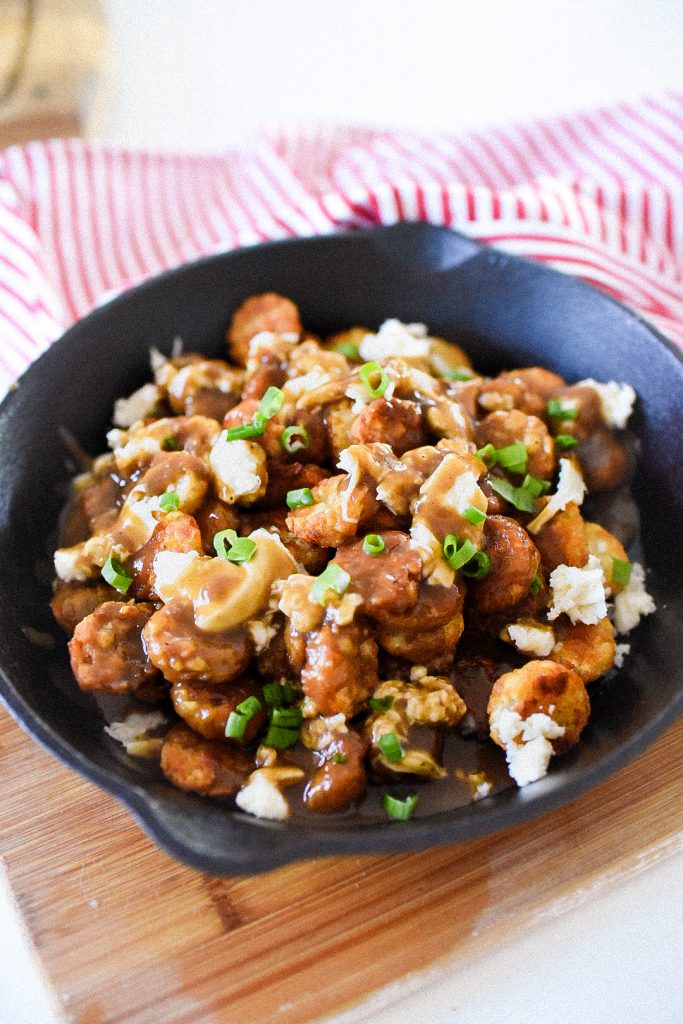 Tater Tot Poutine
If it feels like there are as many varieties of poutine out there as there are lakes in Canada, you likely wouldn't be far off. Perhaps my favourite variation for homemade poutine is substituting tater tots for fries and making my gravy from scratch. The change to tots makes the dish more easily spooned out (and shared) than regular fries and helps when portioning just a little for a snack. Don't have any beef trimmings to make the gravy? I've got your covered; my beef broth-based gravy makes an excellent replacement and holds up if you're set up outside in the backyard or at the park.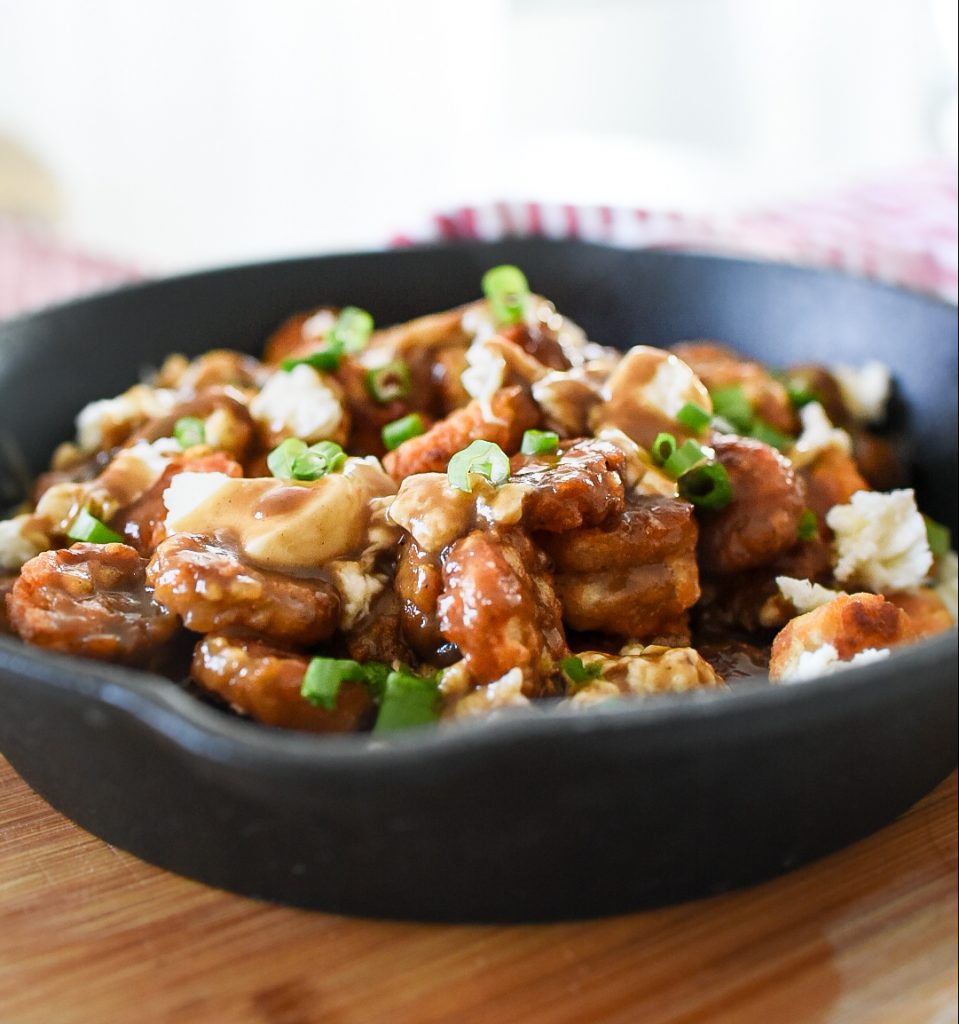 Ingredients
For the gravy
2 tablespoon unsalted butter
4 tablespoons all-purpose flour
1 ½ – 2 ½ cups of beef broth
3 teaspoons Worcestershire sauce
Salt and pepper to taste
Misc.
½ bag of tater tots – can also sub with regular fries
1 ½ cups of cheese curds – can also sub with a ball of fresh mozzarella
¼ cup of chopped green onion
Directions
Cook tater tots as directed on the bag. Meanwhile, heat a medium-sized skillet on medium-high heat.
Add butter and flour, whisking until butter is completely melted and flour is incorporated.
Slowly add beef broth whisking as you add. Once you have desired consistency, add Worcestershire, salt and pepper to taste.
Remove tots from oven and transfer to a cast-iron skillet or another serving vessel. Divide cheese over top of tots. Drizzle hot gravy on top of cheese. Top with green onion and serve while hot.
About The Author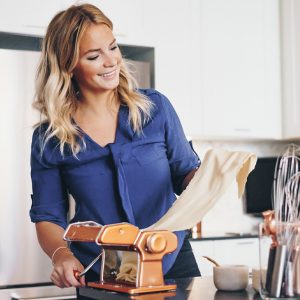 Thea Van Herwaarden is a Vancouver-based food blogger and on-air talent known worldwide. She has appeared on both Canadian and American television, acted as a national campaign spokesperson for major lifestyle chains, and serves currently as a brand ambassador for a wide range of food and home brands. In 2017, her skills in the kitchen landed her in the "Top 2" spot on Master Chef Canada. Following that, her version of a nduja ricotta tortellini made it on the menu of Jamie Oliver's restaurant, Jamie Italian. Thea has since then launched her own brand, Théasty, where she showcases global tastes and travel, national and international restaurants and recipes, as well as lifestyle tips. All of this is shared with her loyal 19K followers on Instagram, and on her blog.