Meatballs were a holiday staple in my childhood home. My mom makes them with a deliciously sticky cranberry BBQ sauce at Christmas time, usually for Christmas eve, as part of an all-evening appetizer snack fest with the family.  I'm sharing my own version with you today, using fresh cranberries, ketchup, brown sugar and soy sauce. Although I can't be with my mama in person this year, I'll be making these meatballs and we will be together in spirit.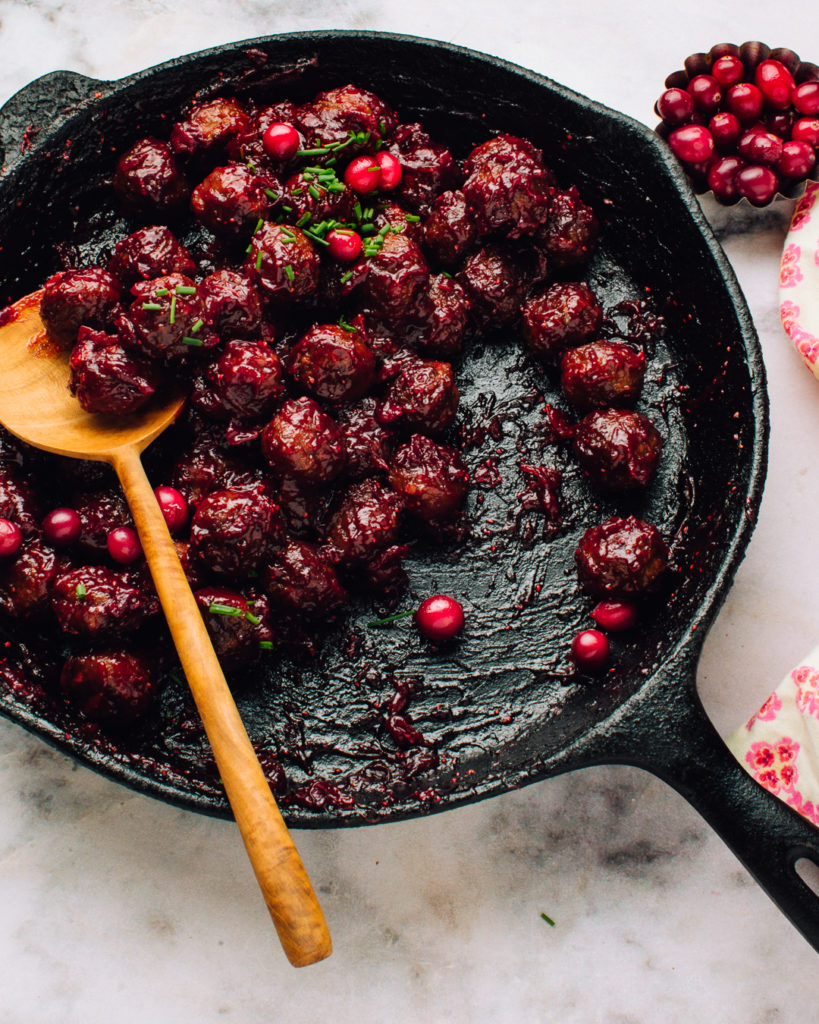 Holiday food is so much fun when you've got lots of time, but it can get overwhelming as we get closer to special days when there are so many non-food preparations to tend to as well.
The deeper we get into the holiday season, the more I find I seek special meals and snacks that lend themselves to creative food shortcuts. I really just want to be cozy by the fire with my kids. This recipe is perfect for those evenings. Frozen meatballs are an excellent fast-track to this special fireside-friendly, finger-food appy.
The Western Family Sirloin frozen meatballs are a great choice. They've got good ingredients akin to homemade (beef, breadcrumbs, Worcestershire sauce, onion, garlic, etc.) and they're super juicy and flavourful.  It's a relief not to have to bother with the mess of mixing and rolling your own meatballs when you can buy good quality fully-cooked frozen ones.
My incredibly-easy method for making the meatball sauce involves simply tossing all ingredients into a pot and cooking it all together in a single step. If you've ever made homemade cranberry sauce, it's the same simple technique of simmering the berries with sugar and water until they pop and thicken. Here, instead of just cranberries, we add ketchup and soy sauce for a BBQ vibe. The berries give way to a beautifully-glossy, sticky glaze, enriched with brown sugar and spiced with a touch of cayenne and smoked paprika.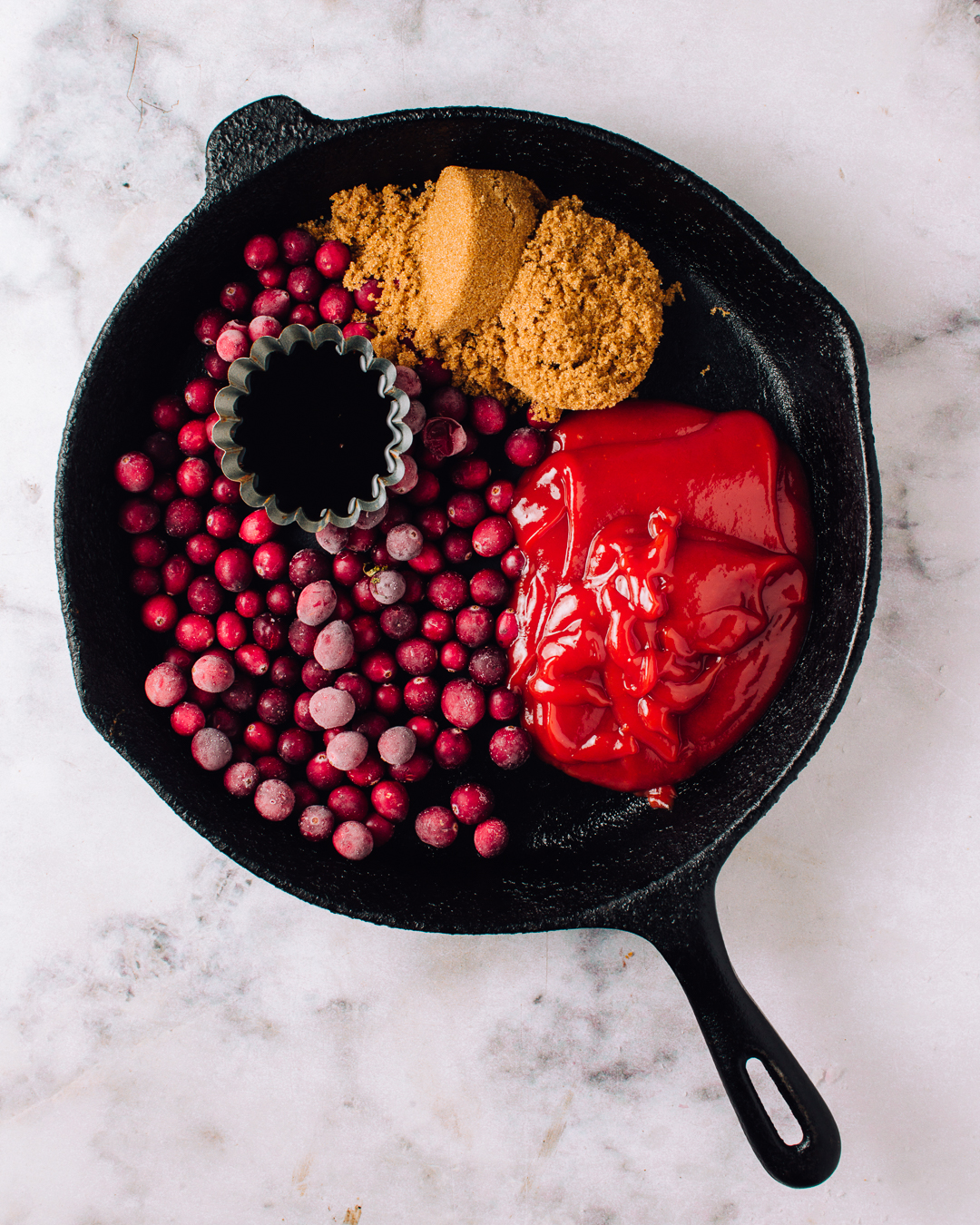 If you prefer very mild meatballs, feel free to omit the cayenne (and even the smoked paprika). The sauce still tastes really good without them – just more cranberry and less BBQ.
One thing to note is that the sauce has a high sugar content and can scorch if not watched closely. I stand by stirring frequently and reduce the heat as soon as it starts to thicken. It's important to know as well that the cranberries will pop causing the sauce to sputter up and send hot droplets of cranberry puree flying at bystanders. This is a good reason to choose a higher-sided vessel (like a dutch oven) vs. the cast iron pan I used in the photos and to keep the heat on a very low simmer as soon as the berries start to burst.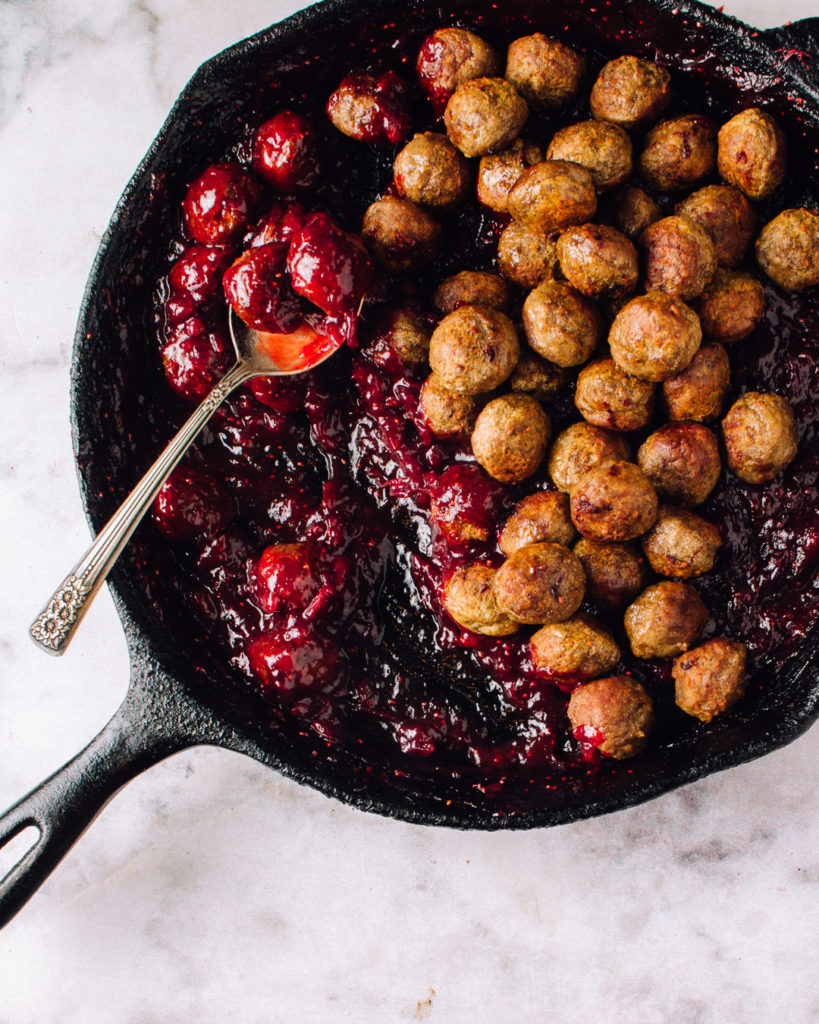 While you're simmering the sauce, pop the meatballs in a hot oven to give them a good browning. By the time the cranberry mixture comes together, the meatballs will be ready to toss in. I add the browned meatballs directly to the skillet (or dutch oven) on the stove top. Check the internal temperature of one – it should reach 160ºF before you take them off the heat.  If they haven't, simply cover the pan and continue cooking in the sauce over the lowest heat.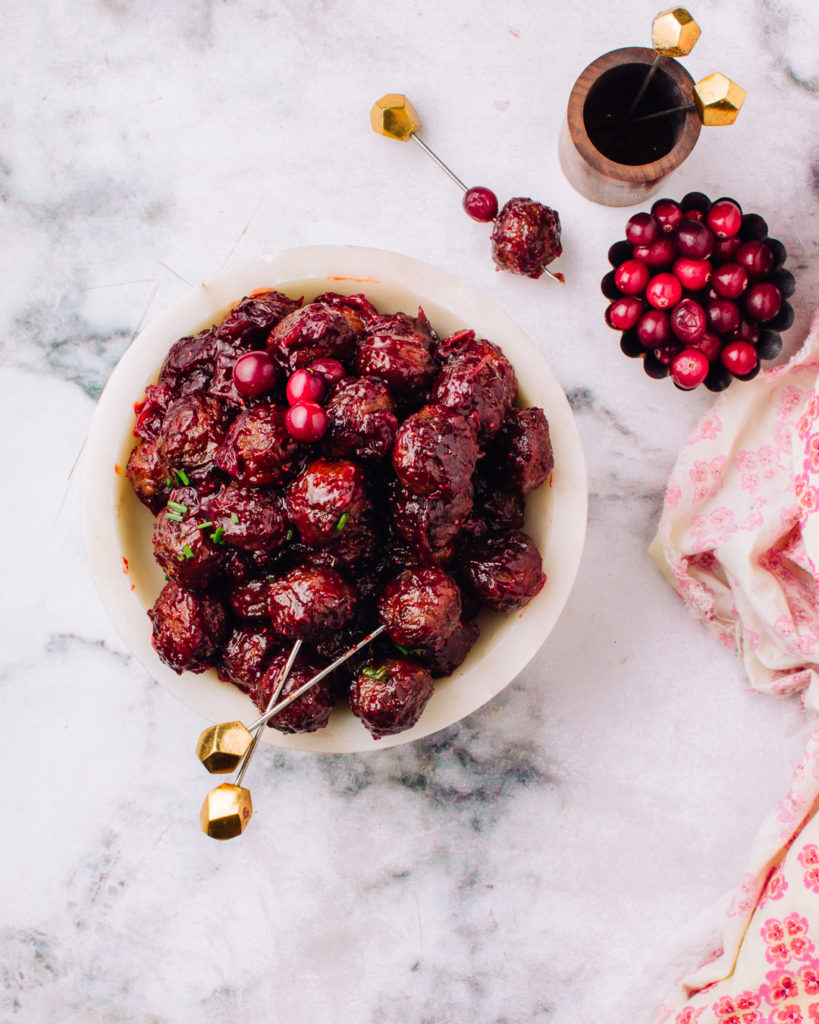 My favourite way to serve this Cranberry Meatball recipe is with tall flutes of ice-cold sparkling wine next to festive food picks for serving yourself and a pile of napkins for sticky fingers. The kids love the novelty of jabbing meatballs on a tiny skewer. You could easily take this recipe from appetizer to meal, however, with the addition of plates (first and foremost) as well as steamed rice and a side vegetable.
Cranberry Meatballs
Perfect for the Holiday Season
Ingredients
1 800g box Western Family Sirloin Meatballs, frozen
2 cups fresh or frozen cranberries
1 cup ketchup
½ cup brown sugar
½ cup water
2 tbsp soy sauce
½ tsp smoked paprika
? tsp cayenne
2 tsp minced chives or green onions, to garnish (optional)
Directions
Preheat oven to 400ºF. Arrange meatballs on a parchment-lined baking sheet and bake for 20 minutes, flipping halfway, until nicely browned.
Meanwhile, combine cranberries, ketchup, brown sugar, water, soy sauce, smoked paprika and cayenne in a large skillet or dutch oven over medium heat. Cook, stirring frequently, until cranberries start to burst and sauce begins to sputter (be very careful!). Reduce heat to low. Continue cooking, mashing the cranberries with your stirring spoon, until sauce thickens and darkens, about 7 minutes.
Add meatballs to the cranberry sauce and toss gently to coat. Internal temperature of the meatballs should reach 160ºF. If they haven't, cover the pan and continue cooking on low heat until cooked through.
Serve sprinkled with minced chives or green onions, if desired.