Like many of you I'm struggling to find ways to carry on holiday traditions while friends and family are on the other side of a video screen. However, just because the end of 2020 is not ideal doesn't mean that those of us who love the season shouldn't punt on making the best possible food to celebrate.
If you're anything like me, the holidays are the Superbowl of food. To get the most out of this time we will need to change our mindset a little and find inspiration wherever we can.  In the past I might have made appetizers fit for eight or ten or twelve people but this year I'll only be cooking for two or three. No problem! I'm going to take that and turn it into a challenge to try tasty new things. I've spent a lot of time thinking about how to make an amazing spread for a much smaller group and am excited to share some simple appetizer recipes to help your holiday get together and be full of joy.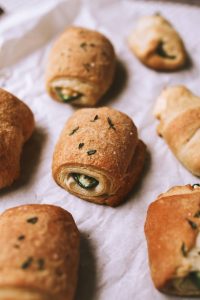 Jalapeno Popper Puffs
Ingredients 
4 jalapeños – sliced in half and de-seeded
½  package of cream cheese (125 grams)
1 cups shredded tex mex cheese (alternatively ½ cup of shredded mozzarella and ½  cup of shredded cheddar)
1/3 cup bacon bits
1/3 cup chopped green onion
1 package of croissant rolls (alternatively, you can use pre-made puff pastry)
3 tablespoons unsalted butter – melted
Kosher salt to taste
Directions:
Preheat oven to 375 degrees F
Mix together cream cheese, mozzarella cheese, cheddar cheese, bacon bits, and green onion in a medium sized bowl.
Fill each jalapeno with mixture.
Remove croissant dough from packaging and unroll.  Slice dough into strips 2 – 2 ½ inches wide (you should have 8 strips per package.  Gently roll each jalapeno on a strip of dough.  Repeat with each jalapeno.
Line on a baking sheet with parchment paper.  Brush the tops with melted butter and sprinkle with kosher salt. Bake until golden brown.  Remove from heat and serve.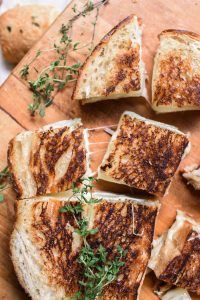 Grilled Brie, Pear and Thyme Toasties
4Large slices of Sourdough bread
1 large pear sliced thinly
1 small wheel of brie cheese sliced
6 slices of mozzarella cheese
6 sprigs of thyme
3 tablespoons unsalted butter – softened
Directions:
Butter bread on both sides of each slice.
Layer brie, then sliced pear, then mozzarella. Top with fresh thyme and place another sliced bread overtop.
Repeat with two other slices of bread.
Place sandwiches in a large skillet on medium low heat.  Top with a lid and cook until cheese begins to melt, and bread begins to golden on one side.  Flip and continue to cook until the cheese  is fully melted and either side is golden brown.  Remove from heat and allow to cool slightly.
Using a serrated knife, slice each sandwich into cubes.  Serve.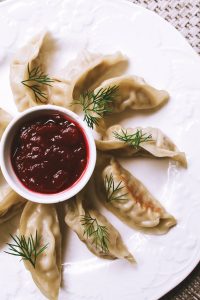 Turkey Dinner Dumplings 
Ingredients:
1 package ground turkey
1 package Western Family instant stuffing mix – made according to instructions
1 package (approx. 15-20) of pre-made dumpling wrappers
1 can pre-made cranberry sauce
2 tablespoons neutral oil
Directions
In a bowl mix together ground turkey and stuffing mixture. Stuff each dumpling wrapper with a spoonful of the mixture. Fold wrapper in half and squish down to make the bottom flat.
In a medium nonstick skillet on medium heat add oil. Place dumplings into skillet seam side up.  Cook until bottoms are golden brown. Add 3- 4  tablespoons of water and seal with a lid (to steam).  Reduce heat to medium/medium low.  Cook until filling is cooked through. If dumplings need more time to cook, add more water and continue to cook with lid on.  Remove from pan and serve with cranberry sauce.