When is the last time you had a pasta dish where the vegetables were the star of the show? I don't mean "oh, there were some tomatoes in there" but where the vegetables were featured. The taste, the texture, and the color all carrying the day? Maybe you favorite Italian restaurant features pine nuts and mushrooms, but when it comes to the home kitchen, we all too often overlook the magical taste of different vegetables when putting together a pasta dish.
Hear me out… far too often the pasta dishes made at home fall into one of three categories: tomato-sauce based, butter based, or cream based. Protein. Cheese. Call it a day. But vegetables like peas, asparagus and corn can turn an otherwise "pretty good" pasta night into an exceptional and unforgettable dish.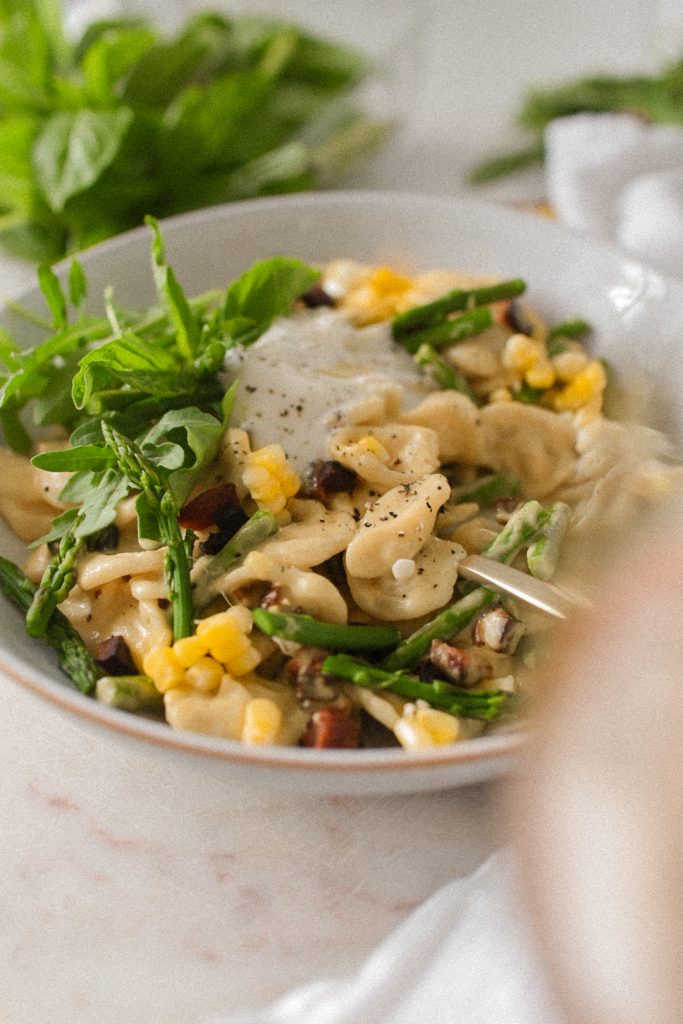 My pasta obsession has led me to try new and different ingredients in a lot of different ways. And admittedly not everything is a hit. However, corn is a versatile and tasty ingredient that can be used as a stuffing turned into a sauce or added as a garnish to give a little crunch. Corn can be used to sweeten, or it can provide a savory base. The yellow color can be a bright pop on lighter colored pasta or a subtle complement in a dish of reds and greens.
My favorite thing current with corn is cooking it down and blending it into a creamy sauce. Which give the mouth feel of a cream base without as much cream. Corn also goes well with a wide range of cheeses and proteins, meaning that the potential flavor combinations are limited only by your culinary imagination.
This time around I'm making creamed corn pasta with sausage, asparagus and burrata. I'll be using corn as the base for a sweet sauce to offset the savory and spicy flavors of the sausage and asparagus.
Check it out!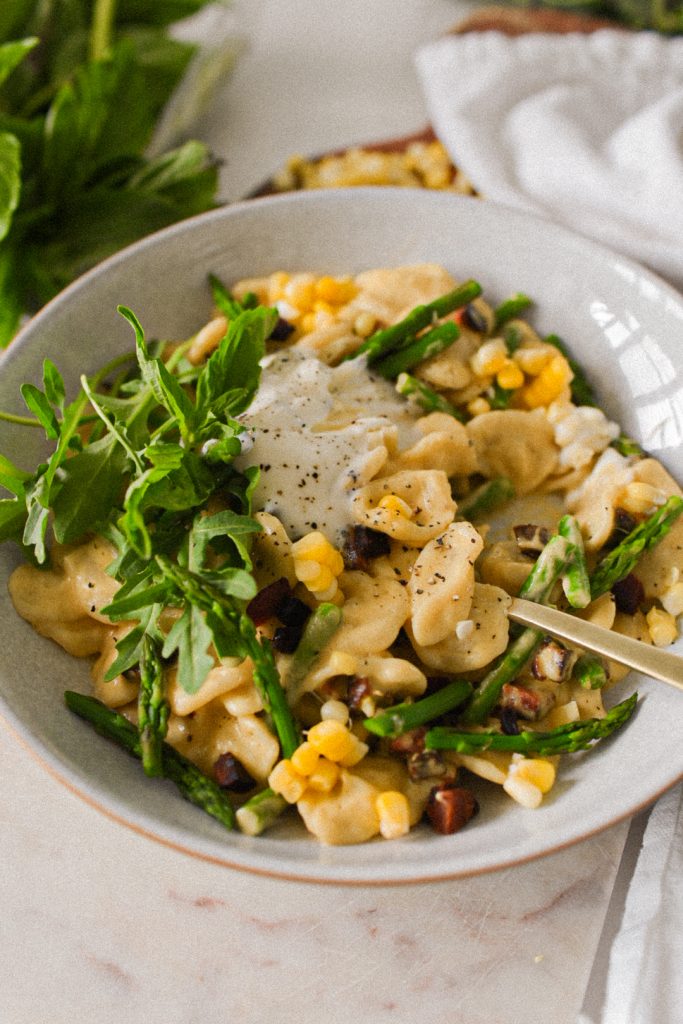 Creamy Corn Pasta with Sausage, Asparagus and Burrata
Ingredients
2 cups of dry pasta
2 links of hot/medium hot sausage
½ sweet or yellow onion – diced
4 cloves garlic – minced
1 ½ cup corn plus some for garnish
¼ tablespoon of tomato paste
1 ½ cups of chicken stock
¼ – ½ cup of cream
¼ to ½ bunch of asparagus
1 ball of burrata
Pecorino Romano – to garnish
Directions
Remove sausage from casing. In a medium to large skillet on medium high heat, cook sausage until
cooked though (about 7 minutes).  Remove sausage from skillet and place in a bowl with paper towel.
Set aside.
With the fat leftover from the sausage, on medium heat, add diced onion. Cook until translucent in color.  Add garlic, corn and tomato paste. Continue to sauté for another 5-7 minutes.  Add Chicken stock to corn mixture and continue to cook down the stock until it's reduced by half.  Transfer mixture to blender and add cream and a good pinch or two of salt (while blending).  If too thick, add ¼ at a time of chicken stock until mixture is smooth and silky. Transfer sauce into a saucepan and keep warm until ready to serve.
Meanwhile bring a large pot of water heavily seasoned with salt to a boil and a bowl with ice water on the side. Once water is boiling, blanch asparagus by adding to boiling water for 1-2 minutes then removing and placing in ice water (to stop them from cooking further).  Pat dry and cut into one inch pieces. Set to side.
Boil your pasta in a pot of water until pasta is just shy of el dente. Reserve 1 cup of pasta water then strain pasta.
Place pasta back into pot. Add corn sauce, sausage, asparagus and reserved corn kernels. Toss until combined and hot.  Serve and top with a good helping of burrata and Pecorino Romano.
Enjoy!
About The Author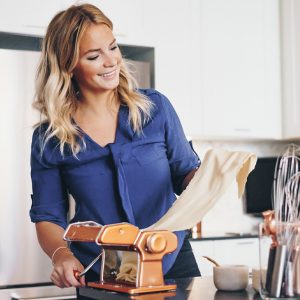 Thea Van Herwaarden is a Vancouver-based food blogger and on-air talent known worldwide. She has appeared on both Canadian and American television, acted as a national campaign spokesperson for major lifestyle chains, and serves currently as a brand ambassador for a wide range of food and home brands. In 2017, her skills in the kitchen landed her in the "Top 2" spot on Master Chef Canada. Following that, her version of a nduja ricotta tortellini made it on the menu of Jamie Oliver's restaurant, Jamie Italian. Thea has since then launched her own brand, Théasty, where she showcases global tastes and travel, national and international restaurants and recipes, as well as lifestyle tips. All of this is shared with her loyal 19K followers on Instagram, and on her blog.