With Easter around the corner, it's time to think about that holiday dinner. For many people, Easter dinner doesn't take much recipe planning. It's that chance to have turkey or ham and the comforting sides that give you all the nostalgic feels. Simple enough.
Traditionally, we spend most of our time tending to the main with the sides as a quick afterthought. Not realizing how much time it takes to make a holiday dinner, we struggle to get everything on the table in time. But just because the main is both family tradition and the star of the show doesn't mean the sides should be an afterthought. To the contrary, Easter dinner is a chance to ramp up your sides, so the entire spread is world-class.
If you have decided to continue on with the Easter dinner to provide some normalcy for your kids during these times, then use the side dishes as a chance to bring something new to the table. Side items shouldn't be just about filling up. They should be about feeling the joy and satisfaction of a meal that was excellent with every bite.
To show you what I mean I've put together two simple ways to take standard holiday side dishes to the next level. If mashed potatoes and Brussels sprouts are part of your Easter spread, I'd encourage you to give them a little extra attention, and amp up the flavour.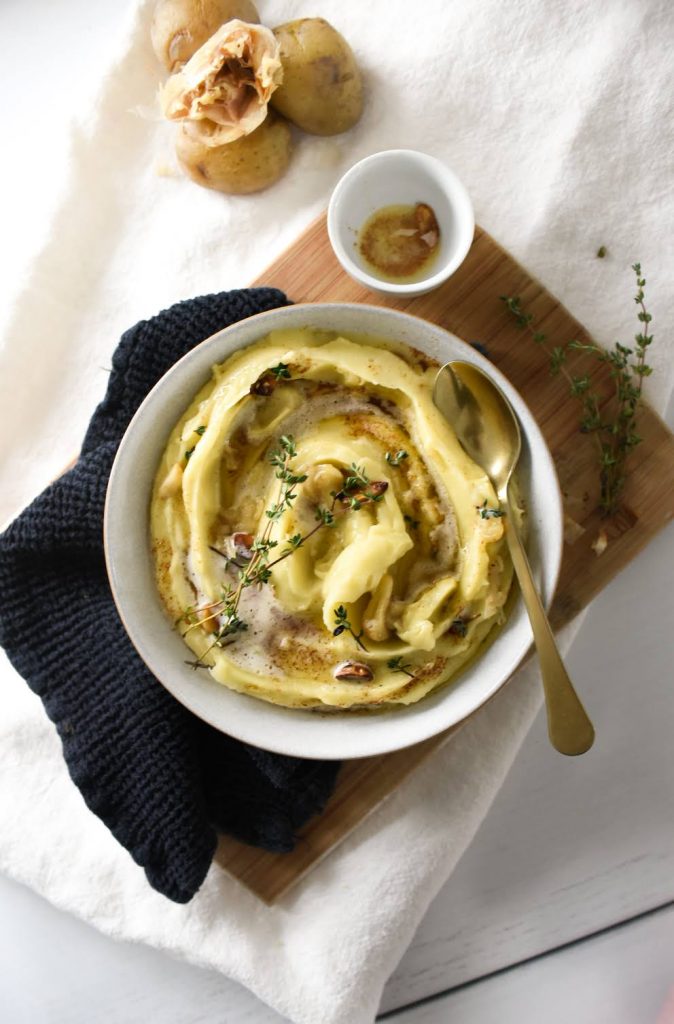 Brown Butter & Roasted Garlic Mashed Potatoes
Make those simple mashed potatoes into a creamy luxury by adding roasted garlic and brown butter.
Here's how:
Ingredients
4 cups of mashed potatoes
1 whole garlic
1 tablespoon vegetable oil
½ cup unsalted butter (or more if you prefer your potatoes extra creamy & buttery)
Directions
Preheat oven to 400 degrees Fahrenheit.
Cut the top of your garlic and place on a sheet of tinfoil.
Drizzle vegetable oil over top of the garlic. Wrap garlic in tin foil and place in oven for 40 minutes. Garlic is done once golden and cloves pop out easily and are soft. If cloves are still hard, place in oven for another 10 -15 minutes and check again.
Meanwhile, place butter into a saucepan on medium heat. Allow butter to melt while continuing to move the pan and it begins to froth. Continue cooking until you begin to smell a nutty flavour and the butter begins to turn a golden brown. Remove from heat.
Pop garlic into mashed potatoes and pour in brown butter. Whisk until incorporated and serve.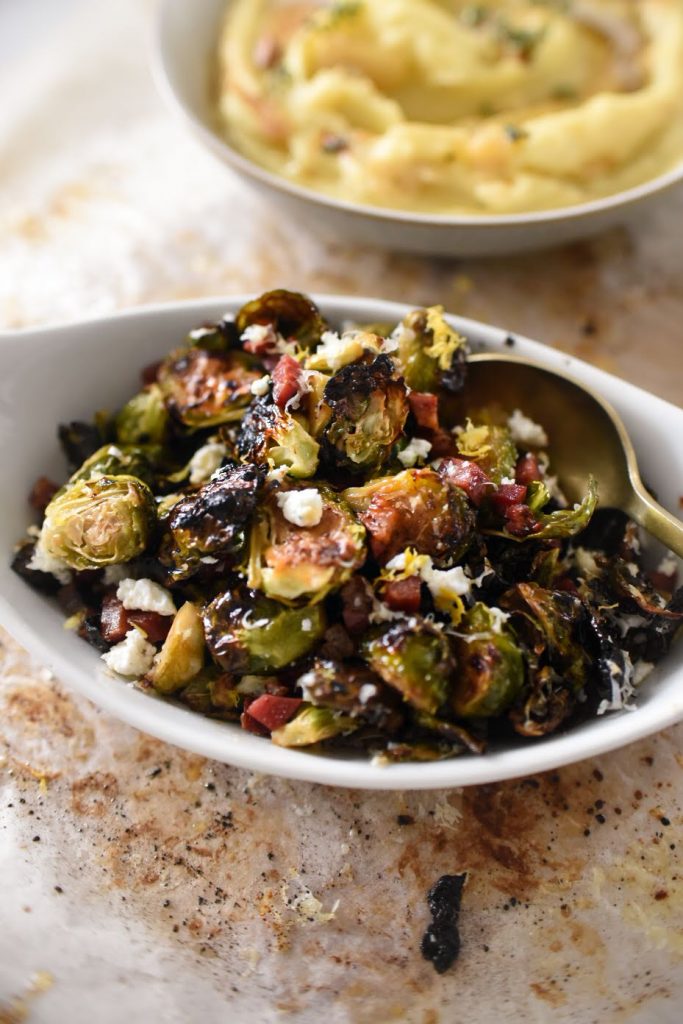 Crispy Maple Brussels Sprouts with Pancetta, Lemon, Goat Cheese and Parmesan
Turn any Brussels sprout hater into a lover with this fan favourite dish. 
Ingredients
4-5 cups of Brussels sprouts cut in half
3 tablespoons vegetable oil
2 tablespoons of lemon juice divided
2 tablespoons of maple syrup
1 teaspoon of salt plus some extra to taste 
4 thick slices of Pancetta diced
½ cup of Parmesan divided
2 tablespoons goat cheese
Lemon zest to garnish
Directions
Preheat oven to 425 degrees Fahrenheit.
In a large mixing bowl, place cut Brussels sprouts, vegetable oil, 1 tablespoon lemon juice, and 1 teaspoon of salt. Mix until well coated. Add maple syrup and toss again.
Place Brussels sprouts on a large baking sheet lined with parchment paper. Spread Brussels sprouts out onto baking sheet. Make sure they are not bunched up as they won't get crunchy.
Bake in oven until nice and golden with some charred (about 15 minutes). Remove from heat. Sprinkle ¼ cup of the Parmesan over top of the Brussels sprouts as soon as they come out of the oven.
Meanwhile, in a medium pan on medium heat, add Pancetta. Slowly cook until Pancetta is crispy (about 10 minutes). Remove from heat onto paper towel to remove excess fat.
Place Brussels sprouts in desired serving dish with Pancetta. Top with lemon juice, salt to taste, goat cheese, remaining Parmesan and lemon zest. Enjoy!
About Thea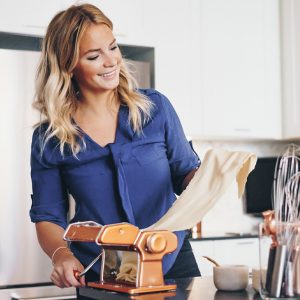 Thea Van Herwaarden is a Vancouver-based food blogger and on-air talent known worldwide. She has appeared on both Canadian and American television, acted as a national campaign spokesperson for major lifestyle chains, and serves currently as a brand ambassador for a wide range of food and home brands. In 2017, her skills in the kitchen landed her in the "Top 2" spot on Master Chef Canada. Following that, her version of a nduja ricotta tortellini made it on the menu of Jamie Oliver's restaurant, Jamie Italian. Thea has since then launched her own brand, Théasty, where she showcases global tastes and travel, national and international restaurants and recipes, as well as lifestyle tips. All of this is shared with her loyal 19K followers on Instagram, and on her blog.