Who doesn't love a good mac and cheese? It's always a no-brainer in my family, especially at times like these. When families are staying close to home, busy schedules of work, school, and activities have been cancelled and we're all trying to create the most comforting environment we can for our families and ourselves during these times of uncertainty. This creamy mac and cheese made with gnocchi and crispy kale is the perfect kind of comfort food. The best part is that this fun dish is not only beloved by the kids but sophisticated enough for the adults in the family, too. 
At our house, we like to serve in individual servings, like the little pots shown above. There's just something about having your own special serving to enjoy, but if you don't have your own little cast iron pots as I have here, you can use ramekins, and oven-proof bake ware or small skillets will do – just be careful when serving your littles from the oven and make sure it's cooled down enough before serving.
I also love that this gnocchi mac and cheese gives the perfect opportunity to sneak in some good hearty greens. I often have a hard time convincing my family to eat their greens, especially kale, but when it's baked into this mac and cheese and just a little crispy from baking, it adds a great texture to this dish. Even my little guy enjoys it!
As a side, I like serving broccolini and asparagus. It's easy to pop into the oven alongside the mac and cheese while it's baking, and all you need to cook it with is a dash of olive oil, and salt and pepper to taste. The simplicity of these veggies makes it a wonderful balance alongside the creamy, richness of the gnocchi mac and cheese.
THE MOST IMPORTANT INGREDIENT
The cheese! When it comes to making a stand-out mac and cheese to me, it's all about the cheese. Some like to use several different kinds of cheese, artisan or more deli-style cheeses like Gruyere or Gouda mixed with cheddar, or Parmesan. For a weeknight meal, I like to keep it as straight-forward as possible, and I find that a good aged cheddar has everything you need for this dish. My favourite is Western Family's 2 Year Aged Canadian Cheddar Cheese; it has that perfectly aged cheddar flavour, it's sharp and tangy, and it crumbles perfectly!
MAKING YOUR SAUCE – FEAR NOT!
Starting your sauce off with a roux makes for that creamy, cheesy goodness we all desire when thinking of a good bowl of mac and cheese. Although it sounds fancy, it's simply just equal parts flour and fat, which specifically for this recipe, means the flour and butter. It starts with melting the butter in the pan on medium-low heat, slowly adding the flour and stirring until the butter and flour have formed a paste, moving it around the pan for a minute or two until it's smooth and slightly brown. Then you add the cream and milk, stirring to fully incorporate the roux mixture, turning the heat up just slightly so you can allow the sauce to simmer and thicken, stirring often. Once it's thick and sticks to the whisk, you'll season with salt and pepper and stir in the shredded cheddar. Now your sauce is ready to stick to that pillowy gnocchi!
Gnocchi Mac and Cheese with Crispy Kale
RECIPE
Serves: 4 
Prep: 10 Minutes 
Cook: 30 Minutes 
Total Time: 40 Minutes
INGREDIENTS
500g of packaged gnocchi
2 tbsp of Western Family butter
2 tbsp of all-purpose flour
1 cup of heavy cream
2 cups of whole milk
2 cups of shredded Western Family 2 Year Aged Canadian Cheddar
1 tsp of sea salt
½ tsp of ground black pepper
1 cup of kale, stems removed and chopped finely
¼ of Western Family Italian Bread Crumbs with Romano Cheese
INSTRUCTIONS:
Preheat oven to 375 and place four individual oven-proof pots on a large baking sheet.
Bring a large pot of water to a boil and add gnocchi to the pot and allow to cook until they come to the surface, around 3-5 minutes. Remove and strain, set aside.
While gnocchi is cooking, add butter to a large pan on medium heat until melted, add butter and combine to form a paste. Allow to cook for a minute or two until smooth and slightly brown. Add cream and whole milk and stir to fully combine. Turn up heat slightly and allow sauce to simmer and thicken. Once the sauce has thickened 2-3 minutes and sticks to spoon or whisk. Remove from heat, add cheese and stir to combine, season to taste.
Add cooked gnocchi into sauce with chopped kale and mix to cover gnocchi fully with sauce.
Transfer and divide among individual pots. Top with breadcrumbs and extra kale for crispness and place in the oven to bake for 10 minutes or until bubbling and tops have crisped and browned slightly.
Remove and allow pots to cool slightly before serving. Enjoy!
About the Author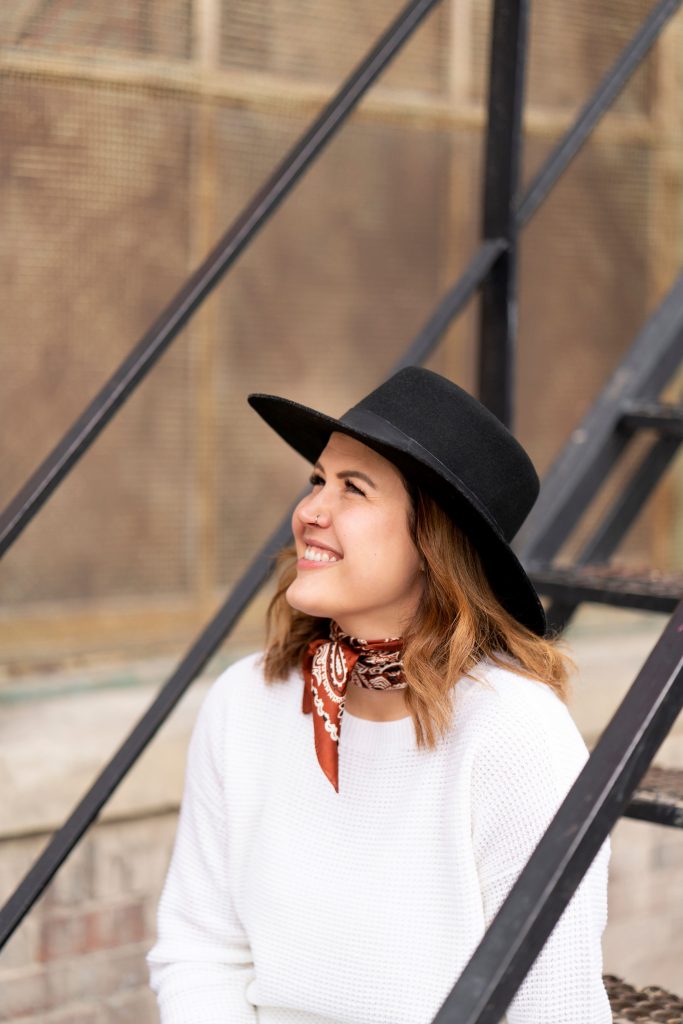 Tanya Pilgrim is a Food Photographer/Stylist and Recipe Developer living and working in Calgary, Alberta with her family. Tanya couldn't be more pleased that her love of cooking for friends and family,and her passion for photography, has created a life and living that she looks forward to every day. You can always find Tanya hanging out next to the charcuterie board at the party, curled up with a cook book in the family room at home, and ALWAYS avoiding having to do the dishes.
Follow Tanya