Have your Steak and Eat It Too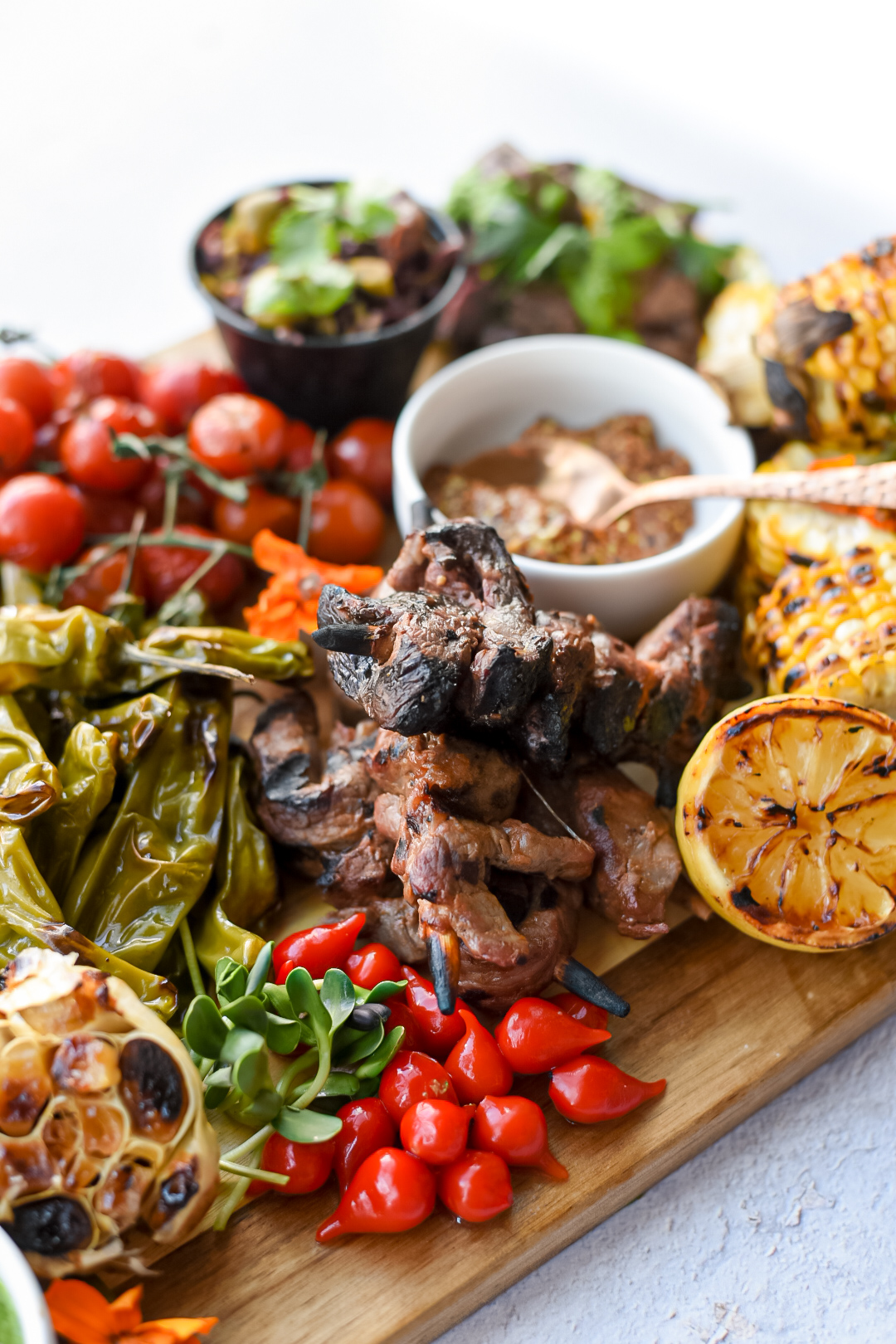 During the winter months I love a good charcuterie board. Sliced roast beef and prosciutto, cheeses, and spreads.  Pickles, olives, and nuts. During the holidays, a well-appointed charcuterie board is a daily feature, especially when friends and family stop in. But come summertime, I'm ready to spend time by the pool with steaks on the grill.
Thankfully, you don't have to stretch your imagination too far to combine great summer grilling with the convenience and familiar comfort of charcuterie.  Now before we get too far along, let me be clear: when it's time for a good steak dinner, I'm not keen on dressing my filet up with sauces or spreads.  However, a Steak-cuterie board is a great way to try different cuts, different flavors and different complements without worry.  Don't like something? Move on to something else. Find something that really works for your taste?  Go back for more.  Using steak for a tasting board can be fun, filling, and fit whatever your summer has in store…if there is a grill nearby.
Steak
First, the meats themselves. I chose four different cuts of beef and prepared them in different ways to give my Steak-cuterie board the greatest possible variety.  First, I cooked a filet to medium-rare in a cast iron skillet.  Seasoned with salt and pepper only, this top-notch cut finds a place on our board without much change compared to how it is served traditionally. Next, I grilled a T-bone, also to medium rare, taking great care to cook it over a super-hot flame to add grill marks and that of-so-flavourful charring. Nearby, I grilled some top sirloin satay marinated in yakiniki a popular Japanese BBQ sauce which typically includes soy sauce, mirin, sugar, garlic, and sesame oil. Finally, I marinated some skirt steak in chimichurri for a delicious tender and flavourful cut.
These choices were made to give variety to the Steak-cuterie board. While most people, myself included, have a favorite type of steak to have as a meal, there are a wide range of cuts that possess not only different flavors and textures but also absorb seasoning and marinades in different ways.  For example, a filet is almost always perfect with just salt and pepper to taste. Skirt or flank steak? A marinade will break up the tissue for a tender flavourful bite.  A T-bone will cook slower on account of the presence of a bone, so exposing the steak to open flame creates a flavorful char on the outside without overcooking the interior.
Shop Steak here
Fruits and Vegetables
All too often backyard grill-masters focus on proteins at the expense of everything else. What a missed opportunity! From corn on the cobb to grilled pineapple, the grill or BBQ pit is a great place to add flavors to fruits and vegetables that go well with beef.  For our Steak-cuterie board, I started by grilling fresh peaches to be served with our filet. The natural sugars in the peach lend themselves well to creating a gorgeous, tasty grill mark to the flesh of the fruit.  Next, I roasted some corn on the cobb by placing the cobb directly over the flame until the kernels started blistering, after which I moved them to the top rack of the gill away from the flame. Finally, I blistered some Shishito peppers and flavor-bomb tomatoes in my cast iron skillet to have some small vegetables to combine with a bite of steak or eat alone. Do not underestimate how different flavors and textures can combine to make an even more delightful food experience.
Sauces and Spreads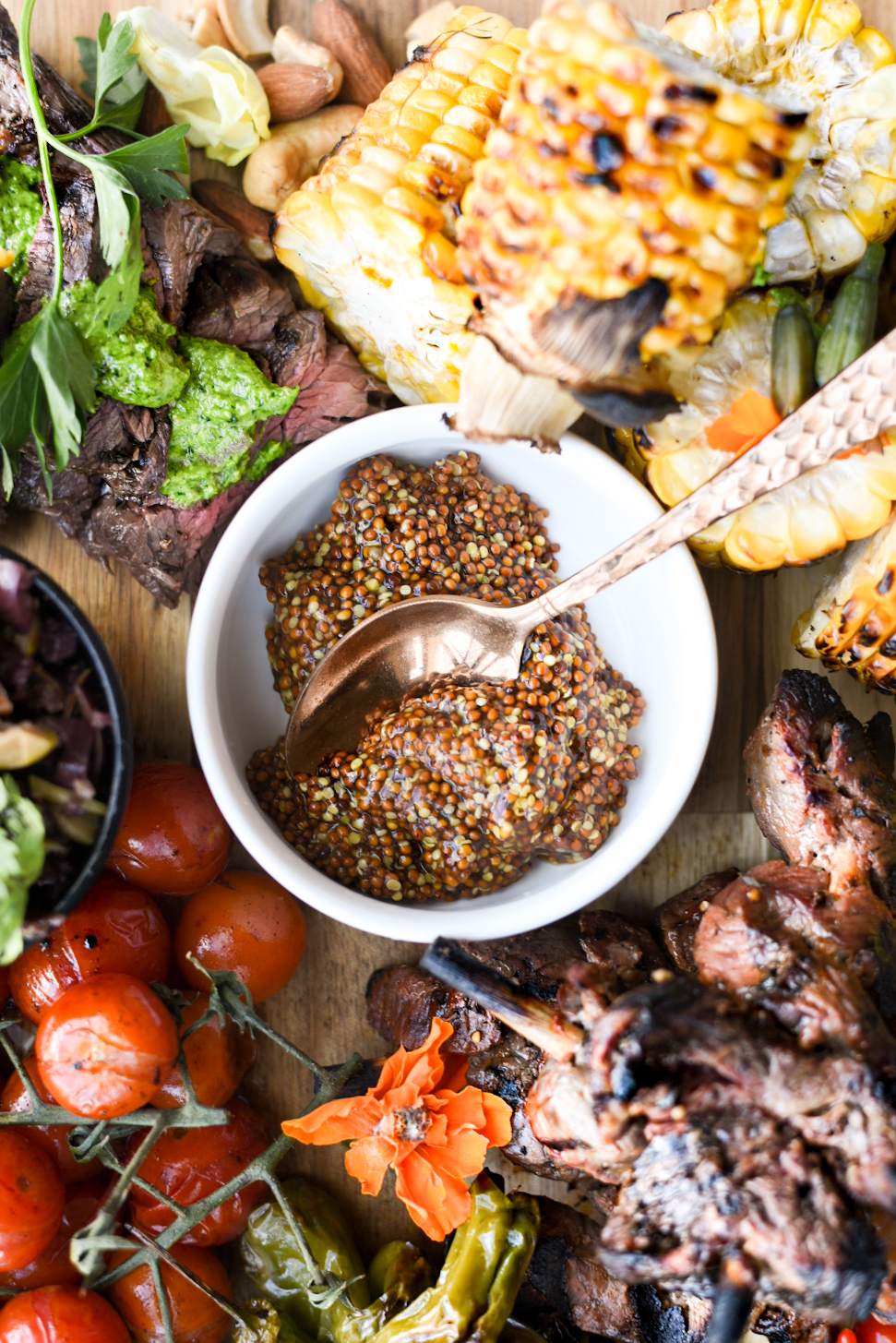 For this Steak-cuterie board, I wanted to offer spreads and sauces that accented the natural flavors of the meat.  It can be very tempting to offer sauces with strong flavors and aromas. The challenge with doing that is the protein (meat) can easily be overwhelmed and lost. Just as you wouldn't cover a great cut of beef with ketchup so too should you avoid accenting your Steak-cuterie with sauces that easily overpower the star of the show.
I created a mango salsa, an olive tapenade, and a chimichurri for this delightful platter.  Not only do each of these sauces complement the meat, they also work well with the grilled fruits and vegetables, bringing together many elements to create a wonderful bite.  Chimichurri, which is a combination of fresh herbs, garlic, and olive oil, offers a vibrant spice that goes great with skirt steak or T-bone. The sweetness of the mango salsa nicely compliments the savory char on the T-bone or the marinated satay. And the olive tapenade is a great accompaniment to any of the above.  All these spreads are rich in umami to give you max flavour in each bite.
Everything Else
One of the secrets of any great food board, including Steak-cuterie, is the other flavors and textures you introduce to further enhance the proteins and the sides. Can a great steak stand alone?  Absolutely!  But we aren't looking for the basics when there is so much more we can do. In this case, I chose to add some dried nuts, grilled lemon, roasted garlic, sweet peppers, and fresh blackberries to the spread. The nuts provide some crunch to balance out the tenderness of the steak. The blackberries provide a bright, vibrant taste to complement the depth of the chimichurri and olive tapenade. Lemon, Roasted garlic and sweet pepper drops are those final touches you can add to any steak – further enhancing the flavour to your own unique preference.
Bringing it all together for an awesome food summer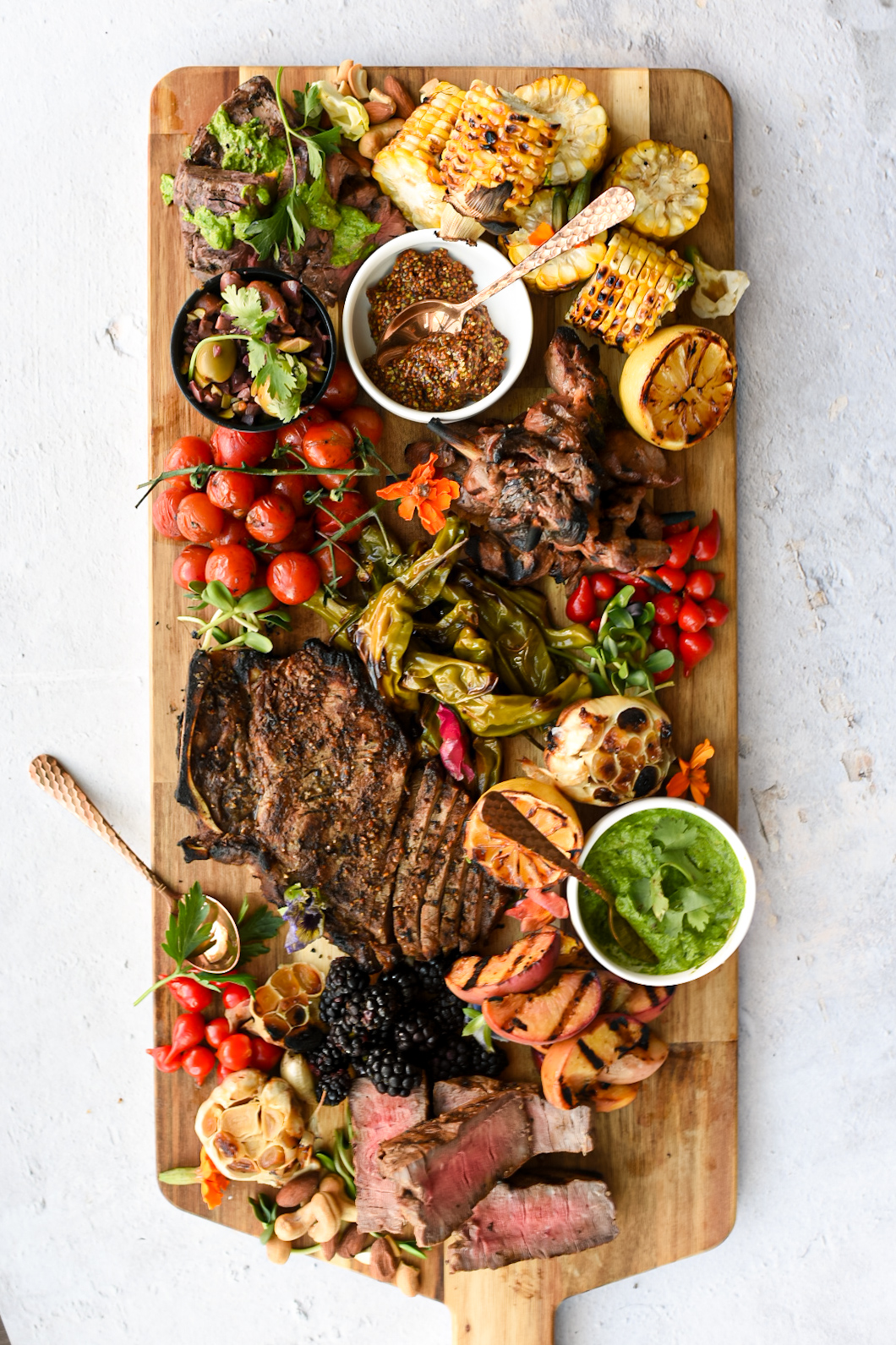 Last summer was hard to navigate in myriad ways. The things that we all used to enjoy were put on pause with uncertainty ever-present. Thankfully, 2021 appears to be on the right track for enjoying all the summer activities we are used to. For some that means vacation or family time. For others it's about sun and surf.  Whatever your plans, I hope your summer season is full of family, friends, and fun. And I'm hopeful, too, that along the way you give your own Steak-cuterie a try. I'm sure you will be glad that you did.
About the Author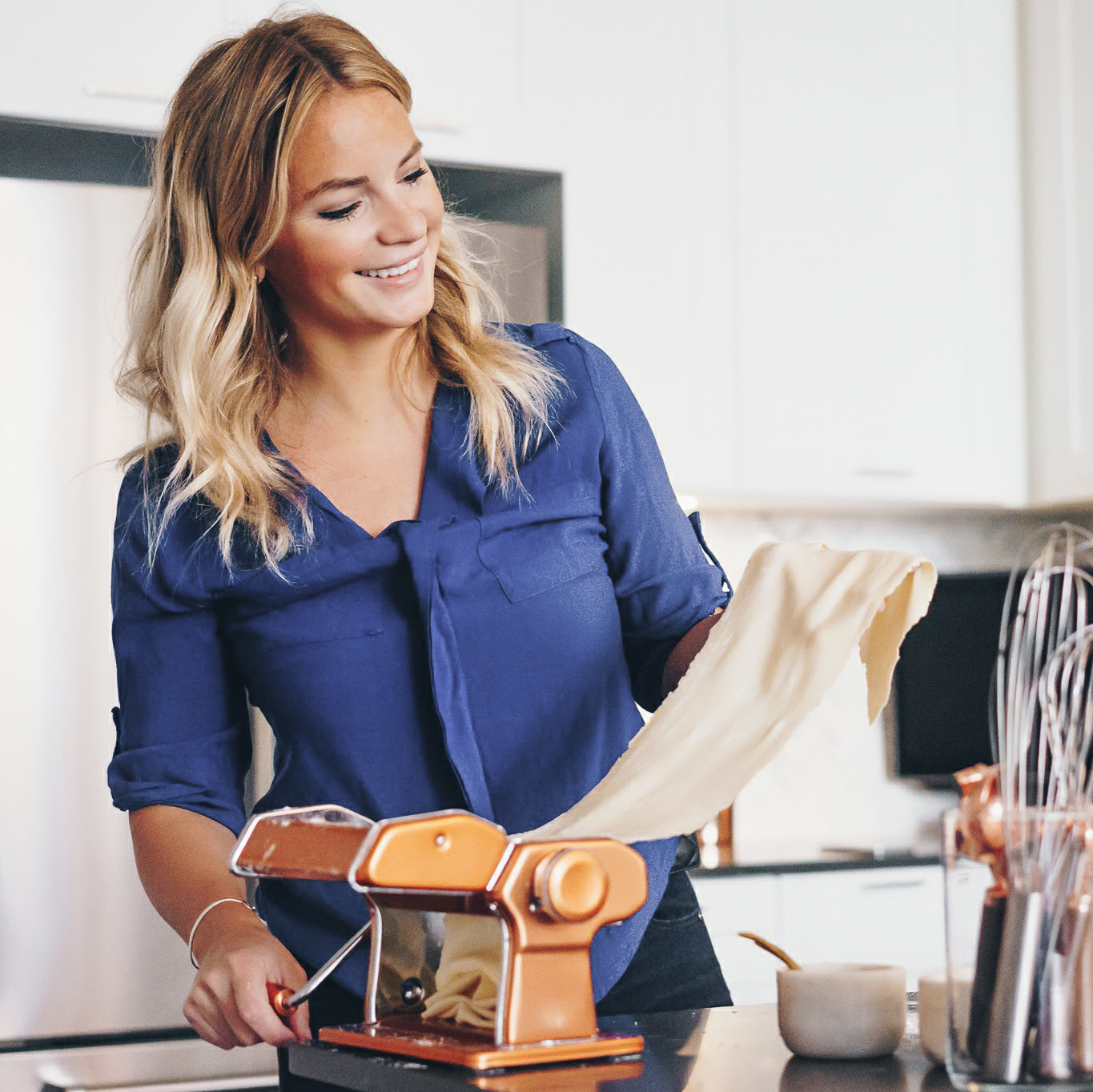 Thea VanHerwaarden is a Vancouver-based food blogger and on-air talent known worldwide. She has appeared on both Canadian and American television, acted as a national campaign spokesperson for major lifestyle chains, and serves currently as a brand ambassador for a wide range of food and home brands. In 2017, her skills in the kitchen landed her in the "Top 2" spot on MasterChef Canada. Following that, her version of a nduja ricotta tortellini made it on the menu of Jamie Oliver's restaurant, Jamie Italian. Thea has since then launched her own brand, Théasty, where she showcases global tastes and travel, national and international restaurants and recipes, as well as lifestyle tips. All of this is shared with her loyal 24K followers on Instagram, and on her blog.