Grilling season is upon us! The taste of BBQ sauce alone reminds me of many summers spent in backyards with friends and family. What comes to mind immediately are hotdogs and hamburgers slathered with classic BBQ sauce and served on a lightly toasted bun.
I wanted to explore a few different BBQ sauce flavors and the meats that they pair best with, but before I even go there, let's talk about the best type and cuts of meat for grilling. Sometimes the options can be quite overwhelming, so I listed a few of my favourites below.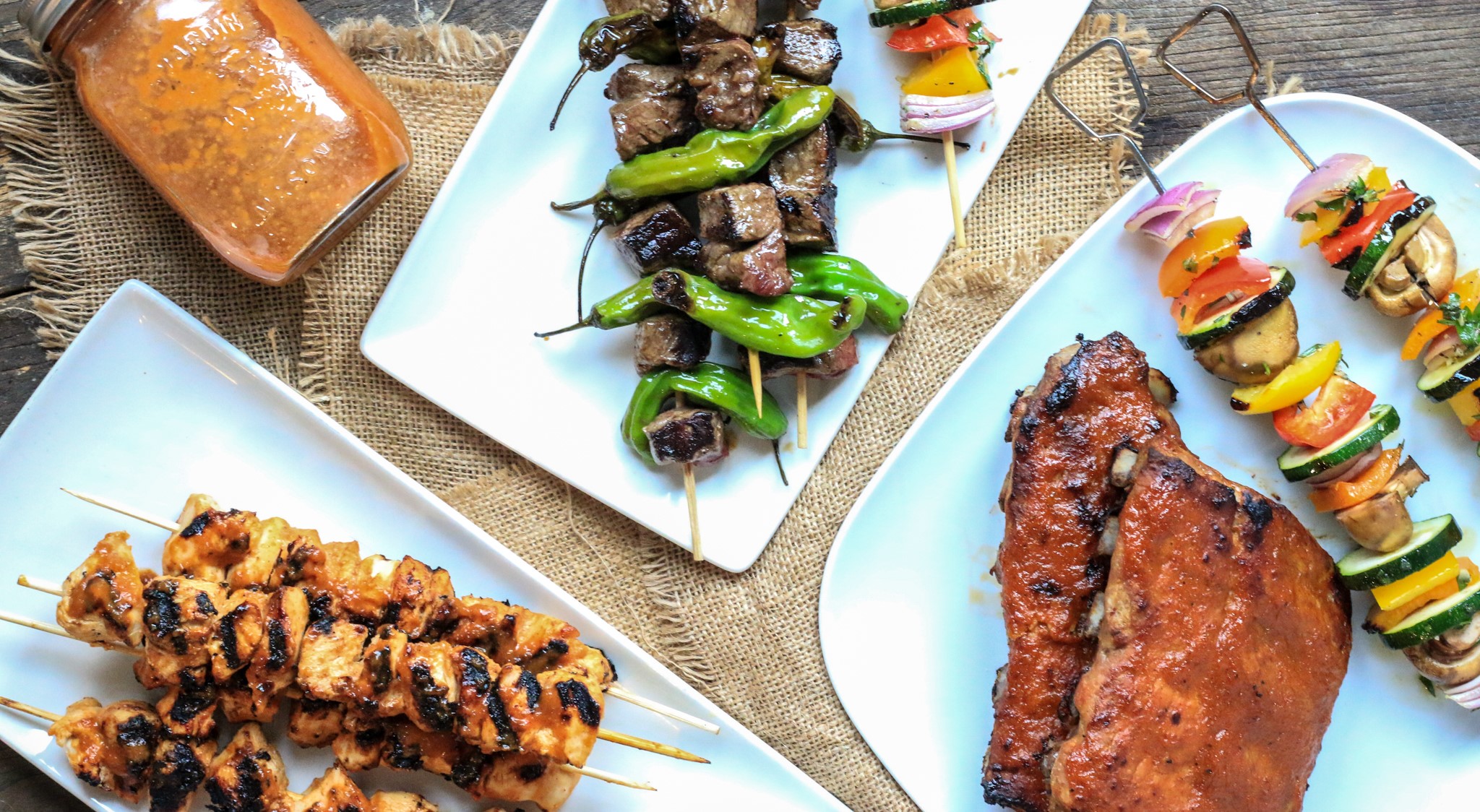 Chicken
Boneless, skinless, chicken breasts cubed for kebabs. If you are wanting a lower calorie and fat option for grilling, look no further! If you cut the chicken breasts into even sized 1-inch cubes and thread them onto skewers you can cook them quickly without the meat getting dry.
Bone-in, skin-on chicken thighs. This cut of chicken packs a lot of flavor. To ensure even cooking, you want the meat to get to room temperature before grilling so remove it from the fridge about 15-20 minutes beforehand but no longer (to avoid food poisoning of course)! Trim the excess fat and skin from the thighs to avoid flare ups on the BBQ and grill these over medium high heat.
Whole chicken. This option is great when you need to please both dark and white meat lovers in one go. There are multiple ways to grill up a whole chicken, but the tried and tested beer butt chicken and spatchcock methods lend themselves to the juiciest results!
Pork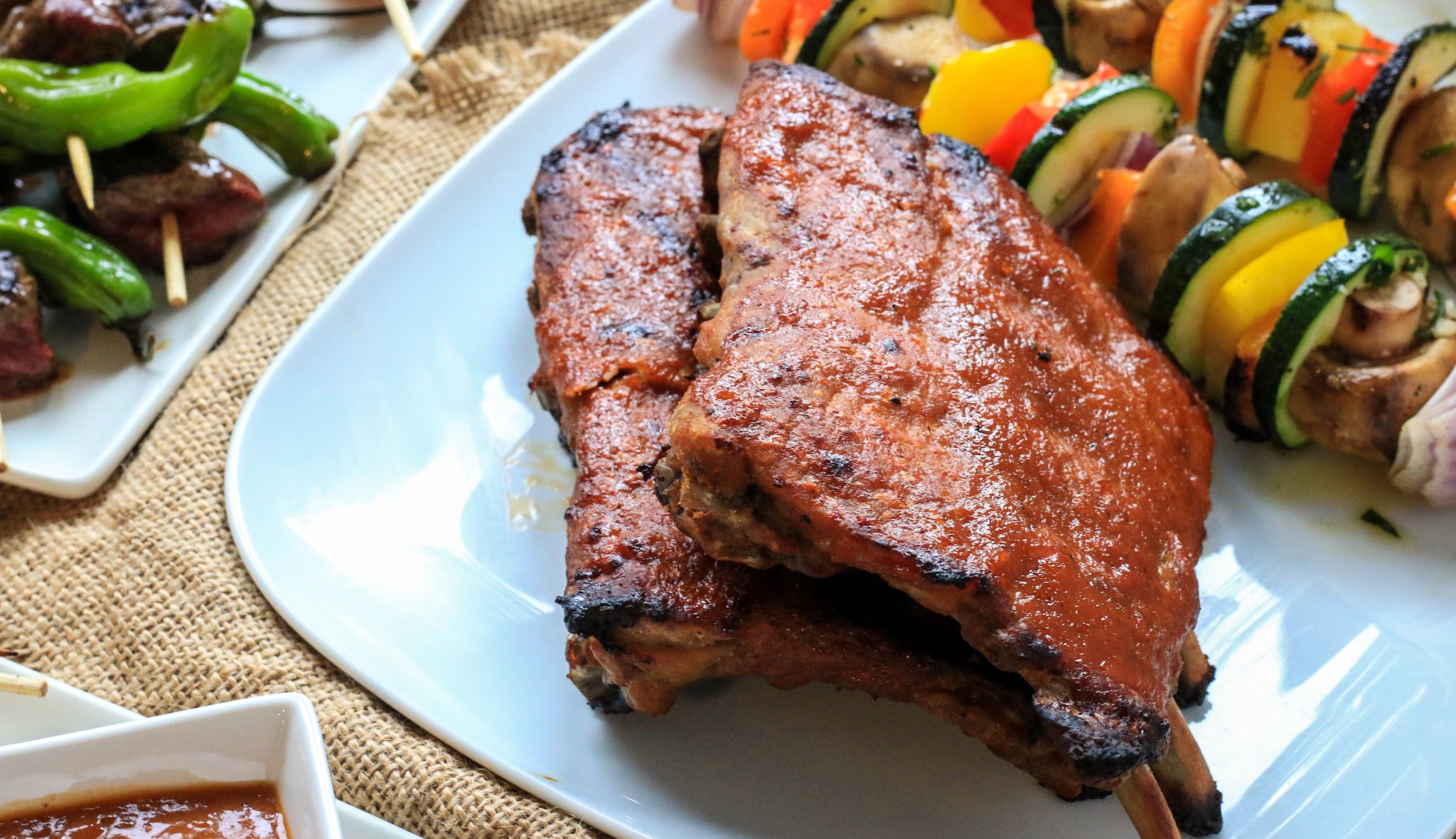 Centre-cut rib chop. One of the fantastic perks about pork is its lower price tag than even cheap cuts of steak. This is, in my opinion, the best pork chop cut you can buy! Treat it like a steak and cook it hot and fast.
Baby back ribs. It's tough to think about BBQ and not have a tender rack of ribs come to mind. This classic is a staple for a reason.
Beef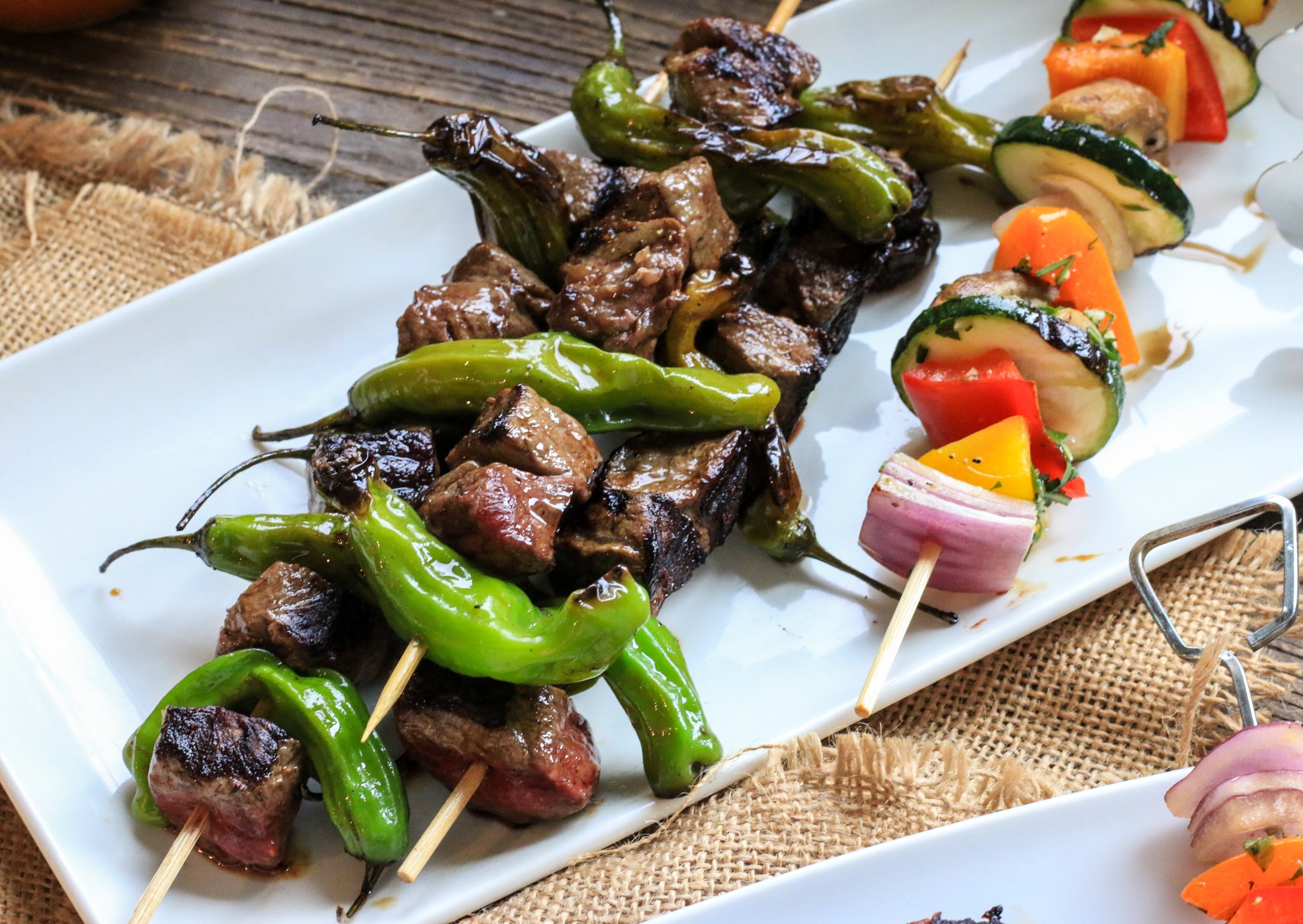 Ground beef burgers. The simpler the burger recipe the better. Try a mixture of 70% ground chuck and 30% ground brisket for the right flavour combination with a good lean-to-fat ratio.
Rib eye. This iconic cut is nicely marbled with fat to yield an incredibly tender yet robustly beefy result once grilled. Save-On-Foods now offers Rib Eye as part of its Canada Prime line of steaks at select locations.
Sirloin steak, cubed for kebabs. I love the simplicity of kebabs. You can layer in some vegetables and easily eat them while standing in the backyard having a beverage. No fuss for the win!
Skirt and flank steaks. Marinate these for the best result and then cook them quickly.  Pro tip: you MUST cut these against the grain to avoid a chewy result but boy are they ever flavorful.
Now that we've covered some of best meats for grilling, let's dive into some different BBQ sauce flavors. Walking up to the BBQ sauce aisle of the grocery store, there are tons of variations of sauces. In general, I find that spicy, savory and smoky sauces pair fantastically with beef. Mild and sweeter variations are best served up with pork or chicken.
These are of course generalities – in the end it's all about your personal preference!
Western Family offers multiple BBQ sauce flavours so you can find your favourite combination. I've listed some suggestions below to get you started as well as my miso BBQ sauce recipe if you want to try your hand at making your own.
Western Family Original BBQ Sauce – Chicken kebabs, whole chicken, pork chops
Western Family Bold Original BBQ Sauce – Ground beef burgers, rib eye
Western Family Hickory Smoke BBQ Sauce – Rib eye, flank and skirt steaks
Western Family Honey Garlic BBQ Sauce – Chicken thighs, chicken kebabs, baby back ribs
Miso BBQ Sauce – Sirloin steak kebabs, baby back ribs
Now before you head to the grocery store with your perfect BBQ sauce and meat pairing in mind, don't get carried away and slather the sauce on the meat before you start grilling. Most BBQ sauces have a fair amount of sugar in them which means they can burn. If you are grilling over relatively high heat, the ideal time to apply your BBQ sauce is while the meat is still on the grill but nearing the end of its cook time. Think the last 10 minutes unless you are cooking ribs, which in that case you will need to start brushing the sauce on in layers during the final 30 minutes.
Time to get grilling!
Miso BBQ Sauce
Prep time: 10 minutes
Cook time: 0 minutes
Total time: 10 minutes
Yield: ~ 3.5 cups
INGREDIENTS
1 cup vegetable stock
½ cup miso paste
½ cup apple cider vinegar
½ cup WF honey
¼ cup ketchup
1 medium yellow onion, roughly chopped
1 chipotle in adobo sauce
2 tsp. chopped fresh ginger
3 cloves garlic
1 tbsp. ground ancho chili pepper
½ tsp. fresh ground black pepper
2 tbsp. WF vegetable oil
DIRECTIONS
Place all of the ingredients except for the vegetable oil in a blender or food processor and blend for a couple of minutes until very smooth. Once smooth, continue to blend and slowly pour in vegetable oil in a steady stream to emulsify.
Store refrigerated in an airtight container. Will last for up to 2 weeks.
About the Author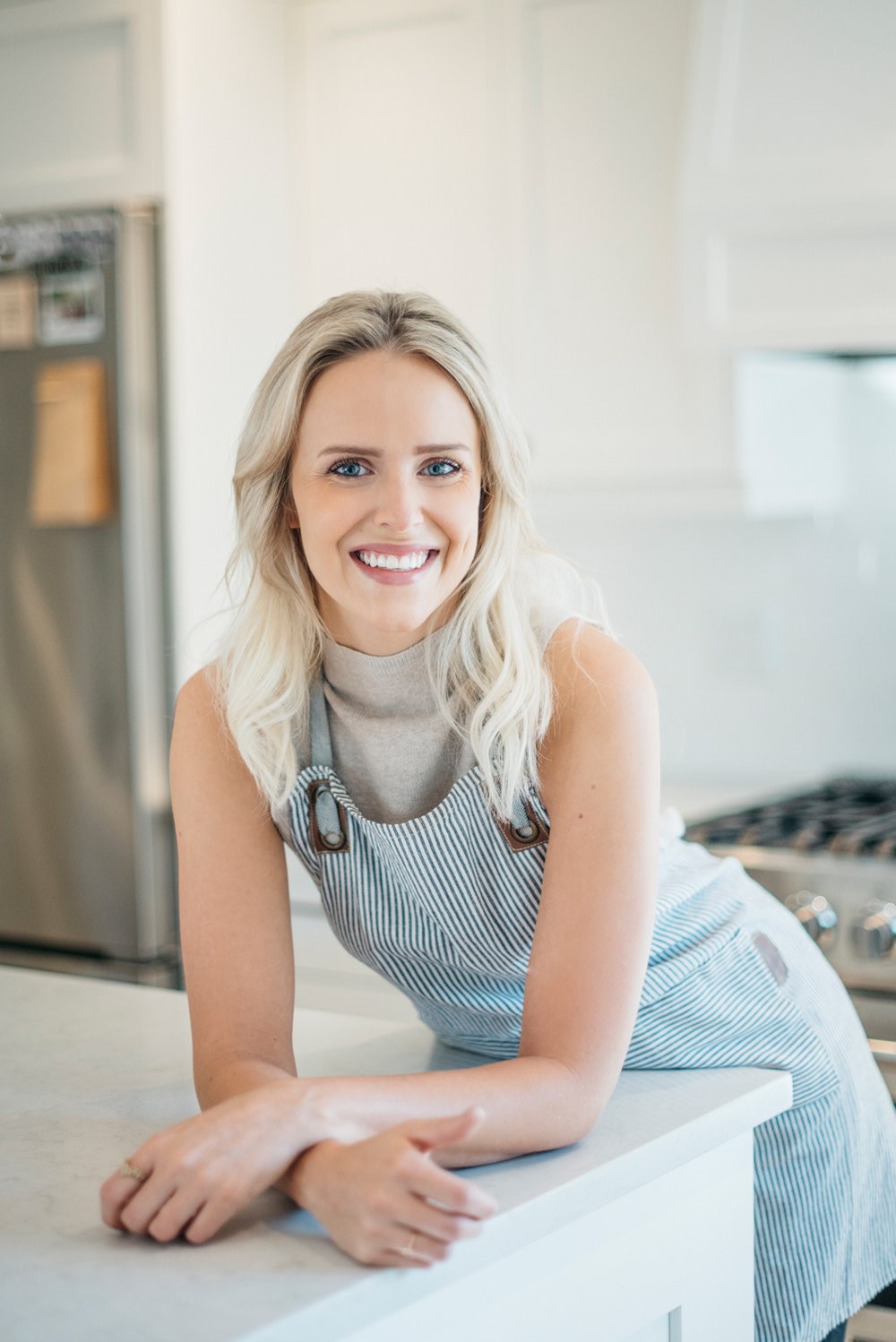 Jillian is the founder of Jillian Rae Cooks and is also the author of The Basic Bitch Cookbook. She is a mostly self-taught cook (with the exception of one-day cooking classes here and there) but has been working with and around food and beverages for most of her life in various roles in the restaurant industry. Full-time, she is a marketing director at a digital marketing agency but is always in pursuit of learning about and exploring her passion in life: food! She was a top 16 contestant on MasterChef Canada Season 4 and as well as a top 10 finalist in the Pillsbury/Betty Crocker Bake It Possible Challenge that aired on the Food Network Canada. Check out more of her great tips and recipes on her blog at www.jillianraecooks.com