The Great Canadian Burger
With Canada Day just around the corner, Save-On-Foods asked me to share my Great Canadian burger.
I grew up in the Maritimes so naturally, any burger grilled on a deck in two feet of snow while rocking a toque and socks-in-sandals combo is a Great Canadian burger. That's not quite a recipe but I do recommend the experience (the snow is excellent at keeping a beer cold!).
My Ultimate Canadian Burger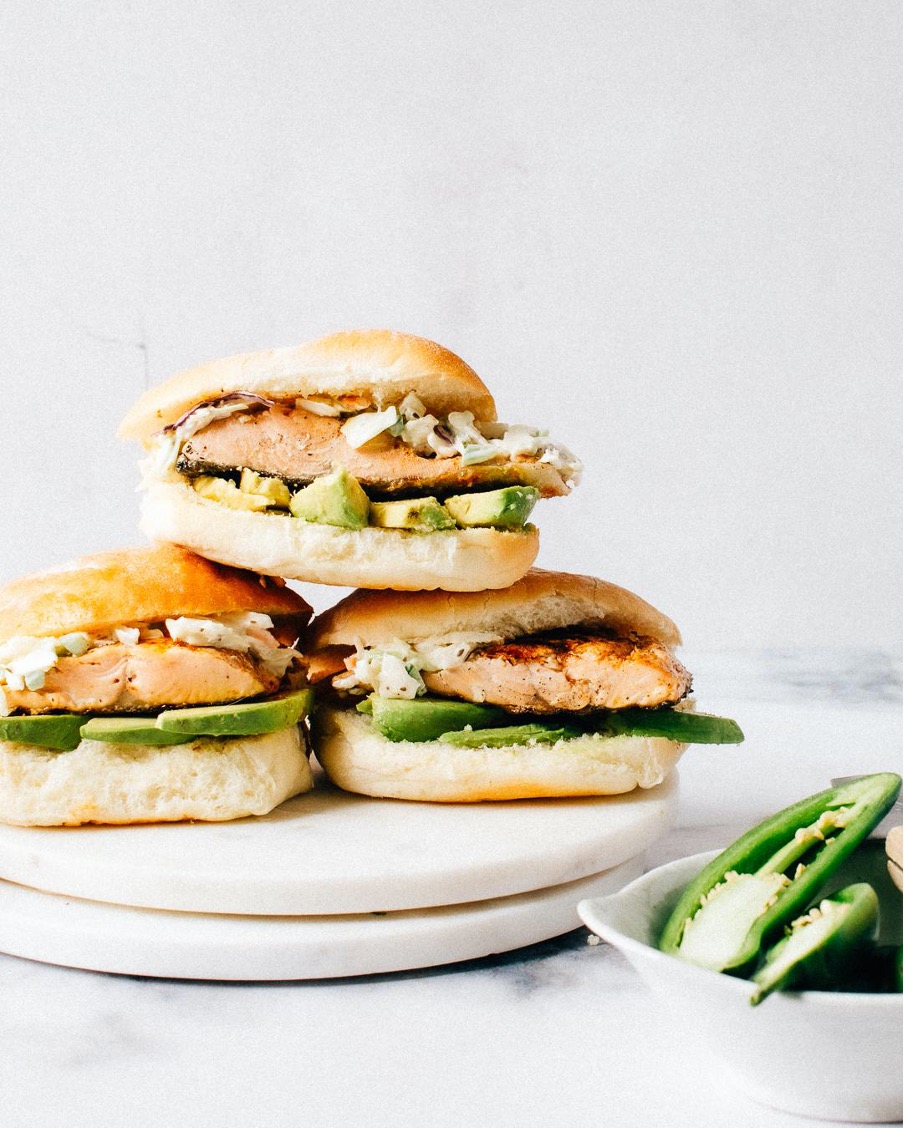 I moved from the Atlantic to the Pacific coast when I was in my early twenties, so my idea of Canadian food is country-spanning and stubbornly inseparable from seafood. My truly Great Canadian burger has therefore got to start with a flaky filet of salmon (West or East coast!) tucked in a pillowy-soft bun. Add to that a creamy slaw, like the one served alongside a juicy New Brunswick lobster roll, and I'm in heaven.
We're so lucky to live in a country whose national cuisine is truly a sparkling global smorgasbord, founded on incredible local ingredients and layered with culinary influences from around the world. Canadian food is fusion food. For this recipe, I jazzed up the salmon burgers with some cumin and heat, in a nod to my Indo-Canadian husband and the multiculturality that is the real heart of Canadianness.
What You Need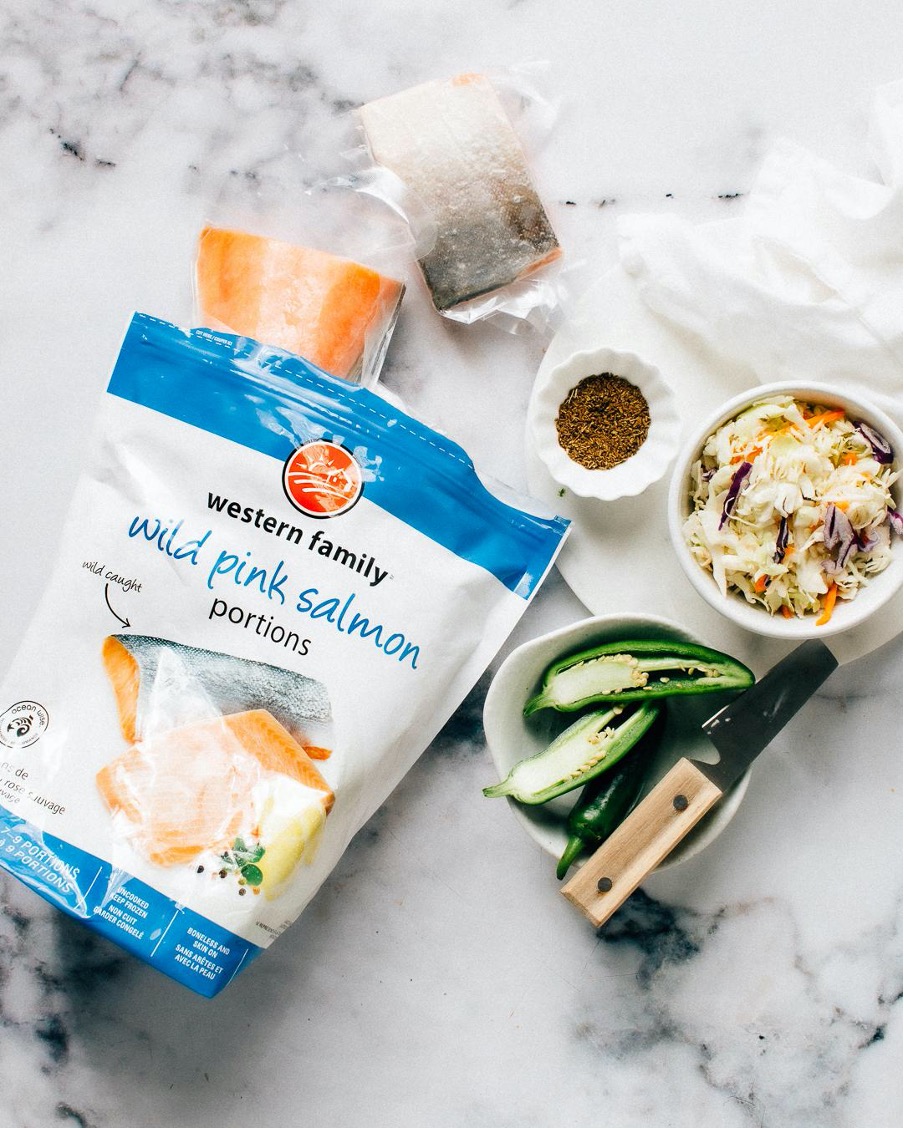 Frozen wild salmon. I have three kids and run a business so I am HERE for an easy, healthy shortcut. The Western Family frozen wild salmon portions are quick to thaw in a bowl of cool water for easy weeknight family meals.
Slaw mix. Various bags of slaw mix are almost always in my cart as a super versatile veggie to amp up the plant content of lunches and dinner (in this recipe, it saves lots of chopping for a lightening-fast burger topper.)
Avocado. Ripe slices of creamy avocado are a natural partner for salmon burgers.
Cumin, mayo, chili powder, oil. All pantry staples.
Burger buns. Save-On-Foods always has lots of fresh-baked options in their bakery section. I love their pillowy-soft Scotch Baps. Although not a traditional burger bun, they're so perfect.
The Secrets to Juicy Salmon Burgers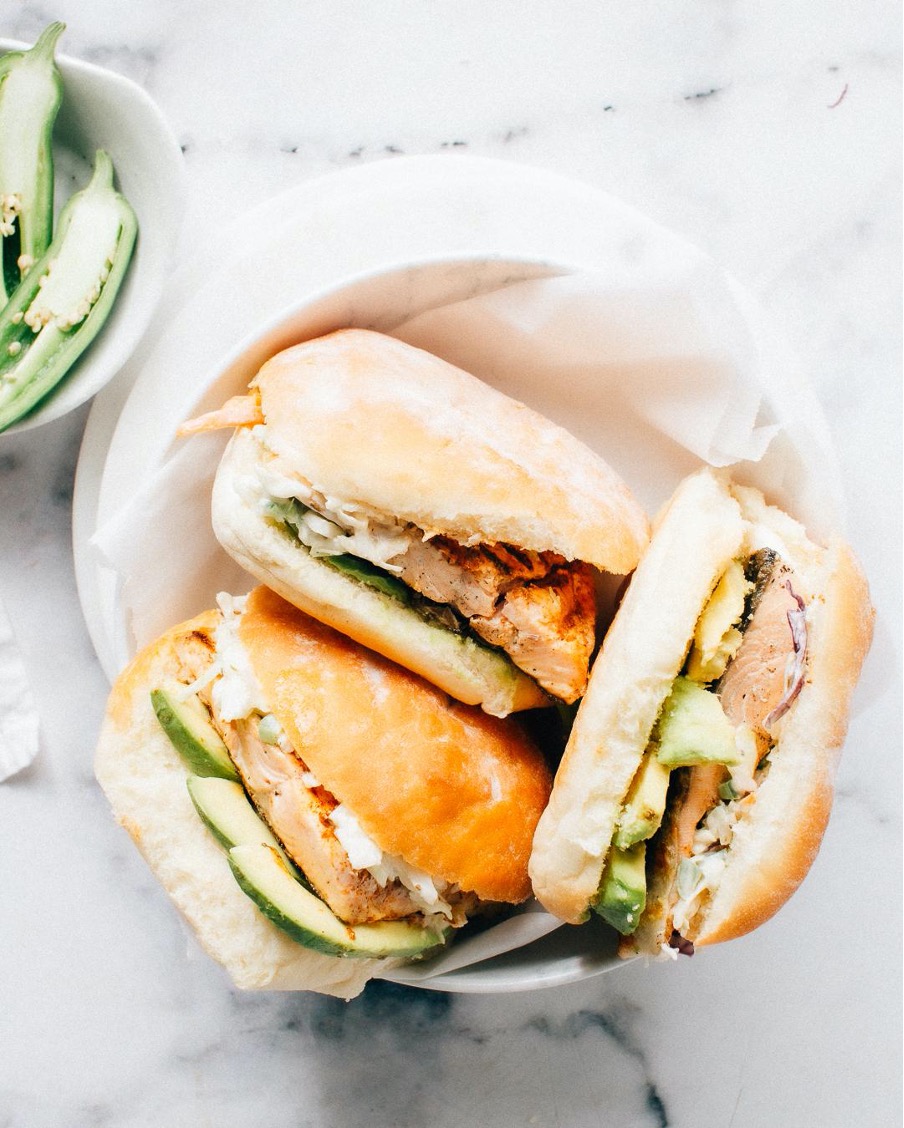 Preheat the grill. In order to accomplish a sear (or crispy skin!), you need to start the grill and leave it closed for ten minutes. Don't ignore that recipe step, it is key to avoiding sticking and getting the gorgeous grill marks. Oil the grates with a paper towel dipped lightly in canola oil and use tongs to rub it on the preheated grates.
Pat dry the salmon. Moisture is the enemy to crisping. Here, we give the fish a one-two punch by drying it and also rubbing it with chili powder (which acts almost like flouring something before frying it – it basically gives us an excellent canvas for getting a perfect sear.)
Leave it the heck alone! Don't attempt to flip the fish until the skin releases easily from the grates. If you meet resistance, give it longer. When it's ready to turn, it'll do so without any resistance. You'll cook it most of the way through with the skin-side down.
Use a thermometer. Take the salmon off the grill when it reaches 125-130ºF (even if that means just a minute on the second side). It will continue cooking by carry-over cooking and you'll be rewarded with the juiciest, flakiest salmon you've ever had.
INGREDIENTS
4 Western Family Wild Salmon Portions, thawed
2 tsp Mexican-style chili powder
kosher salt to taste
1 tbsp canola oil
2 cups packaged slaw mix
¼ cup Western Family mayonnaise
½-1 whole jalapeno (depending on heat preference), minced
½ tsp cumin seeds, toasted
1 ripe avocado, sliced
4 soft buns
INSTRUCTIONS
Preheat the grill on high heat for 10 minutes.
Meanwhile, pat the salmon portions dry with paper towels and rub with the chili powder and  ½ tsp salt.
Oil the cooking grates and place salmon skin-side down over direct heat. Close grill and cook for about 3 minutes, or until salmon lifts easily from the grates. If there's any resistance with lifting the skin, close the grill and wait another minute before trying again. When it releases easily, it's properly seared. Flip salmon and continue cooking until it reaches 125-130ºF internal temperature.
Combine the slaw mix with the mayo, jalapeno, cumin seeds and about ? tsp more salt.
Slice the buns in half crosswise and add a salmon portion to one side. Top with avocado slices and slaw.
About the Author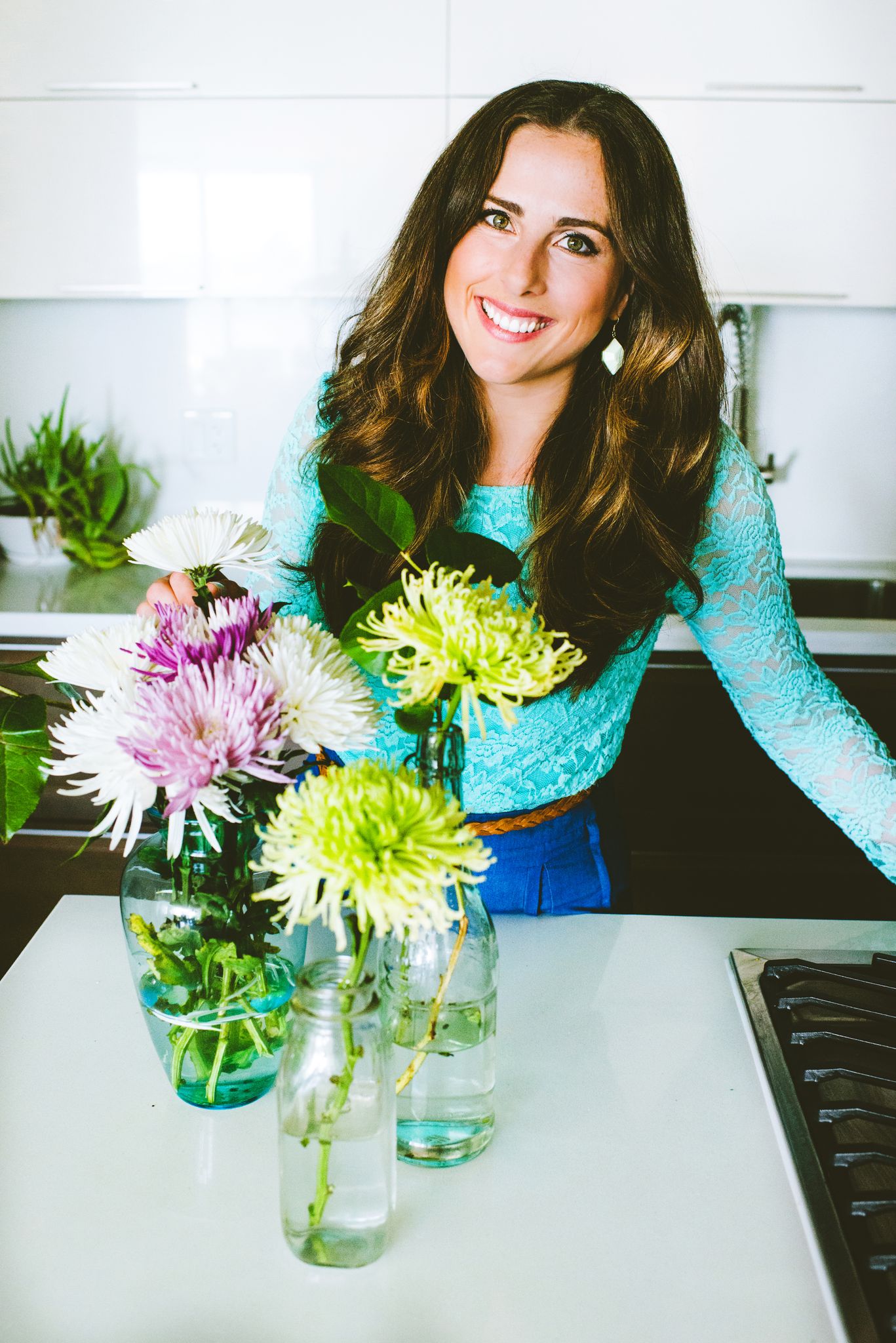 Jennifer Pallian, BSc RD, holds a science degree in food and nutrition. On her blog, Foodess.com, she shares the science of great cooking and baking, and tested-till-perfect vibrant, cozy recipes. She was a Saveur Blog Awards Finalist for "Best Original Recipes". Find more of her great recipes and tips on her blog or Instagram @foodess.