It's one of the very best times of the year, and that's summer produce time! There's really nothing better than fruits and vegetables that are in season, the taste, the texture, everything is just that much more amazing. Fresh or cooked into a recipe, I just can't get enough of it.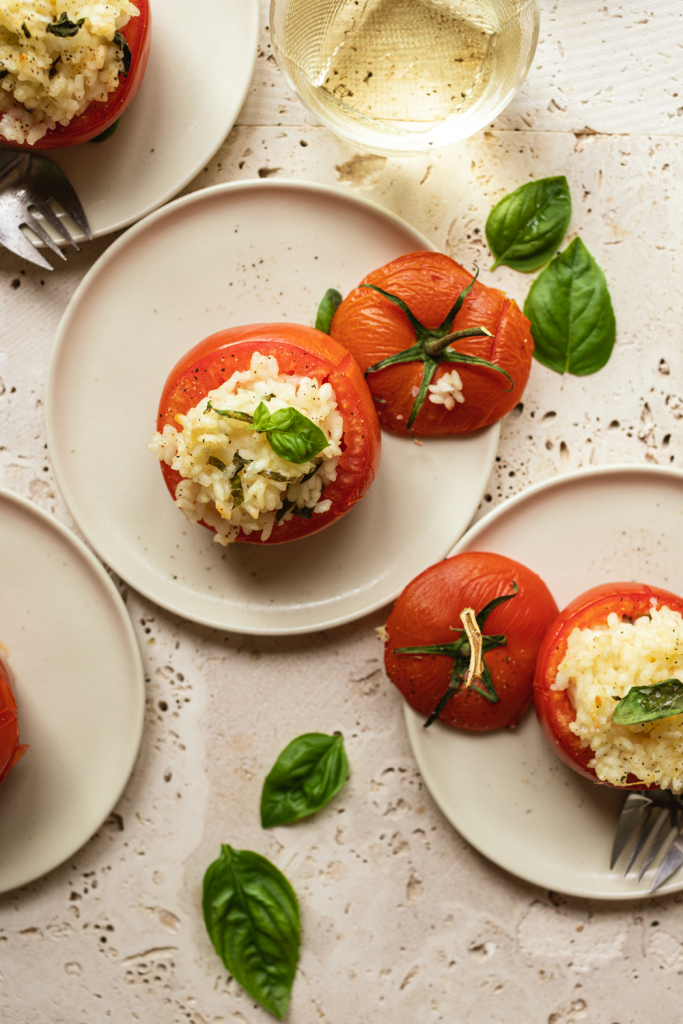 Speaking of taste and texture, a summer tomato is pretty hard to beat in my opinion, and they're not just for slicing in salads! These roasted summer tomatoes are stuffed with a creamy and cheesy Parmesan and basil risotto. Worth turning on the oven because they don't take very long to make at all! A wonderful way to highlight those fresh and juicy vine tomatoes this time of year, this risotto is surprisingly light and fresh, you'll be able to taste every single flavour. Whether it's a relaxed lunch, dinner, with or without company, these tomatoes will definitely become a repeat recipe to enjoy for summers to come!
I'm happy to have found these beautiful local to me vine tomatoes but any large fresh tomatoes will do for this recipe!
Summer Tomatoes Stuffed with Basil & Parmesan Risotto
Makes 8 Servings
RECIPE
8 Large Vine Ripe Tomatoes
2 Tbsp of Olive Oil
1/3 Cup of Finely Diced Onion
2 Cloves of Garlic Finely Diced
1 Cup of Arborio Rice
½ Cup of Dry White Wine from BC VQA Selection
6 Cups of Western Family Organic Chicken Broth
¾ Cup of Parmesan Cheese
1/3 Cup of Fresh Basil, Chopped
Salt and Pepper to Serve
INSTRUCTIONS
Preheat oven to 350°F
Slice the tops off of the very tops of the tomatoes and using a spoon, hollow out the inside by removing the core and seeds
Place the tomatoes in an oven proof dish, along with the tops if you wish, not required
In a large pan add the olive and heat to medium/low and sauté the onions and garlic until fragrant and slightly translucent, turn the heat to low
Add in the arborio rice and stir into the pan for a minute or two before adding the white wine
Allow the white wine to fully absorb, moving the rice about the pan constantly
Start to slowly add the chicken stock, cup by cup, allowing the liquids to be absorbed before adding each cup. Constantly stirring the rice about the pan
Continue to add the broth as need until the rice is al dente, it should be tender and cooked through but not mushy
Stir in the Parmesan cheese and basil
Use a spoon to scoop the mixture into the tomatoes
Place the tomatoes into the oven to bake for roughly 15 minutes, until the tomato is cooked and blistered on the outside, being careful not to over-cook or the tomatoes will far apart and lose their form
Remove from the oven and serve with coarse salt, fresh ground black pepper and some extra basil or Parmesan
About the Author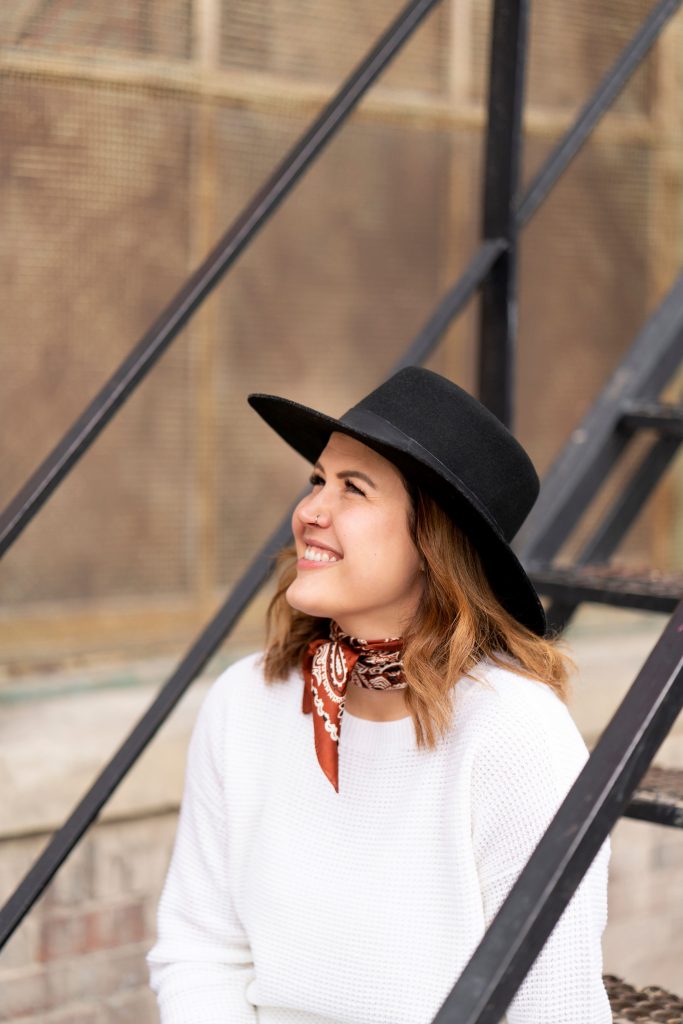 Tanya Pilgrim is a Food Photographer/Stylist and Recipe Developer living and working in Calgary, Alberta with her family. Tanya couldn't be more pleased that her love of cooking for friends and family,and her passion for photography, has created a life and living that she looks forward to every day. You can always find Tanya hanging out next to the charcuterie board at the party, curled up with a cook book in the family room at home, and ALWAYS avoiding having to do the dishes.
Follow Tanya