With Easter right around the corner I am already dreaming up what we'll be having for side dishes! I mean, in my opinion, the sides are what it's really all about! 
As a dietitian, I also love that side dishes provide a great opportunity to get creative with different vegetables and I can always rely on Save-On-Foods for having the freshest selection! 
When it comes to eating your veggies, it's not so much about eating any one particular vegetable, but eating a variety of colors – you may have heard the term "eat the rainbow" before. I totally stand by this. 
Not only are vegetables packed with fiber and cell protecting antioxidants but each different color grouping tends to have it's own unique nutritional properties.
Red and orange vegetables like strawberries, oranges and bell peppers tend to be high in antioxidant Vitamin C.
Blue and purple fruit and veggies like blueberries and red cabbage contain anthocyanins 
Leafy greens are known to provide Vitamin K and minerals like folate and calcium. 
So rather than getting caught up on any one particular food, keep that beautiful rainbow in mind and your body will thank you! 
Today I'm sharing a fresh and vibrant spring salad that is jam packed with nutrition, color, and flavor and will compliment anything from turkey to ham, fish or your favorite plant-based dishes! 
Prep Ahead Tips
Whenever I can I like to prep as much as I can ahead of time. Whether for big occasions or weekly meals it saves so much time and takes the stress out of mealtimes! 
Ingredients You Can Prep Ahead
Dressing: make your dressing in a jar. Seal it up and when you're ready to serve, just give it a good shake and voila! 
Grapefruit and oranges: peel and slice your citrus the day before. Store them in the fridge in an airtight container until you're ready to put the salad together.
Pistachios: chop these up ahead of time and store in a jar or airtight container in the fridge or freezer.
Recipe Substitutions
I'm always encouraging my clients to look at recipes as a template! If there's something you don't like or an alternative ingredient you prefer, go for it and make it something you love!
Mint: swap for basil 
Pistachios: swap for pecans or almonds. For a nut free alternative use hemp hearts, pumpkin seeds or sunflower seeds
Presentation Hacks
Presentation can make all the difference in giving a recipe that extra special feel. Here are my favorite super simple hacks that really elevate the presentation of salads!
Serve on a platter instead of in a bowl. This really allows you to show off the ingredients and also makes it easier to divvy up the toppings and make sure they don't all fall to the bottom of the bowl! 
Save a few whole leaves of your fresh herbs to add as garnish. Add them to the center of the dish or scatter them around for a beautiful fresh finish!
Consider adding a few edible flowers for more color and a really elegant look.
Invest in one good pair of serving utensils– these will serve you time and time again (see what I did there?!) 
Budget tip: check out your local thrift store for serving platters, cutlery and serving utensils. They often carry beautiful antique pieces of one-off finds at a fraction of the price!
Alright, let's get into the recipe! 
If you try it out, make sure to snap a pic and tag us on social media @SaveonFoods and @lindsaypleskot so we can see! Seeing these recipes come to life in your kitchen makes my day! 
Spring Citrus Salad with Honey Lime Dressing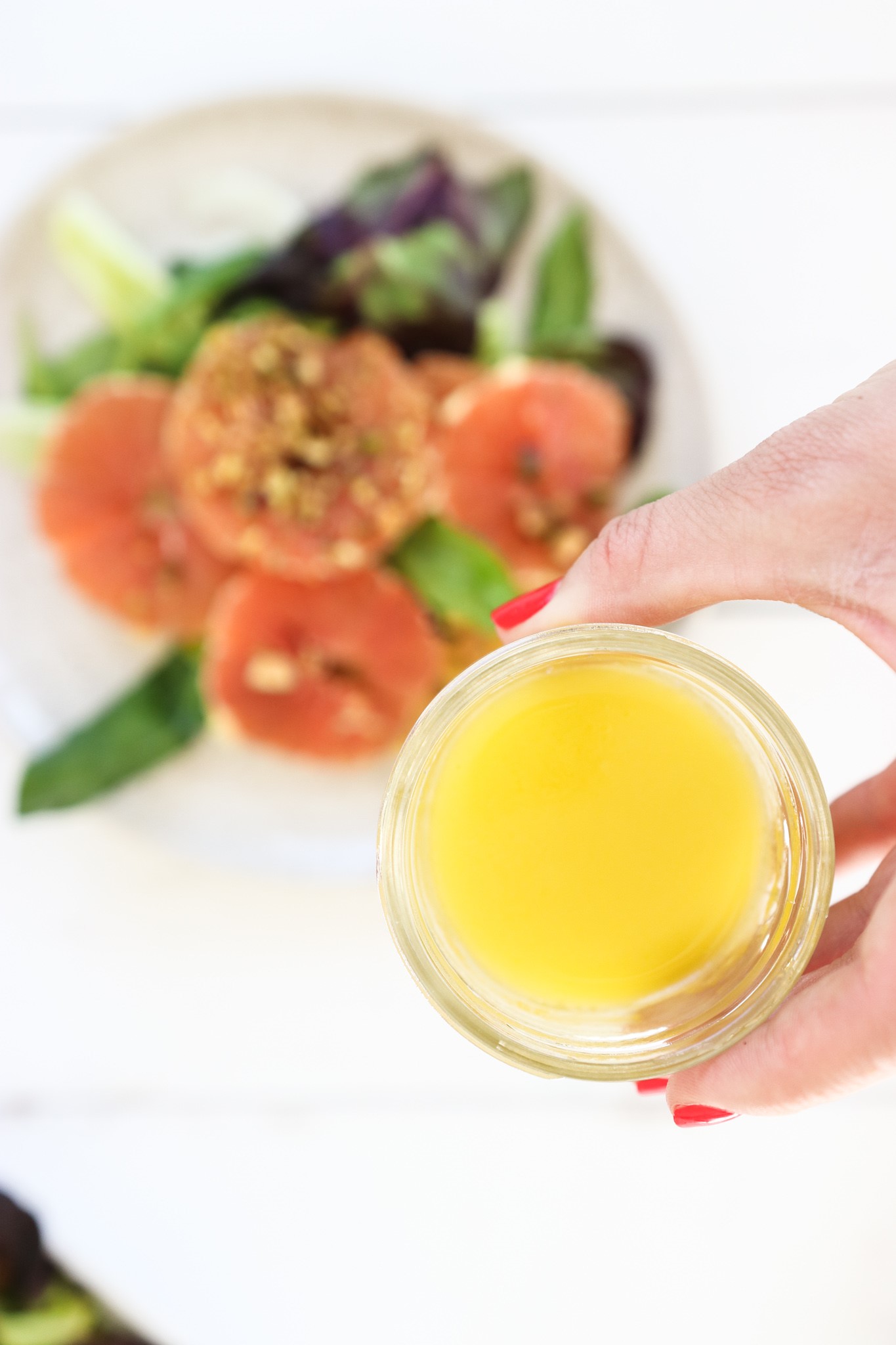 Serves 4
Ingredients
Salad
6 cups mixed greens

2 Tbsp mint, roughly chopped

½ bulb of fennel (approx ½- ? cup), thinly sliced

1 grapefruit, peeled and cut into thin rounds

2 oranges, peeled and cut into thin rounds

¼ cup pistachios, crushed
Dressing
Juice of 1 lime

1 Tbsp honey

1 Tbsp olive oil
Directions
Combine salad dressing ingredients in a small bowl or jar and whisk with a fork to combine. 

Assemble salad by tossing mixed greens and mint together in a large bowl or on a serving platter. Top with citrus slices, sprinkle with pistachios and finish by adding dressing. 
Enjoy! 
Recipes Notes: 
If blood oranges or Cara Cara oranges are in season, I recommend using either for at least one of the oranges to add more color and flavor!
More Easter Side Dishes to Try:
For more simple healthy recipes visit lindsaypleskot.com
About the Author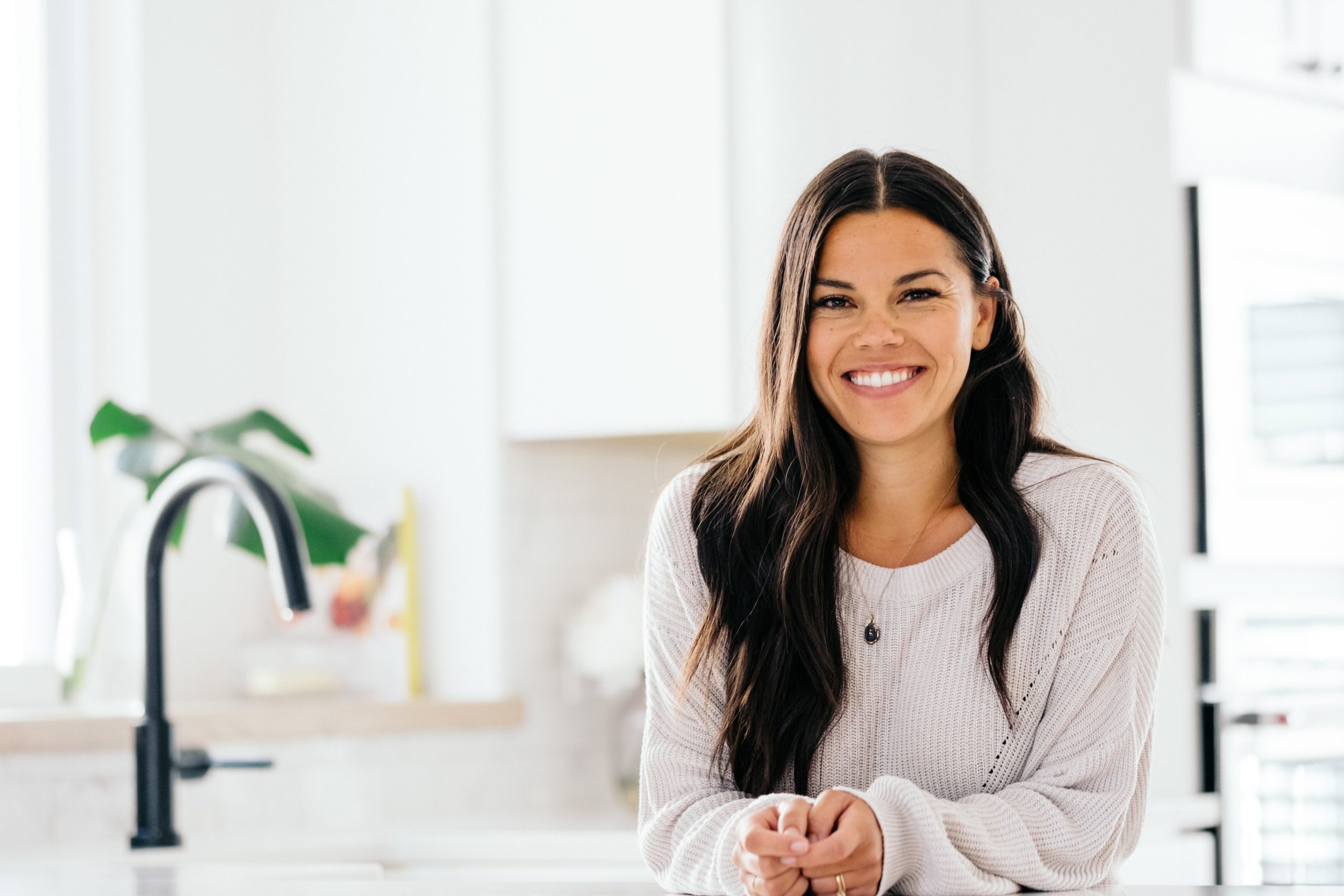 Lindsay is a Registered Dietitian, speaker, and writer on a mission to make food feel good body, mind, and soul. She has been featured in/on The Huffington Post, Global BC, CBC News, CKNW radio, Canadian Living, and Chatelaine among other popular media outlets. Using a blend of science based nutrition with mindful and intuitive eating practices she helps her community nourish their cells from the inside out while finding a peaceful relationship with food and their bodies. Lindsay believes that food has the ability to connect us more deeply to ourselves, our community and world around us. As a busy Mom she also gets the struggle of getting meals on the table that everyone will enjoy! This drives her passion to simplify and save time with meal plans, meal prep hacks and simple recipes to take the stress out of the kitchen! As a graduate from the University of British Columbia's Dietetics Program, with a 5 year degree in nutrition and over a decade of experience in the field, Lindsay inspires change in individuals and groups through her blog lindsaypleskot.com, Instagram and other social media channels, individual and group coaching, community workshops, and her 321 Method meal plans.