Every cook has "easy" dishes to draw from. Chicken and rice? Check. A go-to garden salad? Yup. Tacos made in the oven? Oh yes.  For me, I feel like I have an entire catalog of simple soup recipes to make when I'm looking for a comfort food, something soothing, or a great mix of flavor that doesn't take forever to put together.
In gorgeous British Columbia, soups are even more fitting. Our cool climate – and frequent rain – make a repertoire of soups essential for the modern kitchen. Whether cooking for one on a weeknight or putting together a comfort-food family feast, you simply have to know how to make a great pot of soup. From the initial aroma to the very last spoonful, a great soup can be more than just a meal. It's the grace note of a good time with friends and family. It's the warmth that's just right on a cozy night in by the fireplace.  It's tomorrow's lunch at the office – or at home – when you need something flavorful yet uncomplicated.
Take a look below at a few of my favorite soups to add to your recipe box. I hope you'll find these as full of flavor as they are easy to make.

French Onion Soup
A classic comfort food perfect for those cozy fall evenings.
Ingredients
4-5 yellow onions – sliced into ¼ inch strips
3 cloves garlic – minced
¼ cup unsalted butter
1 tablespoon olive oil
1 cup dry red wine
1 bay leaf
4 spring fresh thyme
1 ½ cartons beef broth (approx. 1350 ml)
Loaf of sourdough bread – sliced thin
Gruyere cheese
Directions
In a medium soup pot add onions, butter, and olive oil on medium heat.  Cook onions until translucent in color.  Add garlic. Reduce heat to medium low.  Continue to cook until onions become caramelized and golden in color.  De glaze pan with red wine.  Add beef broth, bay leaf, and thyme.  Cook for minimum 20 minutes and season with salt and better to taste.
Preheat oven to 450 degrees F.
Pour into oven proof bowls and top with slices of sourdough and top with Gruyere cheese.  Place on baking sheet and bake in oven until cheese is melted and golden brown.  Remove and allow to cool for 5-10 minute prior to serving. Enjoy
Green Vegetable Soup
This fan favorite soup uses up your leftover green vegetables for a healthy and hearty meal.
Ingredients
2 tablespoons olive oil plus some for garnish
4 – 5 cloves garlic roughly chopped
1/2 large, sweet onion diced
1 tablespoon garlic powder
1 tablespoon Chili powder
2 tablespoons lime juice
1 1/2 cups Broccoli roughly chopped
1 bunch asparagus cut into one-inch pieces
2 cups Spinach
1 whole Poblano pepper
1 whole Jalapeno Pepper roughly chopped
750 ml chicken broth or vegetable broth if you are wanting to make it vegetarian
Kosher salt & Freshly Cracked Pepper
3/4 cup fat free sour cream
1 Avocado pitted, peeled and diced into chunks
Directions
In a medium to large soup pot on medium high heat, add 2 tablespoons of olive oil, diced onions, chili powder, garlic powder and cayenne. Sauté until onions are translucent.  Add chopped vegetables and cook for an additional 5 minutes.  Add chicken broth until vegetables are just submerged. Cover pot with lid and cook vegetables until soft.
Once soft, use an immersion blender or regular blender to puree the vegetables until smooth.  Transfer soup through a fine mesh sieve and transfer back into pot. Add sour cream, lemon juice and mix well.
Pour in desired bowl and garnish with sour cream and avocado.
Porcini Mushroom Soup
Sweet and nutty. A twist on a classic mushroom soup by adding porcini mushrooms.
Ingredients
2 tablespoons of vegetable oil
1 large yellow onion – diced
3 cloves garlic – minced
6 cups mushrooms – chopped
3 tablespoons sugar
2 packages of dried porcini mushrooms
1 carton mushroom broth (900 ml)
1 carton chicken broth (900 ml)
4 sprigs thyme
1 lemon – juiced
½ cup heavy cream
Salt and pepper to taste
Directions
In a large soup pot over medium high heat add vegetable oil and yellow onion.  Cook until onion is translucent in color. Add mushrooms and garlic and reduce heat to medium.  Continue to cook for an additional 8 minutes.   Add broths, sugar,  dried porcini mushrooms, and thyme.  Cook for minimum 20 minutes reducing heat to a simmer.   Transfer to a blender and blend until smooth.  Transfer soup back to pot and add lemon juice and cream.  Season with salt and pepper to desired taste. Serve with grilled bread or croutons.  Enjoy.
About The Author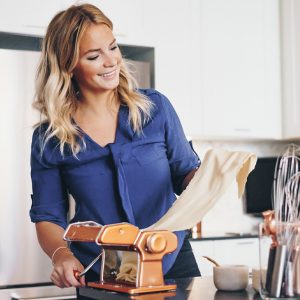 Thea Van Herwaarden is a Vancouver-based food blogger and on-air talent known worldwide. She has appeared on both Canadian and American television, acted as a national campaign spokesperson for major lifestyle chains, and serves currently as a brand ambassador for a wide range of food and home brands. In 2017, her skills in the kitchen landed her in the "Top 2" spot on Master Chef Canada. Following that, her version of a nduja ricotta tortellini made it on the menu of Jamie Oliver's restaurant, Jamie Italian. Thea has since then launched her own brand, Théasty, where she showcases global tastes and travel, national and international restaurants and recipes, as well as lifestyle tips. All of this is shared with her loyal 19K followers on Instagram, and on her blog.