Believe me, I get it, after a long day at the virtual office it can feel daunting to have to go to the kitchen and make a hearty meal for your family.  Just because you're working from home doesn't mean the day doesn't leave you exhausted!  Endless Zoom meetings, non-stop emails…it's easy (and common) to look up and see that the clock has flown right by your standard work hours.
However, a great dinner can be an excellent way to recharge and put a long work day in the rear-view mirror.  And the good news with this Sheet Pan Fajitas recipe is that you don't have to invest a ton of time and energy into making something everyone can enjoy. If it's the weekend and I'm enjoying the B.C. sun then it's a good bet that I'm making my fajitas outside on the grill.  But on a Tuesday night when we want something tasty for dinner that does not take a ton of effort, the recipe below is one of my go-to favorites.
Sheet Pan Fajitas
Ingredients
For the Marinade
¼ cup olive oil
1 tablespoon sriracha
3 tablespoons cup brown sugar
1/4 cup cilantro loosely chopped
5 cloves garlic minced
Ground pepper
1 tablespoons garlic powder
1/2  tablespoon Paprika
1/2 tablespoon Cumin
2 teaspoons cayenne pepper
3 tablespoons lime juice
2 teaspoons salt
For the Sheet Pan
1-1.5 lbs Flank Steak or Skirt steak
½ whole yellow Pepper – julienne
½ whole red pepper – julienne
1/2 Red Onion – sliced into strips
1 tablespoon olive oil
1 tablespoon garlic powder
1 teaspoon chili powder
1 teaspoons paprika
2 cobs corn shucked and cut in half
Serving
12 small tortillas flour or corn
2 Avocado peeled, pitted and sliced thin
1/4 cup Goat cheese
1 cup salsa – your choice
½ cup sour cream
¼ cup cilantro leaves
Lime wedges
Directions
Add all the marinade ingredients into a bowl and whisk until combined. Place steak into a seal-able container with marinade and place in fridge. You can do this overnight and let the steak sit or, if in a rush, place in fridge for 30 minutes.
Once steak has marinated, preheat oven to highest setting or broil.
Place peppers and onion in a bowl and drizzle with oil. Add garlic powder, chili powder, cumin and paprika and toss.
On a large baking sheet lined with parchment paper or tin foil, place peppers and onions on 1/3 of the baking sheet.   Add sliced corn on another third of the baking sheet drizzled with vegetable oil. Remove steak from marinade and place on the final third of the baking sheet.
Place in oven for approx. 15-18 minutes or until steak is cook to desired doneness (130 degrees is my preference).
Remove from heat and allow to cool for 5 minutes.
Slice steak into strips and serve on a tortilla with desired toppings such as sour cream, salsa, lime, cilantro and avocado.
About The Author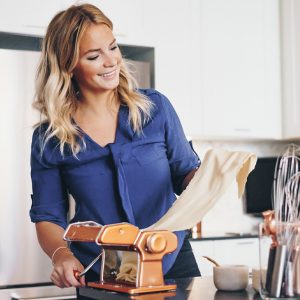 Thea Van Herwaarden is a Vancouver-based food blogger and on-air talent known worldwide. She has appeared on both Canadian and American television, acted as a national campaign spokesperson for major lifestyle chains, and serves currently as a brand ambassador for a wide range of food and home brands. In 2017, her skills in the kitchen landed her in the "Top 2" spot on Master Chef Canada. Following that, her version of a nduja ricotta tortellini made it on the menu of Jamie Oliver's restaurant, Jamie Italian. Thea has since then launched her own brand, Théasty, where she showcases global tastes and travel, national and international restaurants and recipes, as well as lifestyle tips. All of this is shared with her loyal 19K followers on Instagram, and on her blog.