Happy Halloween! Calling all the Iron Man's, Wonder Woman's and Black Panther's, it's that time of year again. It's time to carve jack-o-lanterns, plan your costume, go trick-or-treating and eat some sweet treats.
Safety First
Masks are not recommended. Masks make it hard for children to see what's around them, including cars. Try a hypoallergenic, non-toxic make-up kit instead.
Make or buy costumes in light-coloured material.
Place strips of reflective tape on the back and front of costumes, so that drivers can better see you!
Flashlights are for great safety and fun!
Cell phones are great to have on hand for emergencies.
Costumes should fit properly to prevent trips and falls. Avoid items such as over-sized shoes, high heels, long dresses and long capes.
Dress for the weather! It can get cold and wet on October 31st.
Know your route. Make sure your kids know the route they are going to take, especially if they are going out without an adult.
Many kids like trick-or-treating without an adult. Make sure they are in a group of at least three.
Use the sidewalk whenever possible. If there's no sidewalk, walk on the side of the road facing traffic.
Don't criss-cross back and forth across the street. Work your way up one side of the street, and then start on the other.
Most important- have fun!
Quick Dinner Ideas!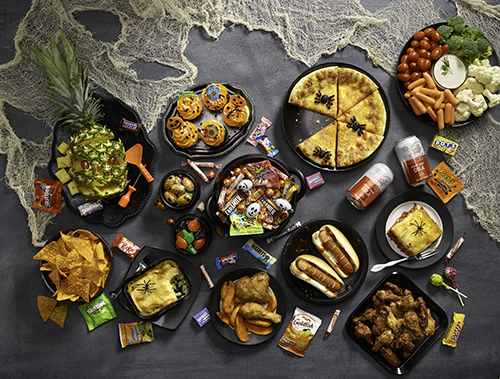 Dinner on Halloween night is always hectic and it's often the last thing on everyone's mind. Here are some quick dinner ideas that will give the kids and you some fuel to go!
Pizza! Western Family Thin Crust Pizzas are perfect for Halloween night!
Hot dogs can be great as there are all beef, chicken and turkey and veggie options available. The kids are sure to eat at least one.
Veggies and dip. Perfect for on the go while getting costumed up! Hosting a party? Save-On-Foods can feed a crowd with ready-to-go Platters.
Soup. You can make it the night before and it will warm everyone up before and after trick-or-treating.
Meals to go! Stop by your local Save-On-Foods Kitchenfor great meals to go. Hot and ready!
Free Pumpkin and Treats!
What have you been saving for? Those More Rewards points are calling for redemption for your Halloween pumpkin and treats!
Halloween Candy Free From 5000 Points
Did You Know?
Halloween originated with the ancient Celtic festival of Samhain. This day marked the end of summer and the harvest and the beginning of winter.
Trick-or-Treating became popular in the 1930's.
Halloween movies have long history of box office success. Who hasn't seen Halloween, Hocus Pocus or The Nightmare Before Christmas?
30 million Americans will spend an estimated $480 million on Halloween costumes for their pets in 2018.
We love Halloween fun. Haunted houses, corn mazes and hay rides are some of the most popular yearly attractions.
One quarter of all the candy sold annually is purchased for Halloween.