Easter is one of my favourite holidays for a number of reasons. I love that a gorgeous spring is just about to give way to summer. I love the activities of children hunting Easter eggs, and the Easter bunny stopping by.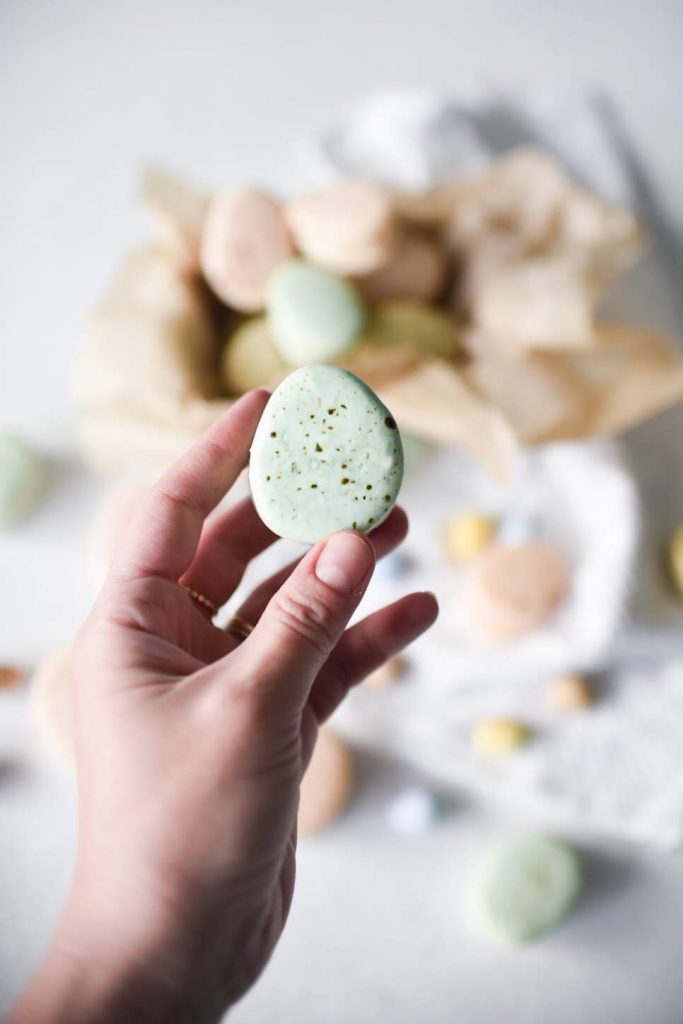 I also love that Easter cuisine and desserts are different from other holidays like autumn's Thanksgiving, and winter's Christmas. The in-season veggies are different. The proteins are often different as well. But perhaps the biggest contrast between the holiday season and Easter weekend, at least in my house, is the variety of desserts and sweets.
Whereas pies and cakes are so comforting and cozy in the autumn and winter, cookies and candy find their place around Easter time. And with a visit from the Easter Bunny for the kiddos there are sure to be baskets full of delightful chocolate eggs, marshmallow peeps, and jellybeans.
One of my favourite things to do when making confections to snack on during Easter is to take an old favourite and give it a new twist. In this case, I've found that soft and sweet macaroons can easily be levelled up to fit an Easter theme. With some reshaping and some simple decoration, your macaroons can look like festive Easter eggs, and fit your Easter dessert table perfectly. Take a look at the recipe below to see how easy it is to make Easter Egg macaroons.
Easter Egg Macarons

Ingredients 
For the Macaron
3 egg whites at room temp
1 cup almond flour
1 ¾ cups powdered sugar
¼ cup granulated sugar
½ teaspoon vanilla extract or other flavouring if you have
Food colouring (red, blue, green, and yellow)
Lemon & Almond Buttercream
2 sticks of unsalted butter at room temperature
3 – 3 ¼ cups icing sugar
4 tablespoons milk
½ teaspoon vanilla extract
¼ teaspoon lemon extract
¼ teaspoon almond extract
Directions
Line a baking sheet with parchment paper and set aside.
In a food processor, blend almond flour and powdered sugar until fine. Remove and sift into a medium-sized bowl. If the almond flour isn't passing through the sift, place back into processor and blend again.
In a separate bowl with an electric mixer, whip egg whites until just frothy. Once frothy, slowly add a little at a time the granulated sugar. Continue to whip until stiff peaks form. Add vanilla and mix until incorporated.
Slowly fold 1/3 cup egg whites at a time into sifted flour. Once mixed, divide into two separate bowls (if doing more than one colour). Divide mix into bowls. Add two drops of red into the bowl and fold until well combined. The colour should be a light pink. If not enough colour, add a drop at a time until you get your desired colour. Repeat with blue in the other bowl. Careful not to overmix your batter.
Place each colour into separate piping bags.
Pipe a quarter-sized amount of batter onto the baking sheet lined with parchment paper an inch apart. Continue until baking sheet is full. Gently slam the baking sheet 1-3 times (this should smooth out the macarons). Set aside to allow to dry slightly – about one hour or until a hard film covers the top of the macarons.
Take a cup or small bowl and mix red, green and yellow to make a brown food colour. Once the macarons are hard on the top, take a small brush, dip into food colouring and with your finger stroking the brush create little specks. Continue until you have achieved your desired look. Careful not to create large spatters as that can cause the macaron to be wet and not cook properly.
Once ready, preheat oven to 300 degrees Fahrenheit.
Place macarons into the oven for 14-17 minutes. Remove from heat and allow to cool completely.
For the Buttercream
Place butter into a stand mixture with ½ cup of icing sugar. Whip until smooth. Continue adding ½ cups until fully combined. Add milk, vanilla, lemon and almond extracts. Whip until smooth. If buttercream feels loose, add additional icing sugar until you have reached your desired consistency. Should be smooth and easy to pipe.
Place buttercream into piping bag and pipe one side of the macaron leaving a bit of space on the edges. Take another side of a macaron and lightly press into the buttercream. Continue with the remaining until all are completed.
Serve right away or for your Easter party. Macarons can be stored up to four days in the fridge, just make sure to bring back to room temperature as buttercream will harden once chilled.
Enjoy!
About Thea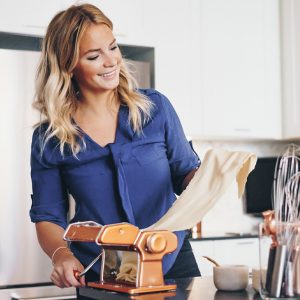 Thea Van Herwaarden is a Vancouver-based food blogger and on-air talent known worldwide. She has appeared on both Canadian and American television, acted as a national campaign spokesperson for major lifestyle chains, and serves currently as a brand ambassador for a wide range of food and home brands. In 2017, her skills in the kitchen landed her in the "Top 2" spot on Master Chef Canada. Following that, her version of a nduja ricotta tortellini made it on the menu of Jamie Oliver's restaurant, Jamie Italian. Thea has since then launched her own brand, Théasty, where she showcases global tastes and travel, national and international restaurants and recipes, as well as lifestyle tips. All of this is shared with her loyal 19K followers on Instagram, and on her blog.