Working from home has been a new experience for many people including my own family. Having everyone under the same roof during the workday has its ups and downs, but like most we try to make the best of the extended time together. Surprisingly, one thing that I found to be particularly challenging at first is what to do for lunch during the work week.  It was all too easy to fall into a routine of having a sandwich for a quick break and then return to the computer or whatever work task was begging for attention.
But my love for great flavor and the chance to cook even more than normal quickly had me re calibrating what workday and work from home meals look like in our house. Making something that tastes great doesn't have to be disruptive to your workday. In fact, it can be great for the mind to take a few minutes and make something that tastes great for your midday break.   One of my first – and favorite – recipes to bring into regular rotation: Thai Chicken Buddha Bowls. This recipe is packed with great flavor and can be prepped in advance if you absolutely can't put down your pen or close your computer at lunchtime.  Additionally, most of the ingredients are likely to be found in your fridge and pantry, saving you a trip to the store which is always a bonus.
Thai Chicken Buddha Bowl
Ingredients
2 chicken breast – boneless/skinless
1 teaspoon paprika
1 teaspoon chili pepper
Salt and pepper to taste
Vegetable oil
Knob of butter
3 cups brown Rice – Cooked per directions
1 cup red Bell Pepper – julienne
1 cup carrot – shredded
1 cup red Cabbage – finely chopped
½ cup cilantro leaves
¼ cup roasted peanuts – crushed
¼ cup chopped green onion
½ thinly sliced Serrano or Thai chili
Lime wedges
For the Peanut Sauce
3 tablespoons creamy peanut butter
1 tablespoon lime juice
2 teaspoons sesame oil
1 tablespoon rice vinegar
1 tablespoon soy sauce
1 clove garlic – grated
1 teaspoon ginger- grated
1 teaspoon chili paste or hot sauce
Directions
For the Chicken
Preheat oven to 400 degrees F.
Place a cast iron or oven proof skillet on medium high heat.  Season chicken breast with paprika, chili powder, salt and pepper.  Once pan is hot, add 1 tablespoon of vegetable oil.  Brown each side of chicken breast (about 5-7 minutes)
Add a knob of butter and place in oven for 20 minutes or until cooked through. Allow to rest for 10-15 minutes.
For the Peanut Sauce
Combine peanut butter, lime juice, sesame oil, rice vinegar, soy sauce, garlic and ginger, chili paste/hot sauce using an immersion blender. Once combined, set aside.
To Serve
Slice chicken breast thinly. Add ½ -1 cup of brown rice in a bowl. Top rice with red pepper, carrots, red cabbage and half a chicken breast. Spoon desired amount of peanut sauce over top. Garnish with roasted peanuts, cilantro leaves, green onion, sliced Serrano and a lime wedge.
About The Author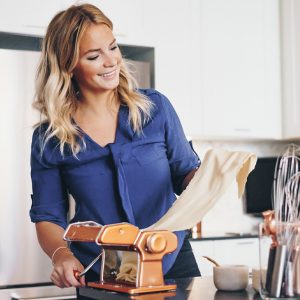 Thea Van Herwaarden is a Vancouver-based food blogger and on-air talent known worldwide. She has appeared on both Canadian and American television, acted as a national campaign spokesperson for major lifestyle chains, and serves currently as a brand ambassador for a wide range of food and home brands. In 2017, her skills in the kitchen landed her in the "Top 2" spot on Master Chef Canada. Following that, her version of a nduja ricotta tortellini made it on the menu of Jamie Oliver's restaurant, Jamie Italian. Thea has since then launched her own brand, Théasty, where she showcases global tastes and travel, national and international restaurants and recipes, as well as lifestyle tips. All of this is shared with her loyal 19K followers on Instagram, and on her blog.