This year, most people (including me!) have been in the kitchen more than ever. On the positive side, that means the opportunity to reconnect with making great food and try new ingredients and recipes.  The possible downside? With all of that in-the-kitchen activity the bar is higher than ever when it comes to making a great holiday dinner. For me, amping things up this year won't come down to turkey, or ham, or roast but rather all of the other items that will be served alongside.
I've long thought that side dishes are the unsung heroes of a great holiday spread and this year I feel doubly so. To me, the best part is that it does not take much to let side dishes really shine. I love these simple side dishes because they play on familiar classics like green beans and carrots but add a modern twist that livens things up.
Give these simple side dishes a try and watch as your family rediscovers old favorites with a smile.
Garlic Roasted Green Beans with Bacon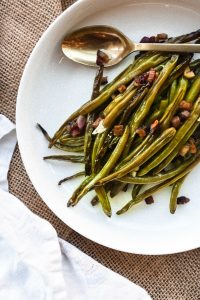 Ingredients:
1 package of green beans trimmed (about two large handfuls)
2 tablespoons neutral oil
2 cloves garlic minced
4 strips of bacon – diced
Salt and pepper to taste
Directions:   
Preheat oven to 400 degrees
In a medium sized skillet on medium heat, add diced bacon. Cook until crispy (about 8 minutes).  Strain and set aside.
On a small baking sheet add green beans. Toss in oil and garlic then season with salt. Bake in the oven until beans are tender (about 10 -15 minutes). Remove from heat.   Top with bacon bits and serve.
Maple Roasted Carrots with Pecans and Goat Cheese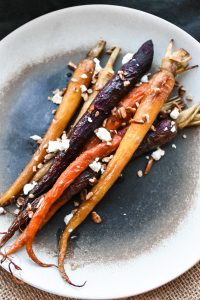 Ingredients:
One bunch of multicolor carrots – trimmed and cleaned
1 ½ tablespoon neutral oil
1 tablespoon maple syrup
2 oz soft goat cheese
3 tablespoons of crumbled toasted pecans (can buy in bulk section or toast and crumble yourself)
Directions:
Preheat the oven to 400 degrees.
Toss carrots in maple syrup and oil until well coated.  Place carrots on a hot grill pan on high heat until they have some color on the outside (approx. 2 minutes).  Remove from heat and place in a tin foil pouch on a baking sheet.
Bake in the oven until carrots are tender.  Remove and season with salt.
Just before serving add crumbled goat cheese and pecans.
Cornbread Stuffing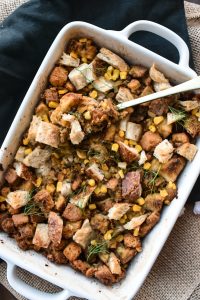 Ingredients
2 tablespoons unsalted butter
3 stalks celery – diced
½  large yellow onion – diced
2 ½ teaspoons of poultry seasoning or ground sage
3 cups of cornbread diced (store bought or homemade)
1 ½ – 2 cups white bread diced
3 – 4 large eggs
1 cup chicken broth
¼ cup of frozen corn
Salt and pepper – to taste
Directions:
Allow cornbread and white bread to dry out overnight.
Preheat the oven to 375 degrees F.
In a medium skillet on medium heat add butter, onion, celery, and seasoning. Cook until onion is translucent, and celery is soft.  Remove from heat and allow to cool.
Add cornbread, white bread, frozen corn, and onion/celery mixture and salt and pepper into a large bowl. Toss until well combined. Add eggs and mix until stuffing is lightly coated in egg.  If not enough egg, add one more to ensure the mixture is lightly coated.
Place mixture in a medium sized casserole dish greased generously with butter.
Pour chicken broth evenly over top and cover in tinfoil.  Bake covered for 30 minutes. Remove tin foil and bake for an additional 15 minutes or until top is golden. Remove from heat and serve warm