This year the holidays will inevitably look different. Intimate meals will take the place of large gatherings, but that doesn't mean you can't celebrate by embodying the spirit of the holidays at home.
Deli platters, or charcuterie boards, are perfect for grazing throughout the day or as an appetizer and can be easily decorated to fit within a Christmas or Hanukah theme, or any holiday for that matter.  First, let's review some tips on how to build the perfect deli platter, then we can dive in on additions to spruce it up for the holidays!
Tip #1: Bring the variety when you select your meats and cheeses. You want to be sure you have not only a wide selection of different flavours to please a range of palettes but also that your cheeses have different textures. Think of having some spicy and mild meats (i.e. a spicy sopressata and an aged prosciutto), and a mild, medium and strong cheese. I opted for goat cheese, blue cheese, cheddar and manchego on my platter but select your favorites! Try to include both cow's and goat's milk cheeses for even more variety.
Tip #2: Add some salty elements to the platter. Think pickles, olives, mustards, pickled peppadew peppers or nuts which are all great for snacking.
Tip #3: If we are adding salty elements to the platter we also need sweet elements. Balance is key. This could be in the form of jams or preserves, honey, fruit, candied nuts (see below for a quick and easy recipe for Maple Bacon Candied Pecans), or even chocolates.
Tip #4: Bring the crunch! Sometimes you need a vessel for your meats, cheeses and spreads. I like to buy a couple types of gourmet crackers and make some crostini out of a fresh baguette.
 Tip #5: Garnish and decorate. This is where you can get really creative with your holiday theme. Think about edible garnishes for the platter itself, but also consider decorating the table or area it will be laid out on.
I wanted my deli platter to have a Christmas theme, but these same principles would work for any other holiday.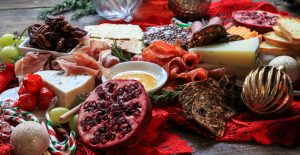 Because Christmas colors are green and red, I intentionally tried to make as many of my platter elements fall within that color palette. I found a goat cheese topped with green and pink peppercorns, chose to put red pickled peppadew peppers on the board for one of my "salty elements", and selected green grapes as one of the fruits.
Another thing that has been trending lately, is adding candy and/or chocolates to your deli platters. I've seen things like chocolate dipped pretzels, sour candies and cinnamon hearts all make appearances on charcuterie boards and I am here for it. To keep my platter within the Christmas theme, I chose to add my favourite holiday chocolates (which happened to be in a festive wrapper), along with some mini candy canes.
Sprucing up your deli platter for the holidays can also be accomplished outside of the edible elements. You don't need to stop the theme at what is on the board itself, but think about how the platter will be presented. I laid mine out on a red tablecloth, and placed some extra Christmas ornaments all around.
Lastly, consider the produce or foods that are in season for the holiday in question. Pomegranates and cranberries are a staple in many Christmas recipes, so I opted to add a halved pomegranate to the platter for some more visual interest and a great, fresh element. Fresh herbs are always a fantastic garnish, but to keep this within a Christmas theme I chose to use rosemary sprigs because they look like mini evergreen trees. Candied nuts are a familiar holiday treat, so I made my own candied pecans to add a crunchy, sweet and savoury element. Check out the recipe below to make your own – it's much easier than you think.
So, what are you waiting for? Start planning your holiday deli platter today!
Maple Bacon Candied Pecans
Prep time: 5 minutes
Cook time: 40 minutes
Total time: 45 minutes
Yield: 1lb or ~3 cups
INGREDIENTS
3 slices bacon + 1 tsp. reserved bacon fat
½ cup maple syrup
2 tsp. sea salt
¼ tsp. cayenne pepper
450g or 1 lb. raw pecans
DIRECTIONS
Preheat oven to 325F and line a large baking sheet with parchment paper.
Cook bacon over medium heat until crispy. Transfer cooked bacon to a bed of paper towel to absorb the extra grease then finely chop and set aside until ready to use. Reserve 1 tsp. of bacon fat from the pan.
In a large bowl, stir together the maple syrup, bacon fat (heating it up first if it hardened), cayenne pepper and sea salt. Add in the pecans and the bacon bits and stir until evenly coated. Pour the coated pecans onto your prepped baking sheet in an even layer and roast for 25-30 minutes, stirring halfway through cook time. The maple syrup should thicken in the oven while cooking. Remove the pecans from the oven and let cool, breaking up any big chunks of candied pecans into smaller pieces. Store in an airtight container in the fridge for up to 7 days.