I love planning a Father's Day meal – I'm not sure why but it always seems to involve big flavours, messy napkins, a couple of cold beverages and a big emphasis on relaxation. And these Oven Pulled Pork Sandwiches encompass all of those things perfectly! Made in the oven and nothing short on flavour, the pork is saucy and tender and pulls apart with ease. Served on your favourite flaky deli buns with a tangy cilantro-lime coleslaw alongside some ripple chips for perfectly paired crunch, this meal super casual, and a delicious gift to give your dad, grandpa, or father figure this Father's Day.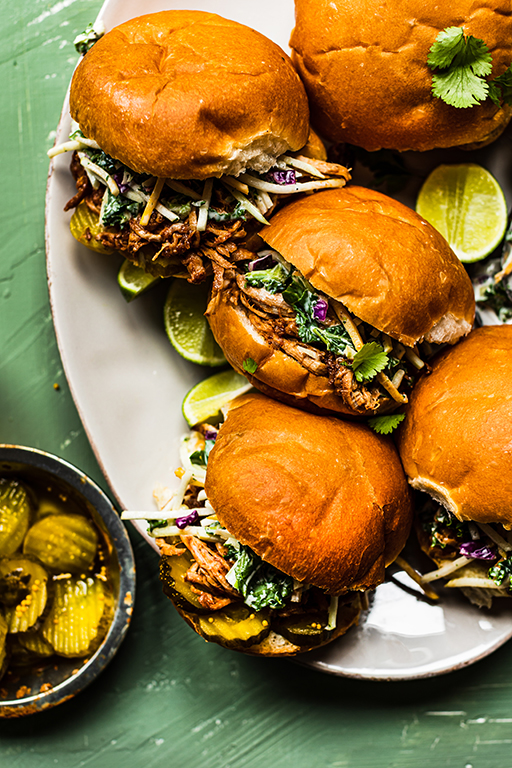 This recipe is easily doubled. I've easily found single pork tenderloins and packages of two pork tenderloins in the meat department at Save-on-Foods. The ingredients for the sauce and the coleslaw can be doubled as well, and you're all set to serve a larger crowd!
Also, I should note that the buns matter. It's not going to make or break these pulled pork sandwiches, but I do have some recommendations when you're choosing which buns to use for these sandwiches. I would suggest a lighter and softer bun. My favourite are the fresh brioche buns from the bakery section at Save-on-Foods – you already have a lot going on with the saucy pulled pork, the crunchy coleslaw, and a dense bun can take away from that.
Also, if you're busy enjoying the day with dad – this pork can be cooked in a slow cooker as well using the same instruction for the Dutch oven, just add the pork and the sauce to your slow cooker and set it to low and slow for roughly 3 hours (time varies depending on your slow cooker).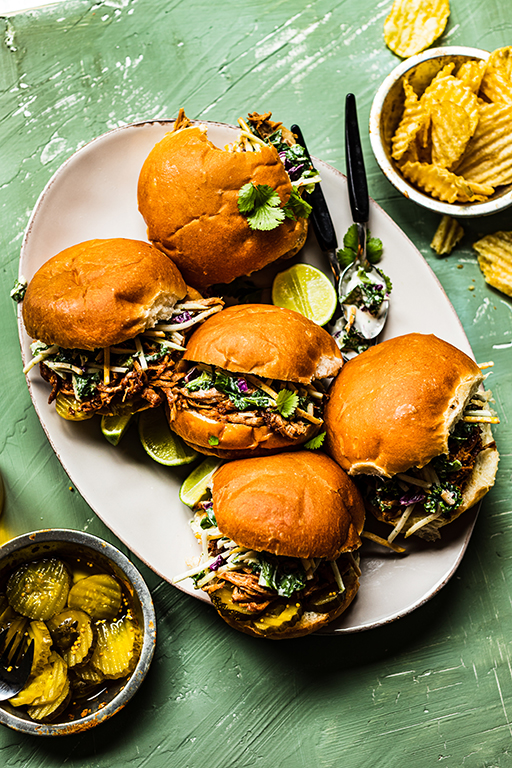 Oven Pulled Pork Sandwiches with Cilantro Lime Coleslaw
RECIPE INGREDIENTS
Makes 6 Sandwiches
For the Oven Pulled Pork
1 Pork Tenderloin
2 Cups of Dad's favourite BBQ Sauce
1 Cup of Heinz Chili Sauce (or Ketchup)
¼ Cup of Soy Sauce
1 Tbsp of Brown Sugar
1 Tbsp of Garlic Powder
1 Tbsp of Onion Powder
1 Tsp of Sea Salt
½ Tsp of Ground Black Pepper
½ Tsp of Cumin Powder
For the Cilantro Lime Coleslaw
1 Package of Coleslaw Mix (I like a mixture of Broccoli, beets, kale but it's your preference)
1 Cup of Mayonnaise
1 Tbsp of Honey
2 Tbsp of Apple Cider Vinegar
1 Tbsp of Lime Juice
1-2 Tbsp of Cilantro
1 Tsp of Sea Salt
½ Tsp of Ground Black Pepper
For Dressing the Sandwiches
6 Deli Buns (I prefer to use a lighter/flakier bun like a brioche from Save-on-Foods bakery section)
Pickles (optional but I like to serve Western Family bread & butter pickles)
Extra cilantro for garnish (optional)
Ripple Sea Salt Chips to serve on the side
RECIPE INSTRUCTIONS
Preheat oven to 350C
In a medium bowl, add together the BBQ sauce, chilli sauce, soy sauce and brown sugar, stir to combine
In a small bowl add the garlic powder, onion powder, sea salt, black pepper and cumin powder and rub over pork tenderloins generously add any remaining spices to the sauce mixture
Pour half of the sauce into a medium to large Dutch oven and place the pork tenderloin in, pouring the remaining mixture over top. Place a lid on top and place in the oven to cook for approx. 45 minutes – 1 hour or until pork is fully cooked.
Remove from the oven and allow to rest for 5 minutes. Carefully use two forks to shred and pull apart the pork, mixing in the remaining sauce
While the pork is cooking, add the ingredients for the coleslaw sauce into a large mason jar or bowl and use an immersion blender to blend. Pour over the coleslaw and allow to sit in the fridge cover until the pork is finished cooking and ready to serve
You can choose to dress the buns with the pork and coleslaw yourself or place the pork, coleslaw and pickles, chips and per cut buns in serving dishes for everyone to build their own sandwich.
About the Author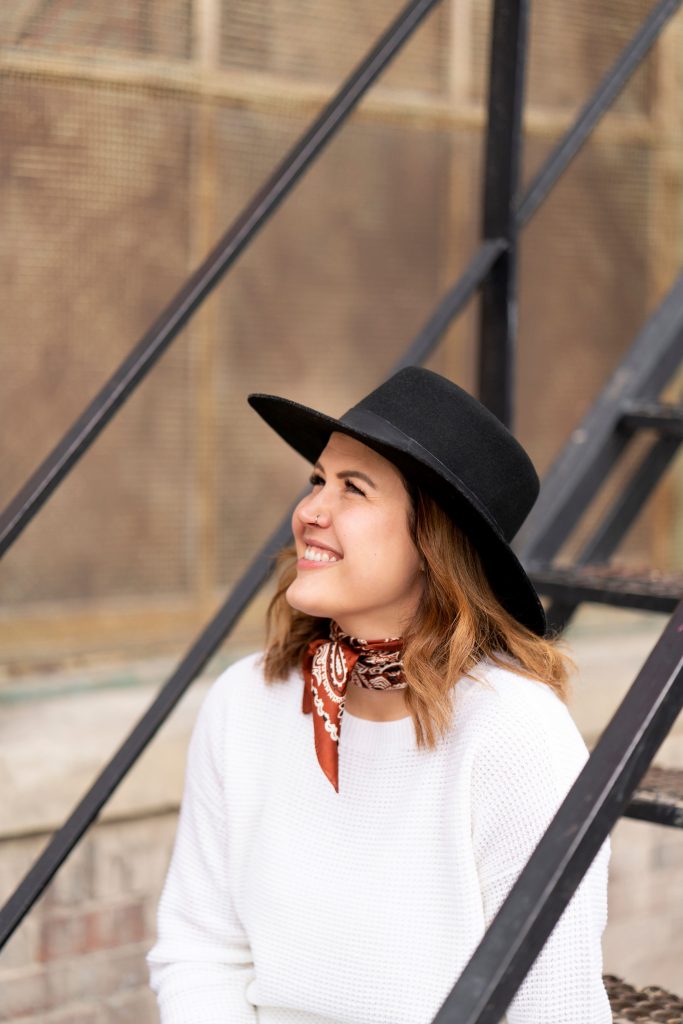 Tanya Pilgrim is a Food Photographer/Stylist and Recipe Developer living and working in Calgary, Alberta with her family. Tanya couldn't be more pleased that her love of cooking for friends and family,and her passion for photography, has created a life and living that she looks forward to every day. You can always find Tanya hanging out next to the charcuterie board at the party, curled up with a cook book in the family room at home, and ALWAYS avoiding having to do the dishes.
Follow Tanya