Let's talk turkey (sorry, I can't help myself):  Thanksgiving this year is going to look quite a bit different than years past. The current global situation means some families won't be able to get together as they normally would. Travel restrictions and mandated small groups… the entire holiday season is likely to feel like a completely new experience for many people, myself included. But just as we've learned to adapt in working, school, and most every facet of daily life we will also adapt for the holiday season.
It's easy to be disappointed by smaller or different looking Thanksgiving get-togethers but there are also some aspects that can be turned into benefits and advantages. In the spirit of finding ways to celebrate a little smaller but with no less meaning for this year's Thanksgiving celebrations, I thought to share some of my favorite ideas for giving thanks with a smaller group.
Maintain Some Version of Normalcy
Before we dive in to the fun and creative things you can do to amp up Thanksgiving, let's take a moment to remember that Thanksgiving is full of tradition and that shouldn't be ignored. In this great country, we all have something to be thankful for. And while some of your traditions may be a little sidetracked this holiday season, you should try to preserve those that matter to you and your family –  if you can.
Get Out of the Ordinary
While the company is always my favorite part of Thanksgiving, I'd be lying if I didn't admit that the food is a close second. If you have the appetite for a traditional turkey, by all means you should go for it! But if your spread needs to be a little smaller this year then consider some alternatives that still fit the season. For example, a fall themed pasta feast with harvest vegetables can be a great entrée or side.  Pork tenderloin can be seasoned and cooked with traditional fall spices to create a memorable and flavorful experience for your guests.
A Change of Scenery
One of the best parts of beautiful BC is the fall weather. Cool and crisp but not too cold… why not bring the outdoors into your celebration? Setting your table outside can be a great change to traditional Thanksgiving dinner. Too cold? Too cramped?  Live a little. Setting the table outside and adjusting the time to eat or using a firepit or heating element such as blankets to keep everyone comfortable are simple fixes that can make the entire experience shine.
Let the Sides Shine
Even without a change in what's "normal," I always try to let the side dishes shine. And why not? They have a place on the table for a reason. For example, a fall salad with cranberries, Brussels sprouts, and pecorino cheese can bring the essence of the season to your table. Traditional Thanksgiving sides like cranberry sauce, green beans, and sweet potatoes can also be spiced up or reimagined to everyone's enjoyment. This year is the chance to do something different.
Extend the Enjoyment
Try making your Thanksgiving holiday start earlier in the day.  From a warm cider outside as your guests arrive to cocoa and smores around a fire pit for dessert, making your thanksgiving an all-day affair allows you to be close to the small group you have likely not seen in a while.  Having a Thanksgiving celebration without any guests arriving?  No problem. Take a few minutes outside with those in your home to celebrate all that you are thankful for this year before heading back inside. Even a few minutes in the fresh air can provide perspective and a moment of peace amid our busy lives.
Make 2020 Thanksgiving Fantastic
I understand that this Thanksgiving is going to look a little different. In some cases, it may look a LOT different. But that doesn't mean that the celebration you do can't be amazing. From great food to excellent company, we should all be thankful that even different looking holidays are still reasons to celebrate. The tips above can help bring a little more enjoyment to this holiday season. Enjoy!
About The Author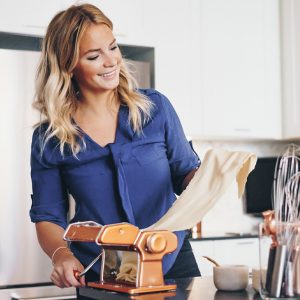 Thea Van Herwaarden is a Vancouver-based food blogger and on-air talent known worldwide. She has appeared on both Canadian and American television, acted as a national campaign spokesperson for major lifestyle chains, and serves currently as a brand ambassador for a wide range of food and home brands. In 2017, her skills in the kitchen landed her in the "Top 2" spot on Master Chef Canada. Following that, her version of a nduja ricotta tortellini made it on the menu of Jamie Oliver's restaurant, Jamie Italian. Thea has since then launched her own brand, Théasty, where she showcases global tastes and travel, national and international restaurants and recipes, as well as lifestyle tips. All of this is shared with her loyal 19K followers on Instagram, and on her blog.