Amazing Food For Reservations at Home
It's almost Valentine's Day and this year it's going to be the perfect date night in with the family. Everyone is looking for reasons to celebrate and enjoy and what better way than with Amazing Food with your nearest and dearest.
Family Date Night
Let's celebrate together by bringing the restaurant experience home for Family Date Night. We have everything you need to treat your Valentines to a decadent night in. Let's make it a great Valentine's day by dressing up, setting the table and enjoying an amazing meal. On the menu? Steak and Prawns from Save-On-Foods!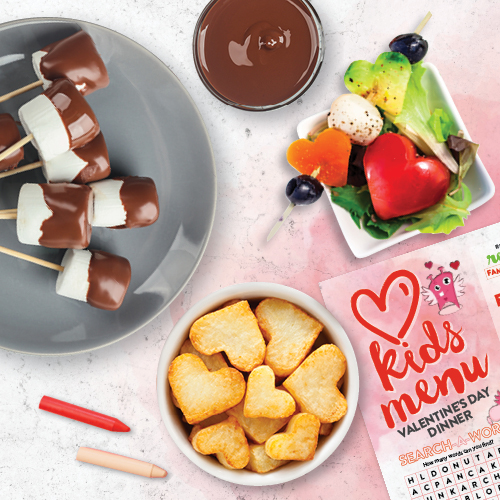 Don't Forget the Kids!
Let's get the kids involved! Our downloadable Kids Menu will be sure to please with a Valentine's Day inspired, kid-approved dinner option.
Fine Dining
No need for dinner reservations this Valentine's Day because staying in has never been more delicious! From your main course of Steak and Prawns to decadent desserts, Save-On-Foods has everything for the perfect Family Valentine's Day dinner.
Get everyone involved in deciding on the menu and making your Valentine's Dinner, cooking is an amazing way to spend time together.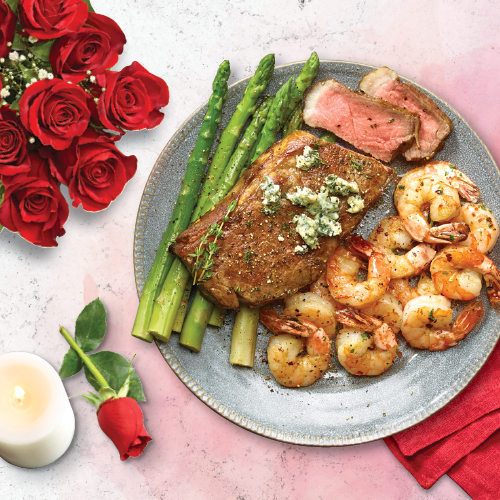 Steak and Prawns is the perfect dinner for Valentine's Day!
Chocolate Fondue with your favourite chocolate, fresh fruit and marshmallows-yum!
Kids Menu has delicious options and is kid-approved!
Sweet Treats from our bakery like our Valentine Eruption Cake infused with Chocolate Cheesecake Bites- pure decadence!
Quick, Easy Valentine's Day Dinner
Not in the mood for steak and prawns? Are you looking for something a little more to your taste? Visit our Quick, Easy Dinners blog for some tasty inspiration.
Wine-derful Pairings
Explore the widest selection of BC VQA wine. Visit our select Wine Stores for expert advice and perfect pairing suggestions.
Sweet Gifts
Add a sweet touch to your Valentine's gifts. Shop our lovely assortment of candy and Sweet Treats that will win over your sweet Valentine.
Don't Forget the Flowers!
Share the love and say it with flowers. Choose from a wide selection of Beautiful Flowers, perfect for your Valentine.
Valentine's Day Fun for the Family
Dinner is done and now it's time for some fun. We love these family date night ideas that everyone can get involved in.
Board Games– Pull out the board games, snacks and have some fun!
Pre-Dinner Hike or Walk– Work up an appetite!
Karaoke Night– No fancy machines required! Put your best voice forward with a quick google search and find that karaoke video of your favourite song!
Dance Party– Those decadent Valentine's treats may give some extra dance moves!
Fondue Night– Microwave your favourite chocolate in a bowl, add your favourite fruit bites, pretzels and marshmallows. Yum!
Movie Night– Sitting back, enjoying your favourite movie with your family is the perfect way to end Valentine's Day.
Have a wonderful Valentine's Day!